Your daily source for trading strategies, tech news, and politically incorrect humor

Your daily source for trading strategies, tech news, and politically incorrect humor.
Dear eMBers,

Your Morning Bullets are here. Let's dig in.
INVESTOR INSIGHTS – Market Update
Stocks are sliding. Not just in the US, but across the globe.

That's because China has pulled back from the partial trade deal.

Although details got hashed out last Thursday and Friday, the deal has not been signed.

China insists that there are more details to work out.

Which markets took the biggest hit?
The Stoxx Europe 600 Index

S&P 500 Futures

Switzerland's SMI Index

Germany's DAX

The MSCI Emerging Market Index

The offshore yuan

The British pound

Turkey's stock market and currency



Even bonds and commodities have taken a hit.

The troubled trade deal is only one of many factors creating unease in the financial markets.

Several key events are scheduled for this week. Upon release, markets will have a clearer understanding of what will come next.
The IMF and Work Bank are meeting to discuss economic development and finance

Bloomberg's monetary and financial policy conference in London

South Korean monetary policy decision on Wednesday

US retail sales reports

And China's release of the 3rd quarter GDP
YOUR SILICON VALLEY (LIBERAL) OVERLORDS
Warren and Facebook are at war.

And it's hard to tell who (if anyone) is winning.

The first line of a recent ad she published on the platform reads as follows:

"Breaking news: Mark Zuckerberg and Facebook just endorsed Donald Trump for re-election."

But it was a lie. And she's "sorry, not sorry."

"We intentionally made a Facebook ad with false claims and submitted it to Facebook's ad platform to see if it'd be approved. It got approved quickly and the ad is now running on Facebook."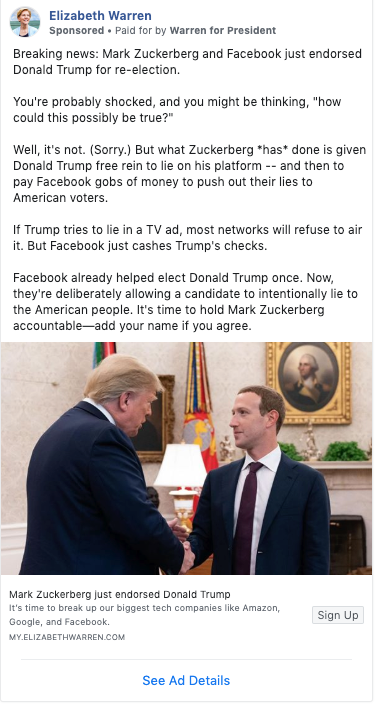 Source: Facebook Sponsored Ads
It's been a tough week for the social media platform. Between barbs from Warren and hard hits to the Libra, they just can't seem to catch a win.
TRUMP DERANGEMENT SYNDROME
This is by far the most bizarre impeachment process – EVER!

The rules change from one minute to the next.

Due process has been thrown out the window.

In an impeachment process brought on almost entirely by the concept of "quid pro quo", Schiff now says that quid pro quo isn't even necessary.

It's obvious that he just wants Trump gone, at any cost.
The rules are constantly in flux. It's next to impossible to figure out what's going on.
And his ties to the whistleblower give more ammunition to his opponents.
What we do know?
The Schiff Show will continue…
Government insider, Jim Rickards has an urgent message:
Trump's latest move may have put the Democrats in checkmate.
You'll understand everything when you read this.
Forget what the mainstream media is telling you!
Protect yourself against the biggest threat America faces.
Like it or not, Trump is winning the Trade War.
Even if his efforts have some occasional setbacks.
While China has yet to sign off on the Phase 1 truce, it's clear that they're feeling the pain.
Both imports and exports have fallen – more than expected.
Shipments fell by 3.2%. But only a 2.8% decline was predicted.
It was the biggest fall since February.
Imports also fel – 8.5%. Only 6.0% was expected.
This is a trend we've seen all year long, with on exception in April.
If China fails to sign off of the Phase 1 truce, global markets could take an even bigger hit.
CRAZY-INTERESTING OR RIDICULOUSLY-WEIRD
Happy Halloween House Hunting!
Bungalo, a real estate platform, has added a new service for the month of October.
In addition to their "normal" 160-point inspection, they've added in a new paranormal element.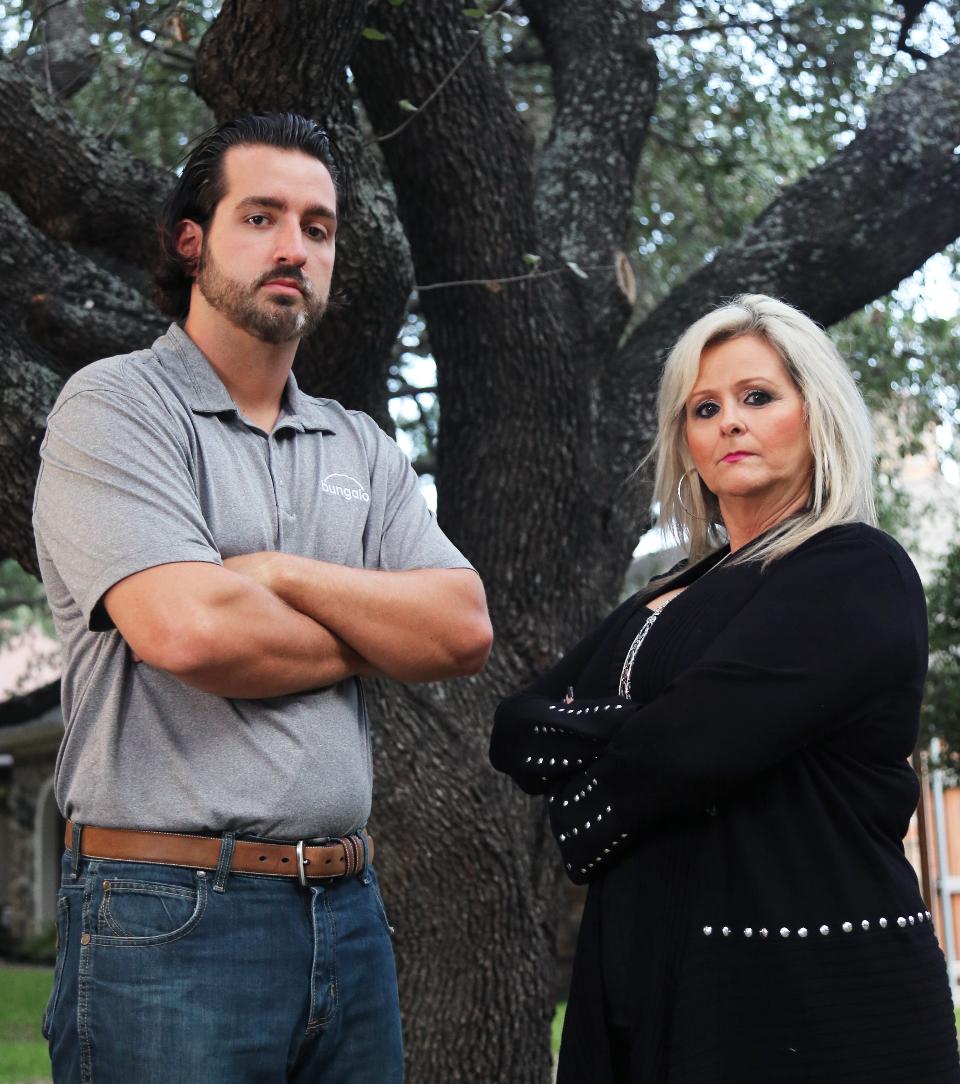 Source: Bungalo Homes
The goal?
Making sure "customers move in with confidence and certainty."
Is it a gimmick or a gift?
ADDITIONAL READING AND RESOURCES (ARR)
Thanks for reading today and being a loyal subscriber.
Your biggest fan,
Frederick Frost
P.S. We'd love your opinion.
How useful did you find today's Morning Bullets?
Not useful – It was ok – It was good – Very Useful
13.0% 13.9% 46.4% 26.7%
Note: Percentages are updated once per week on Sundays and include all feedback since inception.