Your daily source for trading strategies, tech news, and politically incorrect humor

Your daily source for trading strategies, tech news, and politically incorrect humor.
Dear eMBers,

Your Morning Bullets are here. Let's dig in.
INVESTOR INSIGHTS – Market Update
Investors are flocking to retailers ahead of the official fourth-quarter holiday results.

And Investors Business Daily wants you to know who the Top 11 performers have been since Black Friday.

And all of them are up 8.5% or more since November 29th.

There are a few surprises.

And one of those surprises is who didn't make it on the list at all…

Here are 3 of the highest performers:

Big Lots (BIG) up 38.9% since Black Friday.

Genesco (GCO) up 30.1% since Black Friday.

Express (EXPR) is up 23.1% over the same period.

Who else made the cut?

And who didn't?
YOUR SILICON VALLEY (LIBERAL) OVERLORDS
Beginning January 1st, the International Maritime Organization (IMO) is set to impose new emissions regulations.

It's part of a campaign designed to drastically curb pollution caused by ships.

Right now, the upper limit on sulfur oxides in ship fuel is 3.5%.

Once the new regulations take effect, that will drop down to 0.5%.

While the major oil companies and shipowners have blown billions to get ready, not everyone else has kept up.

And despite knowing this day was coming, many in the industry are still woefully unprepared.

"The market is in complete flux. Nobody seems to have the answers of how this will play out."

Because it was an industry-wide cost impact, most experts expected shipping liners to raise prices in preparation.

But it looks like a lot of them missed the boat.

And it's leaving experts flabbergasted.

"It's a complete mess and the customers are suffering with all of this uncertainty."

Find out how the whole scenario stands to impact everyone.

Maritime transport is critical to our global economy.

Over 90% of the world's trade is carried by sea…
TRUMP DERANGEMENT SYNDROME
The world wants answers about Hunter Biden.

And instead of getting those answers in the impeachment trial, it looks like we might be getting them from a different court.
Because karma – my friend – is a b–ch!

Family court – where Hunter Biden is embroiled in legal battles with his baby mama Lunden Roberts.

In court documents filed yesterday by a Florida-based private-eye firm, Biden is under a number of damning investigations.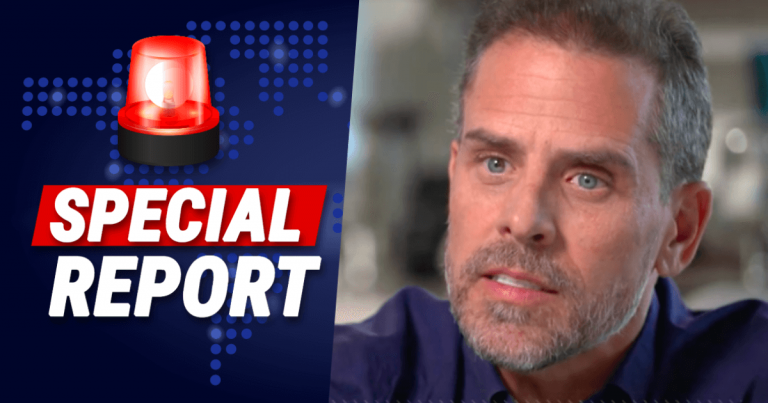 Image Source: GOP Daily Brief

While the claims were struck down due to being filed by an "intervener" there were some interesting allegations.

According to the claims, Biden "is the subject of more than one criminal investigation involving fraud, money laundering and a counterfeiting scheme."

One of those investigations is linked to Burisma Holdings, but it's hardly the only scandalous mark.

Another discusses his involvement in a plot to rip of Sioux Native Americans to the tune of $60 million in shady tribal bonds. His job? Helping drum up business…

Now, back to Burisma…
According to the firm, Biden and a group of other associates "established bank and financial accounts with Morgan Stanley… for Burisma Holdings Limited… for the money laundering scheme."

The average account value for these accounts stayed at about $6.8 million between March 2014 and December 2015.

Looks like a child support case could drum up more answers than a Congressional hearing.
Is Hunter in a pickle his Daddy can't save him from?
$7 Gold Investment Could Hand Investors a Small Fortune as Gold Soars.
Not gold coins, bullion, or risky mining stocks… Unique gold strategy, with a proven history of soaring 4,500% is Hard-Money expert's "Favorite gold play for 2019."
While Liberals have been busy playing "Pin the Tail on the Impeachment", President Trump has been busy, too.
Totally transforming the judicial system.
As of right now, 1 in 4 circuit court judges is a Trump appointee.

"Liberals have been using the court to try to force their liberal policy goals on the nation for a generation. Thanks to President Trump, we're pushing back on that."

In his first term alone has appointed a total of 187 Federal judges. 50 of those to circuit courts of appeal.
Plus two Supreme Court justices.
Find out more about the conservative court legacy this will leave behind.
CRAZY-INTERESTING OR RIDICULOUSLY-WEIRD
We've all got that certain someone on our Christmas list.

You know – the one who it's impossible to find the perfect gift for.

Because they're a little bit "out there."

Fortunately, these 42 gifts are equally odd.

At least one is bound to be a fit.

As a huge fan of The Office, this was my personal favorite.
Image Source: SellWild.com
But there were a ton of other contenders.

Like the Death Star toaster. It burns images on your toast AND looks cool!
And just a heads up – some of these gifts are only intended for mature audiences.
What do you think?

ADDITIONAL READING AND RESOURCES (ARR)
For as long as I've been involved in trading, I've never seen anything as powerful — and potentially life-changing as this…
I've recently learned of an elite group of traders…
That routinely captures gains as high as 443%… 904%... and even 1,436%.
These traders don't work on Wall Street…
And until now, their secrets have been tucked away inside a little-known SEC repository.
But I'm getting ready to sit down with a former fund manager and VP of JPMorgan Chase…
To spill the beans on these traders — and how you can "piggyback" them to massive profits of your own.
Learn the secret that could have made you 15x your money in less than 9 months
(You'll automatically be registered when you click the link!)
Thanks for reading today and being a loyal subscriber.
Your biggest fan,
Frederick Frost
P.S. We'd love your opinion.
How useful did you find today's Morning Bullets?
Not useful – It was ok – It was good – Very Useful
12.88% 13.20% 47.85% 26.08%
Note: Percentages are updated once per week on Sundays and include all feedback since inception.