Your daily source for trading strategies, tech news, and politically incorrect humor.
Dear eMBers,
Your Morning Bullets are here. Let's dig in.
INVESTOR INSIGHTS – Market Update
Friday looks like a good day for the markets.
Investors are looking forward to the release of retail sales data.
And it looks like they're expecting good news.
Dow Futures were up 81 points (0.3%), at 27,827.
S&P 500 futures are up 8.1 (0.29%) at 3,105.
Nasdaq-100 futures are up 31 points (0.4%) to 8,296.75.
This is after modest losses yesterday for the Dow and Nasdaq.
Meanwhile, the S&P 500 pushed further into unchartered territory with a 0.1% rise to 3,096.63.
Developments with the US-China trade deal have stalled for now.
But the outlook is still optimistic.

But the big headline investors are waiting for are in the October retail sales figures.

They are expecting a 0.2% rise after a 0.3% fall in September.

Find out which stocks they have their eyes on.

YOUR SILICON VALLEY (LIBERAL) OVERLORDS
Is China giving Silicon Valley a run for their money?
Once viewed as an "imitator", China is now aiming to be a global leader in tech areas from blockchain to AI.
And the US-China trade war isn't slowing them down.
Topics like the future of AI, blockchain, smartphones and financial tech will be the highlights of the upcoming East Tech West conference.
In 2017 Beijing put plans in place to become the world leader in AI by 2030.

The goal?

To have their industry worth 1 trillion yuan, or $1447.7 billion.

"The US still has the lead on R&D in AI, but China is catching up with the tech titans in AI as well as numerous well-funded startups such as Face++, Sensetime and iFlytek."

They're focusing on financial technology, too.

Globally, fintech ventures more than doubled in 2018. China accounted for roughly 46% of that figure.

Want to know more about what China is up to?

TRUMP DERANGEMENT SYNDROME
"It was a tepid bore."
Those were the words of Fox News legal analyst Gregg Jarrett.
And he was talking about the much anticipated Day 1 of public impeachment hearings.
And more panelists and journalists are wondering if Democrats have botched the whole thing.
So far, only two Democrats have voted against formalizing the impeachment inquiry.
After another week or more of this, others could join them.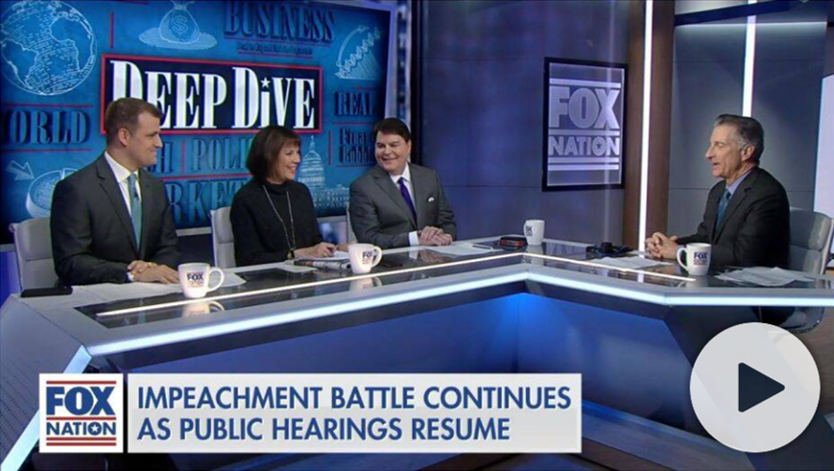 Source: Fox Nation
So, what's missing?
The drama.
"I'm starting to think that Democrats maybe made a mistake in doing the private hearings first and then releasing the transcripts, because a lot of people's reaction to the public testimony… is 'We knew this already.'"
Is Impeachment-palooza loosing steam?
Jarret thinks so.
"I think people are sick of it right now, especially since it is so close to an election. I think they're saying to themselves, 'My God, are you really going to try to remove the president? Just, you know, months before we have a right to judge whether he should be removed?"
Do you think Impeachment-palooza is losing steam?
It appears that some of America's richest investors are dumping shares of tech stocks at an alarming rate.
Berkshire Hathaway, for instance, dumped 2.9 million shares of Apple earlier this year.
Appaloosa Management sold more than half of its stake in Facebook.
And Amazon founder Jeff Bezos recently sold off nearly $3 billion worth of his own company's stock.
It turns out that instead of pouring money into high-flying tech stocks…
Investment dollars are flooding into a different corner of the financial markets.
The highlight of yesterday's Impeachment proceedings weren't what was said.
It was what was left unsaid.
And Fox News contributor Ari Fleischer didn't miss it.
In a Tweet, he captured it perfectly.
"Rep. Ratcliffe just asked the most important question of the day: Was there anything in President Trump's July 25th phone call that was impeachable. Neither witness said yes."
Instead, they told the panel it wasn't for them to decide.
Taylor's response, "I'm not here to take one side or the other, that's your decision."
Where is the substance behind all of this testimony?
CRAZY-INTERESTING OR RIDICULOUSLY-WEIRD
There's been some weird news out of Mars.
The Curiosity Rover has found some oxygen anomalies above Mars' Gale Crater.
Oxygen levels fluctuate – a lot – as the seasons change.
And this strange cycling can't be explained by chemistry as we know it.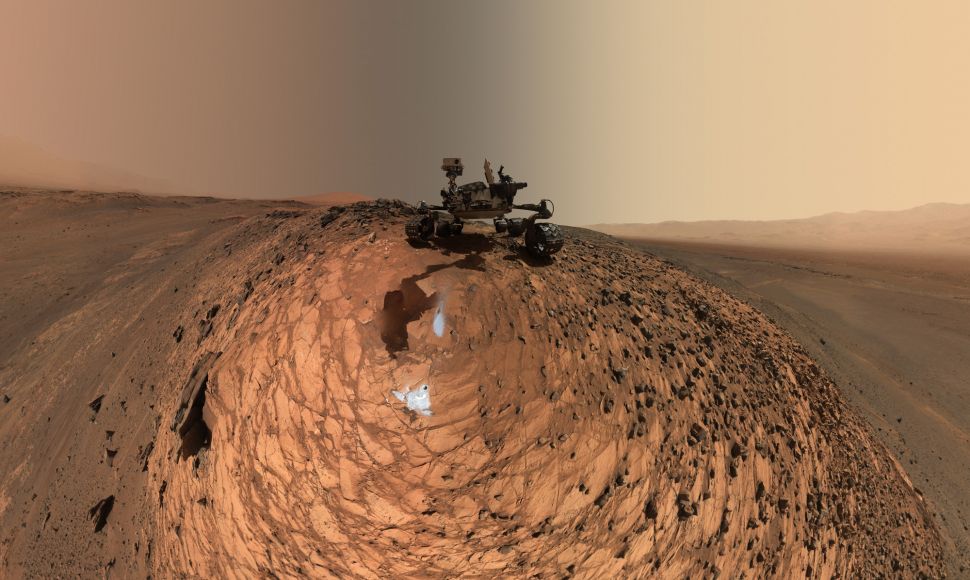 Source: Image: © NASA/JPL-Caltech/MSSS
Oxygen is rising as much as 30% during spring and summer, then dropping lower in the winter.
"We're struggling to explain this."
Could it indicate plant or other life on Mars?
No one really knows, and the Rover isn't set up to test for it.
ADDITIONAL READING AND RESOURCES (ARR)
Thanks for reading today and being a loyal subscriber.
Your biggest fan,
Frederick Frost
P.S. We'd love your opinion.
How useful did you find today's Morning Bullets?
Not useful – It was ok – It was good – Very Useful
12.6% 13.26% 47.48% 26.67%
Note: Percentages are updated once per week on Sundays and include all feedback since inception.

Follow Morning Bullets on:
You are receiving this e-mail because you made a great decision to receive Morning Bullets Daily Newsletter. To ensure you receive our emails, be sure to whitelist us. Follow instructions here.
If for any reason you believe you received this email in error, you can safely ignore it, or click here to unsubscribe.
© 2019 Morning Bullets. All Rights Reserved.
20 North Orange Avenue, Unit 1100 Orlando, Florida 32801