Your daily source for trading strategies, tech news, and politically incorrect humor.
Dear eMBers,
Your Morning Bullets are here. Let's dig in.
INVESTOR INSIGHTS – Market Update
While the Fed may be posting some bleak news, investors have other ideas.
When the markets closed on Friday, all three major indexes had posted all-time highs.
The S&P 500 secured a sixth straight week of weekly gains. That's the longest streak in two years.
Here are the numbers as of the closing bell:
The S&P 500 was up 0.77% to 3,120.46.
The DJIA was up 0.8% to 28,004.89.
The Nasdaq was up 0.73% to 8,540.83.
The boost is credited to optimism that the US-China trade deal will soon reach a resolution.
So, who were the S&P's to five performers?
YOUR SILICON VALLEY (LIBERAL) OVERLORDS
Is Big Tech bad for Small Biz?
Not necessarily.
In a Hill hearing this Thursday, a few witnesses weighed in.
Their opinion?
Overall, tech giants have been a net positive for business and consumers.

One of those witnesses was Joe Kennedy of the Innovation Technology & Innovation Foundation. He thinks Big Tech is getting a bad rap.
"We should not enact new, restrictive laws or engage in new antitrust practices simply to rein in some of America's most productive companies."
Jake Ward was also there, from the Connected Commerce Council.
He said it was simple.
"Large data-intensive digital platforms such as Google, Amazon, Etsy, eBay, Yelp, and countless others benefit their businesses, help them compete, and accelerate their success."
But a few of these Big Tech names are also sponsors for the CCC. Either way, Ward doesn't want to see any big shake ups.
"Any change to this delicate ecosystem, let alone breaking up the largest companies, would result in fewer free or low-cost tools and services available. And it would be small businesses that pay the price."
Do you agree? Is Big Tech good for Small Biz owners?
TRUMP DERANGEMENT SYNDROME
On Thursday, the Senate convened to consider a judicial nominee.
One bitterly opposed by liberals.
Bernie Sanders was at the Capitol. But he wasn't there to cast a vote.
He was there to campaign.
When asked why he didn't cast his ballot, he responded, "I am running for President."
Then he was rushed off.
So here's a question:
When is the last time Bernie voted in the Senate?
July. 4 months ago.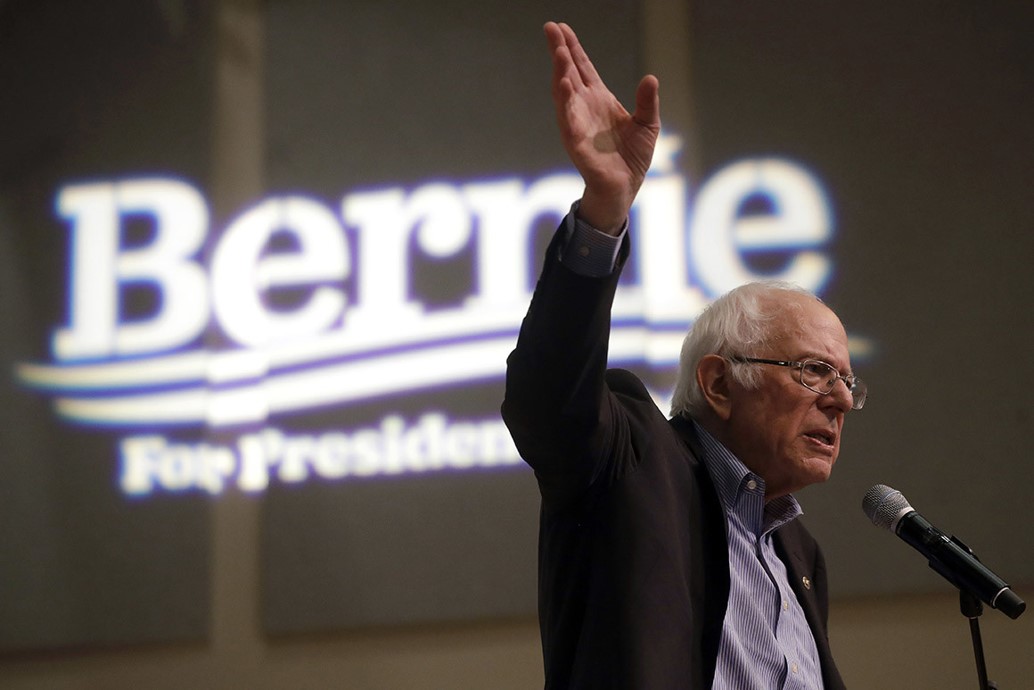 Source: Steven Senne/AP Photo
Actually, he's missed about 56% of his opportunities to vote and do his job.
And he's not alone.
All 5 Democratic senators eyeing the White House have missed over 100 votes.
Cory Booker is the biggest offender. He's been absent 58% of the time.
Harris tied with Bernie at 56%.
Warren has been absent 44% of the time.
Klobuchar and Bennet have the best attendance record, but have still missed 30%.
The real shocker? No one seems to care!
Dick Durbin said this: "We don't legislate. We're dealing strictly with nominations, simple majority requirements. Their presence doesn't make a difference."
As minority members, Democrats seem to have given up. Even if they universally oppose a nominee, they still can't win.
So, they don't show up.
Looks like every day is Senior Skip Day for Senators eyeing the White House…
Bill O'Reilly, the #1 best selling nonfiction author of all time and the top rated cable television host in history is back in a BIG way.
America is a place where you can achieve success no matter who you are. He is proof of that.
Bill's goal is to help as many folks as I can achieve it… including YOU.
To help, he wants you to meet his new broadcast partner.
This guy is one of the smartest money minds on the planet.The amount of money he's made for himself and for Bill will blow you away.
He's helped countless everyday Americans become millionaires too.
Discover how Bill 's new broadcast partner can help you make big money right here.
Day 2 of the Impeachment Inquiry was a lot like Day 1.
It's hard not to reach a simple conclusion.
They don't have a case. Just hype and lies.
And while that may have worked in their favor with behind-closed-doors hearings, it doesn't work for public hearings.
Case in point?
Their "star" witness, former Ambassador Marie Yovanovitch.
It took just two questions from Republican House Intelligence Committee member Chris Stewart to cut through the crap.
Question 1: "I would now feel compelled to ask you, Madam Ambassador, as you sit here before us, very simply and directly, do you have any information regarding the president of the United States accepting any bribes?
Answer: "No."
Question 2: "Do you have any information regarding any criminal activity that the president of the United States has been involved with at all?"
Answer: "No."
His conclusion?
"The American people are going to be able to see the evidence and they're going to be able to make their own determination regarding that."
Mark Meadows' conclusion?
"They have no case. This is not serious."
CRAZY-INTERESTING OR RIDICULOUSLY-WEIRD
In 2017, video of a UFO encounter witnessed by the Navy got leaked.
And it's taken the Internet by storm.
The actual event happened in 2004. The fact that it saw the light of day is pretty amazing.
Because 20 minutes after the event, modern-day "Men in Black" came to squash the whole thing.
Source:YouTube
The men who were there had to turn over all of their recordings.
Then, all recordings on the ship were deleted.
"They even told me to erase everything that's in the shop — even the blank tapes," he told Popular Mechanics.
Will the public ever learn what really happened on that fateful day?
What do you think – was it:
ADDITIONAL READING AND RESOURCES (ARR)
Thanks for reading today and being a loyal subscriber.
Your biggest fan,
Frederick Frost
P.S. We'd love your opinion.
How useful did you find today's Morning Bullets?
Not useful – It was ok – It was good – Very Useful
12.6% 13.26% 47.48% 26.67%
Note: Percentages are updated once per week on Sundays and include all feedback since inception.

Follow Morning Bullets on:
You are receiving this e-mail because you made a great decision to receive Morning Bullets Daily Newsletter. To ensure you receive our emails, be sure to whitelist us. Follow instructions here.
If for any reason you believe you received this email in error, you can safely ignore it, or click here to unsubscribe.
© 2019 Morning Bullets. All Rights Reserved.
20 North Orange Avenue, Unit 1100 Orlando, Florida 32801