China Trade Talks, Tesla S3XY and more

Your daily source for trading strategies, tech news, and politically incorrect humor.
Fellow Members,
I want to kick things off with my views on investing.
Many investors see opportunities as events — where results are, at best, a flash in the pan.
They chase the latest stock picks, home-runs and get-rich-quick schemes. They try this and that, get bored, then move onto the next shiny object.
And sometimes they get lucky and earn a fortune.
But because it was built on a foundation of luck (right place at the right time; it happens), it's not repeatable, and eventually they crash and burn.
I take a different approach.
And I'll tell you more about it tomorrow…
INVESTOR INSIGHTS – China Trade War Update
It was a busy weekend.
I followed the China trade talks back and forth.
And I don't consider it as "constructive."
It's clear that Trump won't budge.
In fact, Trump ordered Robert Lighthizer, U.S. Trade Representative, to begin the process of imposing tariffs on all remaining Chinese imports (an additional $300 billion of goods).
China said it would retaliate. And they are not afraid to fight.
Trump's response:
S&P futures declined as much as 1.1% at the open on Sunday night (at 6pm).
Should you be worried?
I don't think so.
I consider 5%+ market pull-backs normal in any big rally.
In fact, I think they become inevitable when "negative news" hits an already over-bought market.
But I don't think the rally is over.
And I'm focused on identifying lower market levels at which I might buy more of my favorite stocks.
YOUR SILICON VALLEY (LIBERAL) OVERLORDS
Elon Musk drives over 3 million people to Pornhub (in just 10 days).
How?

It all started with an Instagram post.
Take a look: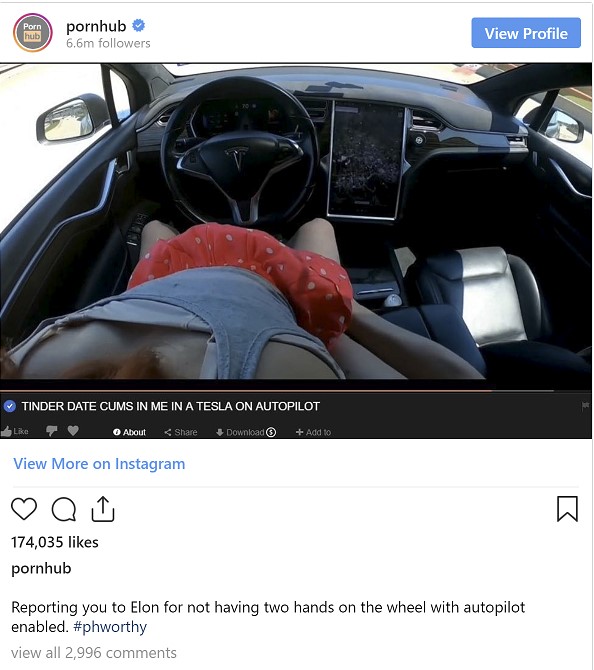 And Musk couldn't help himself.
He responded:

I thought it was funny.
And I'm not surprised at all.
Tesla is almost "begging" for this type of attention.
Just look at the spelling of their model lineup:
"S3XY"
TRUMP DERANGEMENT SYNDROME
Donald Trump Jr. was served a subpoena to testify… again.
He already testified for 25+ hours before multiple Congressional committees in connection with the Russia election investigation.  
He answered questions and was cleared in the Mueller report after a 2-year (almost unlimited) investigation.
But the Senate Intelligence Committee wants more.
They are bringing him back based on Michael Cohen's testimony.
I don't know about you, but I think it's time to move on…
Just let it go…
CRAZY THINGS LIBERALS SAY
Democrats are upset about the new "heartbeat" law in Georgia.
The law prohibits abortions in the state after a heartbeat is detected.
And Hollywood is all over the story.
Bette Midler, left-wing actress and singer, joined the opposition over the weekend and said:

Hmm….
Democrats not reproducing… I fail to see the downside here…
I work 24 hours a day finding these stories for you, but I don't want to charge for this service (unless you think I should… should I?)… the way you can help is by clicking below on some of partner offers I've hand-picked for you:
As Soon As June 17, This Weird Rooftop Pod Will Deliver the Death Blow to "The Big 3" Cable Companies… With One Clean Shot 
Have a great day,
Frederick Frost
P.S. We would love to hear from you. Please REPLY to this email and let us know if you find any interesting stories or if there's anything different you'd like to see. Of course, if you want to say how much you love us, feel free to do so as well.