Volatility Index, U for Underwhelming and more

Your daily source for trading strategies, tech news, and politically incorrect humor.
Fellow eMBers,
Your Morning Bullets are here.
Let's dive in.
INVESTOR INSIGHTS – Volatility Index (VIX)
We briefly touched on the VIX in yesterday's issue.
I said that it's one of the most valuable indicators. It is like staring into a crystal ball for the stock market.
It measures the fear in the marketplace. When the VIX is rising, investors are scared. When the VIX is falling, investors are bullish.
I use it as a contrary indicator to identify reversal points at market extremes.
How?
I wait for the VIX to generate a buy or sell signal.
Buy signal – VIX closes above its upper Bollinger Band and then closes back inside.

Sell signal – VIX closes below its lower Bollinger Band and then closes back inside.
Bollinger Bands measure the most probable trading range for a stock (or an index). When the price moves outside of its Bollinger Bands, it indicates an extreme condition.
Don't worry if this sounds a little confusing. Let me show you a few examples.
Take a look at this chart:
The blue circles are "VIX buy signals."
And here is how they played out…
This is a corresponding chart of the S&P 500. You can see that each VIX buy signal marked a short-term bottom for the S&P.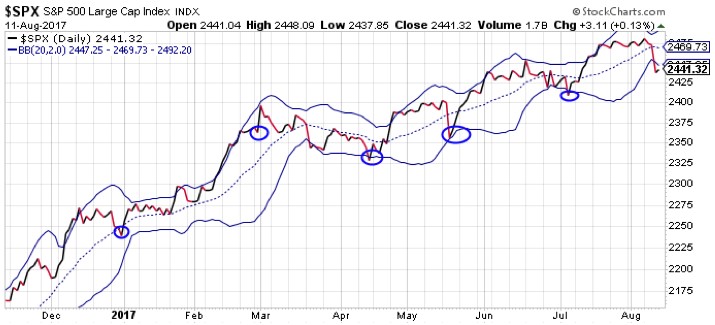 YOUR SILICON VALLEY (LIBERAL) OVERLORDS
Uber's stock fell 18% in its first two days of trading. On heavy volume.
And yesterday, it finally got a little bounce…
Take a look: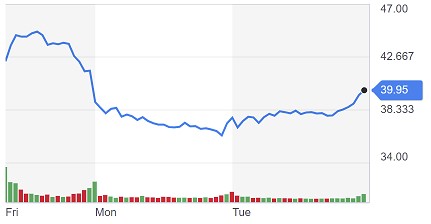 I'm not surprised. Uber has large losses and went public during a period of higher market volatility.
But I am surprised about Beyoncé…
Why?
Because according to this article, Beyoncé once performed at a private Uber party. And instead of her fee ($6m), got a small equity stake in the company.
The rumor has it her stake could be worth $300 million today…
If you find this interesting… you might want to tune in tomorrow as well…
Why? 
Because I will be writing about Amazon's new "lights out" warehouse that could put UPS out of business… 
TRUMP DERANGEMENT SYNDROME
Joe Biden attended an event in New Hampshire.
And he had an interesting exchange with an attendee:
Attendee: I have a very severe case of what's called Trump Derangement Syndrome… He is an illegitimate president — in my mind. That's it! I think all the talk about impeachment and what the Democrats should do, that's fine…
Biden: Would you be my vice presidential candidate? Folks, look, I absolutely agree…
CRAZY THINGS LIBERALS WILL SAY
Attorney General William Barr strikes back… FBI could be in trouble.
Mr. Barr used the term "spying."
Specifically, he has said he wants to review whether the FBI had grounds for spying on the Trump campaign, for example, when it sought a surveillance warrant against a former campaign adviser.
And he put the top federal prosecutor in Connecticut, John Durham, on the case.
Mr. Durham seems to be the right man for the job. He has a history of investigating potential wrongdoing among national security officials…
I can't wait to see what liberals have to say about this…