Your daily source for trading strategies, tech news, and politically incorrect humor

Your daily source for trading strategies, tech news, and politically incorrect humor.
Dear eMBers,

Your Morning Bullets are here. Let's dig in.
INVESTOR INSIGHTS – Market Update
Despite an initial 345-point drop, yesterday the Dow did cut some of those losses.

The US drone strike that killed a top Iranian military official drove negative investor sentiment.

But that wasn't the only thing dragging down optimism.

The ISM manufacturing index came in at only 47.2. They'd been expecting 49.1.

That means that December was the fifth straight month of contraction.

But even with that, the Dow, the S&P and the Nasdaq only showed final losses of the day between 0.7% and 0.8%.

Small caps had the best luck. The Russell 2000 was only down 0.4%.

So which investments had the best luck?

Oil and defense stocks were top performers.

Crude oil futures have settled at $63.05. That's up 3%.

These four defense stocks all recorded solid gains.

Two of them actually made new highs.

And for the bears who were banking on a sharp sell-off in semiconductor and software stocks – well they were largely disappointed.
YOUR SILICON VALLEY (LIBERAL) OVERLORDS
Google, Apple, Facebook and Amazon are the four biggest tech companies in the world.

And together, they've been dubbed GAFA.

As much as they found themselves in the spotlight, and despite calls for break ups and increased regulation, 2019 was pretty good to them.

As they're heading into 2020, their combined market cap is valued at $3.4 trillion.

That's up 31% from 2019's first day of trading.

But how is the media faring in all of this?

The media sector started 2020 with a combined valuation of $1.5 trillion.

That's up 28%.

But even though those numbers are up, GAFA's market cap pulled away from the medias by $493 billion more.

There were six media and tech companies that increased in value by $50 billion or more in 2019.

GAFA made the top four.

Only Disney and AT&T made it in the media.

Comcast was close at $49 billion, but there was no cigar.

Investors want to know – will this be the year when one tech company is worth more than the entire valuation for listed media?

They think that three out of four in the GAFA line up could.

Which ones?
TRUMP DERANGEMENT SYNDROME
We live in a partisan nation.

It seems no matter what the headline is, if it's related to Trump, there will be a deep divide between support and opposition.

The same holds true for the recent drone attack in Iraq that killed Iran's top general, Qassem Soleimani.

Most Republicans praise the move.

Most Democrats decry it.

But this particular tweet by Rose McGowan is the worst of the worst.

And lots of folks think she's completely lost her mind.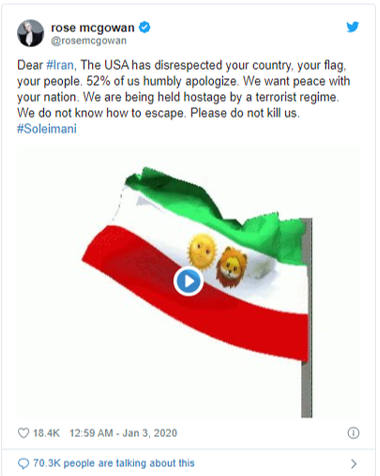 Source: Twitter
McGowan's followers accused her of doing drugs. Many pleaded with her to delete the post or maybe even her entire Twitter account.

Not so charmed now, are you?

She later apologized for the tweet, calling it a "freak out."

"Ok, so I freaked out because we may have an impending war. Sometimes it's okay to freak out on those in power. It's our right. That is what so many Brave solders have fought for. That is democracy. I do not want any more American soldiers killed. That's it."

But social media users weren't having it.

"I call bulls—. You said you couldn't 'escape' the U.S. and were being 'held hostage' by a 'terrorist regime.' STFU and buy a plane ticket ya f—ing walnut."

Regardless of what McGowan may (or may not) tweet, this is likely just the first "worst of the worst" we'll see.

Do you support Trump's decision to order the attack?
Donald Trump is currently the only 2020 candidate stepping up for religious freedom.

"Our faith is needed now more than ever. While certain fads come and go, it's an eternal truth that faith and family lead to the stability, happiness, ad prosperity of nations."

He continues, "Yet as we speak, every Democrat candidate running for president is trying to punish religious believers and silence our churches and our pastors."

He was speaking at the mostly Hispanic church, Ministerio International El Rey Jesus.

And it was filled with folks who have already faced that type of religious persecution and discrimination before coming to America.

According to the New York Times, "many supporters outside were Cuban emigres who said their primary concern was what they saw as the threat of socialism. Most said they were lifelong Republicans who were more concerned than ever about the Democratic Party gaining more power citing fears that they would face more government mandates."

And he called for attendees to vote in such a way that would ensure "another monumental victory for faith and family, God and country, flag and freedom."
CRAZY-INTERESTING OR RIDICULOUSLY-WEIRD
Scientists have just found the world's largest flower.

And it sure doesn't smell like a rose…

It smells like rotting meet.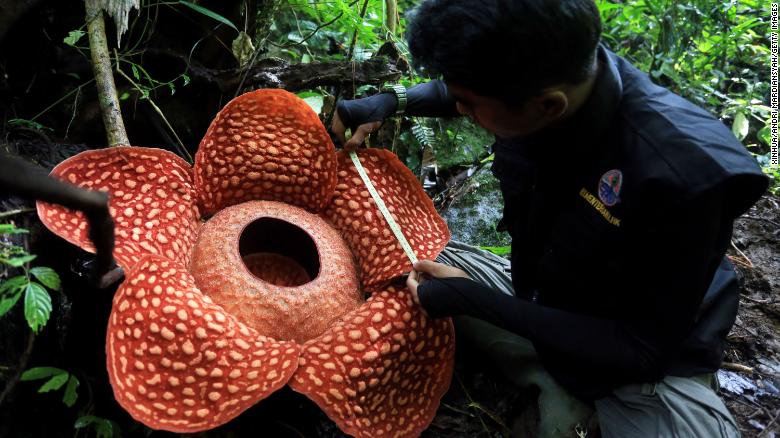 Source: CNN
In fact, thanks to it's parasitic prowess and horrible stench, it's been dubbed the "monster flower."

It's also been called the "corpse flower."

Known as the rafflesia plant, this latest found specimen is nearly four feet in diameter.

It was found in the same location (and from the same host plant) as the previous record holder.

This one is four inches wider, though.
ADDITIONAL READING AND RESOURCES (ARR)
For as long as I've been involved in trading, I've never seen anything as powerful — and potentially life-changing as this…
I've recently learned of an elite group of traders…
That routinely captures gains as high as 443%… 904%... and even 1,436%.
These traders don't work on Wall Street…
And until now, their secrets have been tucked away inside a little-known SEC repository.
But I'm getting ready to sit down with a former fund manager and VP of JPMorgan Chase…
To spill the beans on these traders — and how you can "piggyback" them to massive profits of your own.
Learn the secret that could have made you 15x your money in less than 9 months
(You'll automatically be registered when you click the link!)
Thanks for reading today and being a loyal subscriber.
Your biggest fan,
Frederick Frost
P.S. We'd love your opinion.
How useful did you find today's Morning Bullets?
Not useful – It was ok – It was good – Very Useful
12.90% 13.20% 47.81% 26.08%
Note: Percentages are updated once per week on Sundays and include all feedback since inception.