Your daily source for trading strategies, tech news, and politically incorrect humor

Your daily source for trading strategies, tech news, and politically incorrect humor.
Dear eMBers,

Your Morning Bullets are here. Let's dig in.
INVESTOR INSIGHTS – Market Update
Thursday was a stellar day for the markets.

The Dow jumped 330.36 points (0.9%) to close at 28,868.80.

The S&P closed up 0.8% at 3.257.85.

The Nasdaq gained 1.3% ad closed at 9,092.19.

Chip stocks were leading the way.

But today, it's a whole different story.

After a US airstrike killed a top Iranian commander in Iraq, futures are sharply lower.

The Dow was down 280 points at 7:25 am EST.

The S&P and Nasdaq futures were also sharply down.

Already, US crude oil futures are up about 4% to $63.56 a barrel.

See what that's doing to airline stocks.

And in light of this, how are gold and Treasury yields performing?
YOUR SILICON VALLEY (LIBERAL) OVERLORDS
Could Amazon be headed for a meltdown?

Forbes thinks so, and after a quick read, you might, too.

In November, Nike made the decision to break up with Amazon and sell their products online independently.

Meaning that they're losing the world's largest sporting goods company.

Now, you probably already know that most of the stuff listed on Amazon aren't actually Amazon products.

It's all about third-party sellers.

In 2007, only 26% of Amazon sales were from third-party sellers.

Today, that has skyrocketed to 53%.

And if you think that Nike is the first to leave, you'd be wrong.

Check out the other brands that have abandoned Amazon.

But now, it turns out that ANYONE can "become" Amazon.

See how easily that could play out.

Is there a massive disruption underway?
TRUMP DERANGEMENT SYNDROME
So, how's that fundraising coming along, Democratic contenders?

While there have been some strong takes on the Democratic side, they pale in comparison to what Trump has raised.

None of them came near the $46 million the Trump campaign took in for the final quarter of 2019.

This haul even topped Obama's fourth-quarter fundraising when he was up for re-election.

It also beats Trumps own record $41 million in the last quarter.

His current campaign war chest is over $103 million strong.

So, how do the other candidates compare?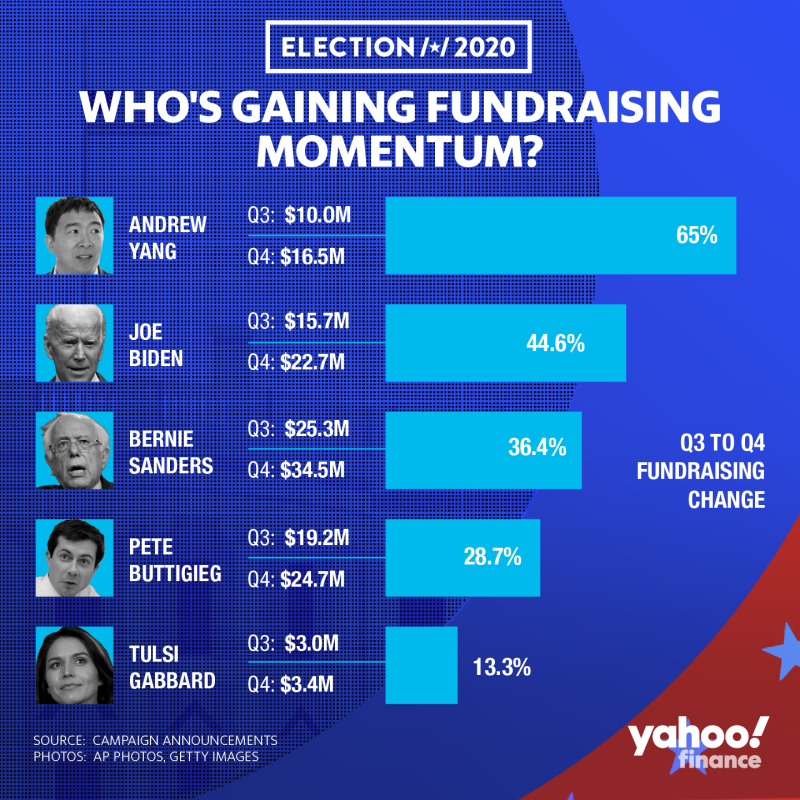 Source: Yahoo! Finance
Bernie Sanders fared the best. His campaign took in $34.5 million, which was up 36.4% from the previous quarter.

Next in line was Pete Buttigieg, who raised $24.7 million. That's up 28.7%.

Next was Joe Biden. He reeled in $22.7 million in fundraising. This marked a 44.6% increase.

And then there is Andrew Yang. While his $16.5 million haul might not seem so impressive, it marks a 65% increase from last quarter. Which IS pretty impressive.

Missing form the round-up?

Elizabeth Warren.

While they haven't officially released their fundraising update campaign emails are painting a bleak picture.

Her estimated fourth quarter haul looks to be about $17 million.

And that would be a 31% decline from the last quarter.

Do you think she's on her way out or could be heading for a come back?
WE'D LIKE TO INTRODUCE YOU
Bill O'Reilly, the #1 best selling nonfiction author of all time and the top rated cable television host in history is back in a BIG way.
America is a place where you can achieve success no matter who you are. He is proof of that.
Bill's goal is to help as many folks as I can achieve it… including YOU.
To help, he wants you to meet his new broadcast partner.
This guy is one of the smartest money minds on the planet.The amount of money he's made for himself and for Bill will blow you away.
He's helped countless everyday Americans become millionaires too.
Discover how Bill 's new broadcast partner can help you make big money right here.
Last night's airstrike that killed Iran's elite military force leader, Qassem Soleimani, is a "huge intelligence and military victory."

According to Sean Hannity:

"But I will say the big headline is, this is a huge victory for American intelligence, a huge victory for our military,, a huge victory for the State Department and a huge victory and total leadership by the president. It's the opposite of what happened in Benghazi. The exact opposite. And you know Benghazi, you investigated it."

And Representative Waltz of Florida had this to say:

"And for those critics who are going to say this is warmongering, no, this is peace through strength."

What do you think?
CRAZY-INTERESTING OR RIDICULOUSLY-WEIRD
Archaeologists had another major find at the tomb of Emperor Qin Shi Huang.

This time, it was about 200 more warrior from the ancient Terracotta Army.

They also found 12 clay horses, the remains of two chariots, some bronze swords, bow and even some colored shields.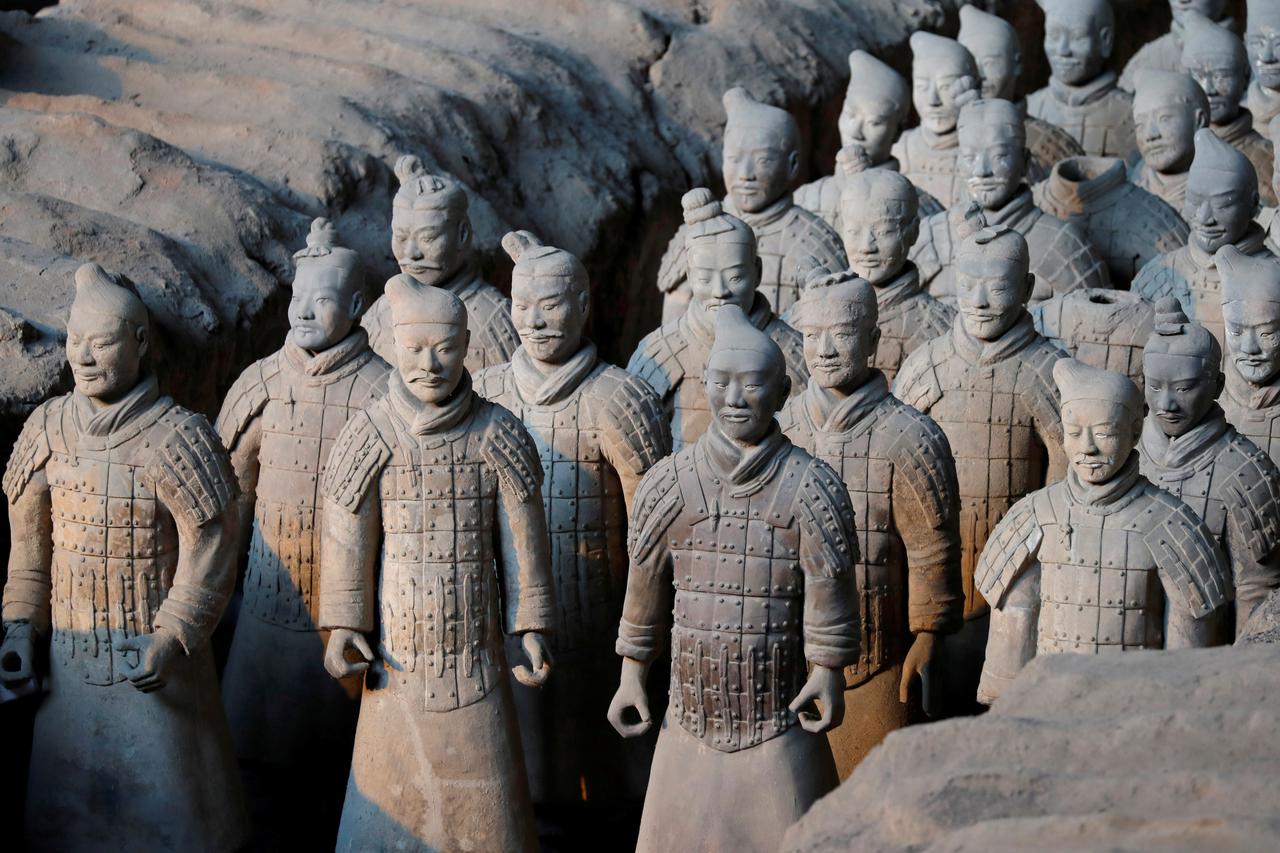 Photo Source: Reuters
The excavations are the latest round in No. 1 Pit.

It covers an area of about 400 square meters, or 4,300 square feet.

This is a great extension of the original find back in 1974.

Scientists still haven't figured out how this vast army was created.

What else will they uncover as the dig continues?

Or maybe just Wonderful?
ADDITIONAL READING AND RESOURCES (ARR)
For as long as I've been involved in trading, I've never seen anything as powerful — and potentially life-changing as this…
I've recently learned of an elite group of traders…
That routinely captures gains as high as 443%… 904%... and even 1,436%.
These traders don't work on Wall Street…
And until now, their secrets have been tucked away inside a little-known SEC repository.
But I'm getting ready to sit down with a former fund manager and VP of JPMorgan Chase…
To spill the beans on these traders — and how you can "piggyback" them to massive profits of your own.
Learn the secret that could have made you 15x your money in less than 9 months
(You'll automatically be registered when you click the link!)
Thanks for reading today and being a loyal subscriber.
Your biggest fan,
Frederick Frost
P.S. We'd love your opinion.
How useful did you find today's Morning Bullets?
Not useful – It was ok – It was good – Very Useful
12.90% 13.20% 47.81% 26.08%
Note: Percentages are updated once per week on Sundays and include all feedback since inception.