Your daily source for trading strategies, tech news, and politically incorrect humor

Your daily source for trading strategies, tech news, and politically incorrect humor.
Dear eMBers,

Your Morning Bullets are here. Let's dig in.
INVESTOR INSIGHTS – Market Update
Wondering what in the world is going on with gold?

You aren't alone.

Here at Morning Bullets, we're big fans of Jeff Clark. And it turns out he's a pretty big fan of us (and you, our readers). That's why he agreed to partner with us this week to provide some stellar trading advice to our loyal audience.

And a pretty amazing opportunity, too.

So what's on Jeff's mind this morning? Gold stocks.

"It didn't matter if you were bullish or bearish on the sector. Gold stocks have frustrated both sides. Rallies have been short-lived, with each bounce topping out at a lower level than the previous peak. And, none of the declines have caused the sort of selling pressure that usually creates a good buying opportunity for the gold stocks."

It's kept many investors on the sidelines for the past few month.

But should you stay there?

Look and see which ETF he's zeroed in on and what he sees gold stocks doing soon.
YOUR SILICON VALLEY (LIBERAL) OVERLORDS
Who is The Sixteen Thirty Fund?

Don't worry, if you've never heard of them, you're not alone.

They're a little-known nonprofit. But one with a massive spend for Democratic and liberal causes.

They made Politico's radar and the story that unfolded shows some pretty extraordinary things.

First off, this "dark money" source of donations for progressive causes is high-powered.

In 2018 alone they unleashed over $140 million to over 100 left-leaning causes.

One of the anonymous donations to the Fund exceeded $51 million. And since federal law doesn't require social welfare organizations to reveal their donors, we'll likely never know who it was.

"The group's 2018 fundraising surpassed any amount ever raised by a left-leaning political nonprofit."

"In terms of the size of dark money networks, there are only a few that have gone into the $100 million-plus range," said Robert Maguire.

"These kinds of totals aren't unheard of," Maguire added. "I do think they're unheard of on the liberal side. I think that's what's so striking about this."

Find out exactly which causes they're funding and what names have been connected to the secretive funding source.
TRUMP DERANGEMENT SYNDROME
Yesterday, we talked about some of the trouble "The Squad" is currently in.

But breaking news has taken one of them to a whole new level of hot water.

Representative Ilhan Omar was called a Qatari asset and accused of passing along state secrets to Iran.

And this wasn't in a Twitter war, but in a Florida courtroom.

The claims came from Kuwaiti-born Canadian businessman Alan Bender, during a trial of a member of the Qatari Royal family.

So far, the Minnesota Congresswoman claims that she's the victim of a Saudi Arabian smear campaign.
A representative for Omar responded: "Since the day she was elected, Saudi Arabian trolls and mouthpieces have targeted Omar with misinformation and conspiracy theories. The latest, outlandishly absurd story from a Saudi-funded media outlet is, of course, false and only the latest in that trend."

According to testimony, Bender was asked to recruit American politicians to become Qatari assets.

When he objected to the idea, he was told that many were already on payroll. Omar was one of them, and described to him as the "jewel in the crown."

Will there be more in depth investigation on this matter, or will it, too, be swept under the rug by the liberal media?

Do you think it's worth digging deeper?

Good news! In the spirit of Thanksgiving, our colleague, expert trader Jeff Clark, is holding a first-ever Black Friday sale Friday.
I won't spoil the surprise for you, but in short: You'll have the chance to get one of his most popular research services for a deal so good… you'll have to see it to believe it.
Seriously, it's the best deal he's ever offered, by far. Make sure to check your inbox tomorrow morning for all the details. Look for the subject line: "Your Special Black Friday Deal."
USMCA will be a win for Trump no matter what happens.

That's the consensus, anyhow. Across the political spectrum.

If it passes, he'll get credit for the rewrite of a NAFTA that had us on the losing side of things.

If it fails, it's just one more example of a Congress that can't walk and chew gum.

Or legislate and investigate.

Yesterday, Trump called out the speaker who controls the House agenda: "It's sitting on Nancy Pelosi's desk. She's incapable of moving it, it looks like."

And a united Republican front has flooded the airwaves with ad spends that share the exact same message.

"We are very likely, I think — well, I put it at 73 per cent that we will, our Democratic house, will ratify the new 'NAFTA Two,' the U.S.-Mexico-Canada trade agreement, before the end of this year," Democratic Rep. Don Boyer told his constituents. "Which gives Donald Trump a win. We're not going to hold back with good policy, because it happens to be a win for Donald Trump."

CRAZY-INTERESTING OR RIDICULOUSLY-WEIRD
Life's a balancing act, right?

Well, it definitely is for this guy.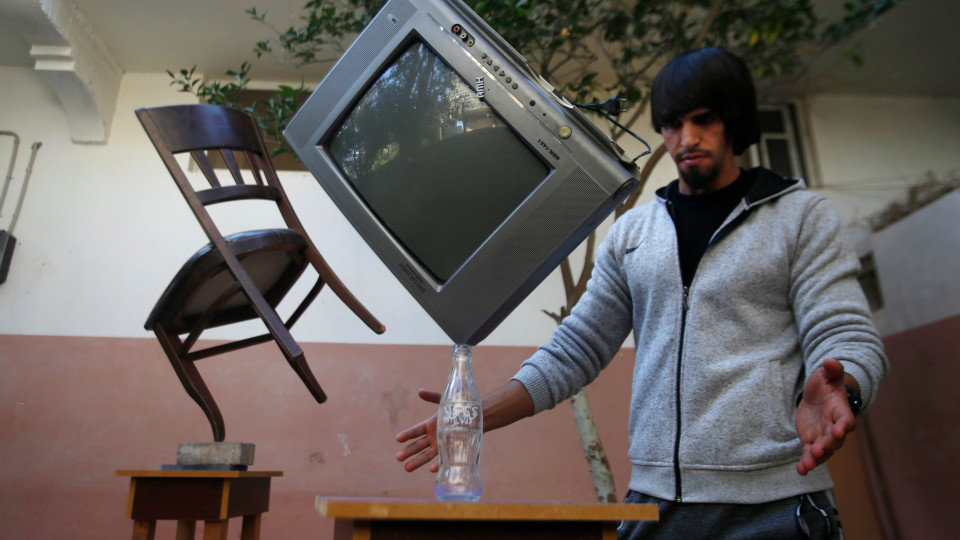 Source: Counton2.com
He can balance practically anything.

"When I do this, I feel something indescribable; like a magnet drawing out energy from me toward the objects," he said after he stacked four oddly angled cans of beans on a wood frame hanging off a tree.

What do you think?
ADDITIONAL READING AND RESOURCES (ARR)
Thanks for reading today and being a loyal subscriber.
Your biggest fan,
Frederick Frost
P.S. We'd love your opinion.
How useful did you find today's Morning Bullets?
Not useful – It was ok – It was good – Very Useful
12.68% 13.26% 47.71% 26.35%
Note: Percentages are updated once per week on Sundays and include all feedback since inception.