Your daily source for trading strategies, tech news, and politically incorrect humor

Your daily source for trading strategies, tech news, and politically incorrect humor.
Dear eMBers,

Your Morning Bullets are here. Let's dig in.
INVESTOR INSIGHTS – Market Update
US stocks are less than 1% away from records.

It's quite clear that investors are trying to shake off fears of what's going on in the Middle East.

Or that their hunger for gains outweighs their anxieties.

Dow futures are currently up about 21 points, which is less than 0.1%.

The S&P futures gained just shy of 2 points, and is up 0.1%.

And the Nasdaq added 28 points or 0.3%.

This is after all three indexes showed gains in yesterday's trading.

So how far are they from making new records?

The Dow is off by 0.6% from a record high.

The S&P 500 is just 0.4% shy.

And the Nasdaq needs to add just 0.2% to break the record set on January 2.

"Even though tensions between the US and Iran remain high, sentiment in equity markets has turned positive, as European indices are showing modest gains this morning."

Find out which reports get released today, and what that may do to investor sentiment.
YOUR SILICON VALLEY (LIBERAL) OVERLORDS
PayPal said it sees value in combining shopping and rewards with its two-sided payments network.

Enough value that they were willing to shell out $4 billion for new ecommerce startup, Honey.

It is by far the biggest acquisition PayPal has made in its two decade history.

So, what is Honey?

"Honey claims to have 17 million active monthly users whom it offers a deal-finding browser extension to help them get the best prices at more than 30,000 online retailers. Its coupon browser app also helps customers with finding the best deals on Amazon purchases, offers cash back, tracks price drops and more."

So why do users love Honey?

Because it automatically applies coupon codes at checkout.

The company was founded in 2012.

By 2018 it had $100 million in annual revenue.

And an estimated $200 million in 2019.

"The addition of Honey to our platform enables a significant step forward in our commitment to provide powerful services and tools for merchants and consumers, move beyond our core checkout proposition and significantly enhance the shopping experience for our 300 million consumers and merchants," said Dan Schulman, president and CEO of PayPal.

Will it be enough to compete with Apple and Samsung?
TRUMP DERANGEMENT SYNDROME
Remember the testimony in October of Intelligence Community inspector general Michael Atkinson?

Of course not – because it remains under wraps to this day.

Despite mounting pressure from Republicans.

That's why House Republicans currently have him under investigation.
Atkinson is the man who notified Congress of the whistleblower complaint.

And ultimately sparked the current impeachment effort.

But Rep. Devin Nunes, the ranking member of the House Intelligence Committee, isn't giving up.

In fact, he's digging in for a fight.

"Everyone needs to see that testimony, because it's very damaging, not only to the whistleblower but also to Atkinson himself."

Of course, he does admit that as the minority party in the House, they can't subpoena him or force him to testify again.

Will Atkinson's closed-door testimony ever see the light of day?
What would the "perfect stock" look like to you?
If you wanted to place one trade and retire a millionaire, what would you look for in a single stock?
Would it have the world's most elite investors behind it?
Would it have (proven) clinical trials of a technology so disruptive that it could save millions of lives?
Would it have patented (Patent # 24,875,090) technology that could monopolize a $8.18 trillion healthcare sector?
Would it have stock shares trading at a dirt cheap price of $6?
Would it have an incoming announcement that could start a historic market run like nothing we've ever witnessed before?
Well, what if I told you this exact stock exists and I have all the details waiting for you.
Would you be interested in learning how you could grab a 10,343% return on this historic stock?
Senate Majority Leader Mitch McConnell has all the votes he needs to overrule Schumer's demands for additional witnesses and testimony when (if) the impeachment trial resumes.

Democrats had been hoping that Susan Collins and Lisa Murkowski would jump ship with their republican colleagues.

But they won't.

And even if they had, Democrats would have needed two more Republican Senators to mutiny.

Instead, Collins and Murkowski would like to follow the 1999 Clinton impeachment precedent.

Which means waiting until later in the process to decide if additional witnesses should or will be called.

This would happen after House impeachment managers and the Trump defense team presented their opening arguments.

"I think we need to do what they did the last time they did this unfortunate process and that was to go through a first phase and then they reassessed after that."

Of course, all of this would require Pelosi to actually send the impeachment articles to the Senate.
CRAZY-INTERESTING OR RIDICULOUSLY-WEIRD
The Quadrantid meteor shower is the first of 2020.

And it was absolutely breathtaking.

Especially when viewed from the International Space Station.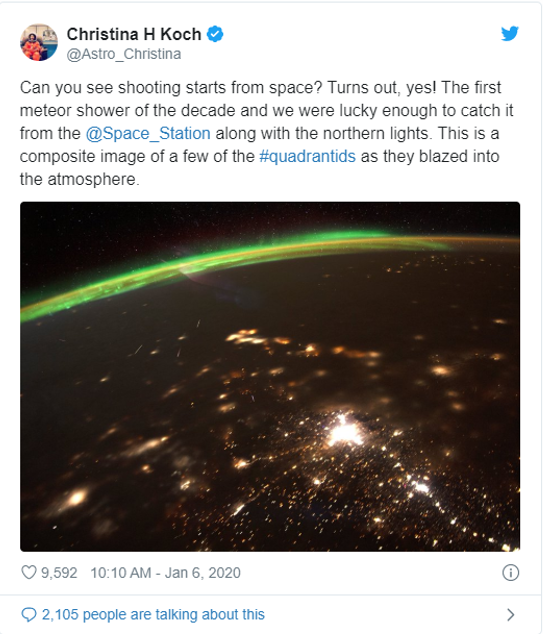 The photo was taken by Christina Koch and shared with the rest of us in a tweet.

Not only does it show the shooting stars, but also the aurora borealis.

What do you think?

Crazy beautiful or Weirdly eerie?
ADDITIONAL READING AND RESOURCES (ARR)
On Tuesday, January 7th, you're going to see something you've never seen before. At 1:00 PM ET that afternoon, I'm getting in front of a live video camera to reveal what could be the most profitable trading strategy of all time.
It's fairly new. A lot of traders haven't heard of it yet. In the time I've been using it, I've been able to target 2000% greater profits than the usual investment size. And now there's a way to do it using LESS money and taking LESS risk than ever before!
If I told you what it was, you wouldn't believe it. That's why I'm going to SHOW you on Tuesday, January 7th at 1:00 PM ET. Sign up for my online demo, and you'll get to watch me use this strategy on my own trades. In real time. Uncensored, unscripted, and no holds barred.
Unless you already have all the money you'll ever want and need, you don't want to miss a minute of this. It's that powerful.
RESERVE YOUR SPACE HERE
(You'll automatically be registered when you click the link!)
Thanks for reading today and being a loyal subscriber.
Your biggest fan,
Frederick Frost
P.S. We'd love your opinion.
How useful did you find today's Morning Bullets?
Not useful – It was ok – It was good – Very Useful
12.98% 13.17% 47.81% 26.04%
Note: Percentages are updated once per week on Sundays and include all feedback since inception.