Your daily source for trading strategies, tech news, and politically incorrect humor

Your daily source for trading strategies, tech news, and politically incorrect humor.
Dear eMBers,

Your Morning Bullets are here. Let's dig in.
INVESTOR INSIGHTS – Market Update
After news broke of Iran's retaliatory strikes on Iraqi bases housing US troops, the market took a plunge.

As of late last night, DJIA future dropped 343 points. Analysts are predicting a loss of 365 when markets open this morning.

The S&P and Nasdaq are pointing to losses of at least 1.3%.

"Iran launched more than a dozen ballistic missiles against U.S. military and coalition forces in Iraq. It is clear that these missiles were launched from Iran and targeted at least two Iraqi military bases hosting U.S. military and coalition personnel at Al-Assad and Irbil."

While the news has hurt equities, oil and gold are surging.

Crude futures jumped more than 3%, to $64.94 a barrel.

Gold futures for February delivery were up 2%. That puts gold at $1605.50 an ounce.

That marks the first time since gold broke the $1600 mark since 2013.

Asian markets are feeling the heat as well.

Some stocks have fared better. Namely, defense stocks.

Check out the four defense stocks that have soared.

"Most participants remained cautious … as it's still unclear how the standoff between the U.S. and Iran could affect financial markets," said Ken Berman, founder of Gorilla Trades, about Tuesday's session. "Volatility remained relatively low today, but investors remained nervous."
YOUR SILICON VALLEY (LIBERAL) OVERLORDS
Andrew Bosworth is the VP of Facebook.

In a memo recently released, he claims that it was, in fact, Facebook that helped Trump win in 2016.

But not for the reasons you might think…

It's important to note that he is NOT a Trump supporter. He was strongly in the Hillary camp in 2016.

"As a committed liberal I find myself desperately wanting to pull any lever at my disposal to avoid the same result," Bosworth said in the memo. "As tempting as it is to use the tools available to us to change the outcome, I am confident we must never do that or we will become that which we fear."

"So was Facebook responsible for Donald Trump getting elected? I think the answer is yes, but not for the reasons anyone thinks," Bosworth wrote. "He didn't get elected because of Russia or misinformation or Cambridge Analytica. He got elected because he ran the single best digital ad campaign I've ever seen from any advertiser. Period."

"They weren't running misinformation or hoaxes. They weren't microtargeting or saying different things to different people. They just used the tools we had to show the right creative to each person," he wrote.
TRUMP DERANGEMENT SYNDROME
Nikki Haley hit the nail on the head.

And Democrats everywhere are up in arms.

On Fox News on Monday, Nikki Haley was on with Sean Hannity.

And they were talking about what everyone on the planet is talking about – rising tensions between the US and Iran.

So what did she say that has everyone's panties in a wad?

That Democratic leaders and Democratic candidates for president are "the only ones that are mourning the loss of Soleimani."

CNN is calling her despicable for it.

They were hoping she'd back track and apologize.

Instead, she's doubled down.

In the same interview, she said "the president showed great decisiveness, great resolve," and that he left Iranian leaders "shaking in their boots."
Image Source: Politico
Meanwhile, Joe Biden called President Donald Trump "dangerously incompetent and incapable of world leadership."

But Fox's Tammy Bruce, like Haley, is having none of it.

"The Democrats are saying that this action is an 'escalation'. You've been seeing that word in headlines. Nancy Pelosi's been saying it all. All the Democrats are saying it," she observed.

However, Bruce argued, "when you do nothing about something like a cancer, like Soleimani and the spread of terrorism… or when you, in fact, appease that regime and give them money, you are in fact creating what is essentially an endless war."

"What the real escalation is — interestingly enough — is by doing nothing to stop the cancer," she continued.

At some point, you've got to say enough is enough.

"In November 1979, the U.S. embassy in Tehran was seized. Fifty-two Americans were taken hostage for 444 days," she recalled. "In October of 1983, the Beirut barracks bombings killed 300 plus of our Marines."

"September 2019, a drone attack on a Saudi oil facility. And, of course, at least 600 U.S. troops, at least, killed by Iran-backed militias in Iraq since 2003."

"The president's action eliminated this notion that appeasement was the way to go. And that's what's being called an escalation," Bruce concluded.

Which do you prefer?

Appeasement or Decisive Action?
Why Everyone is Getting Rich Right Now – And You're Not
Hundreds of thousands of Americans have been hit by a wave of wealth. Over the past year, the U.S. has minted an average of 1,800 new millionaires a day. How did they do it? For the first time in history, two of these millionaire investors have joined forces to help you learn the secret moneymaking strategy of the wealthy and connected.
Click here to watch their presentation.
The US trade deficit fell to $43.1 billion in November—its lowest level since October 2016.

And it's all part of a campaign promise Trump made and has every intention of keeping.

It's even more impressive when you consider that the US trade deficit had reached a record high in 2018.

There were two big reasons for that increase. First, with the economy growing so quickly, there were more imports. The second reason was that US importers knew about upcoming 2019 tariffs, so many of them stocked up in advance.

But now, all of that has changed.

Chinese exports to America have taken a nose dive.

While it's clear that Trump is winning the Trade War, not everyone is thrilled about it.

"Falling imports in every major category are what we see in this report, and that includes capital goods. That is not a good sign for business investment."

That was Jeffrey Kleintop, Charles Schwab's chief global investment strategist.

It makes you wonder – what's in store for us in 2020?
CRAZY-INTERESTING OR RIDICULOUSLY-WEIRD
According to research published in the Journal for the Scientific Study of Religion, cat lovers are less likely to attend church.

The research found a "strong, negative association between worship attendance and cat ownership."

Some of the researchers think this could be due to the fact that cats are a "god substitute."

"They want to interact with you but it's always on their terms and it's always about them," he said. "We want to always win their affections and it bothers us when we think they might be somehow displeased with us… So while they're pretty low-maintenance, we end up serving them a lot. Cats are very godlike in those characteristics."

Perhaps the guy who spent a week building a 2,432 piece Manga model is rethinking his decision to own a cat.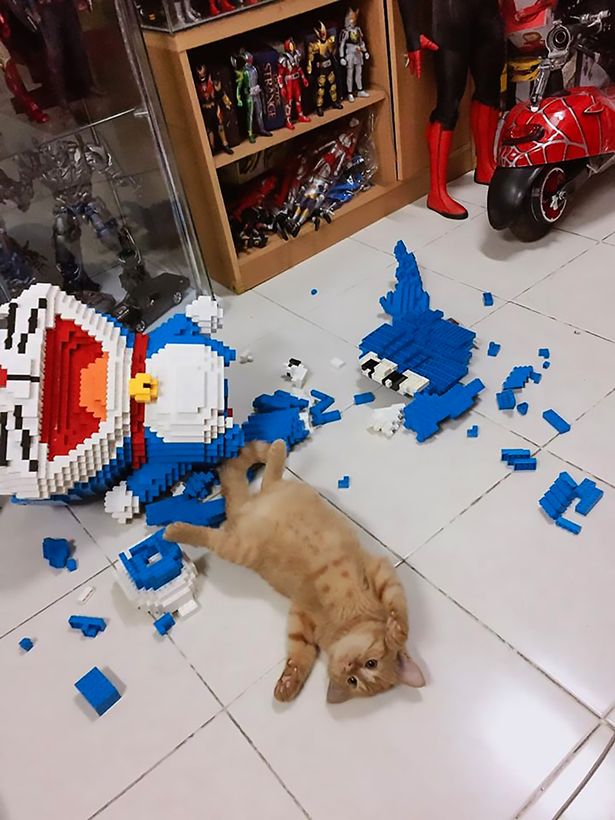 Image Source: AsiaWire/@boogy.jun
As you can see, what took hours and hours of work to build, his pet cat destroyed it in minutes.

And seems completely unrepentant. But devilishly adorable.

How about you?

Are you a cat person, a dog person or a no pets please person?
ADDITIONAL READING AND RESOURCES (ARR)
We've all had moments where the market tried to throw us a curveball.
But patience and allowing your trade plan to play out can turn a negative trading into a positive one!
Even when the market is working against you, following your plan is crucial to ending your day in the green!
Check out this upcoming free webinar on December 18th at 12 pm ET, hosted by Troy Noonan where he'll show you how to utilize Spotlight Master Suite to build your trade plans to help get results like his!
(You'll automatically be registered when you click the link!)
Thanks for reading today and being a loyal subscriber.
Your biggest fan,
Frederick Frost
P.S. We'd love your opinion.
How useful did you find today's Morning Bullets?
Not useful – It was ok – It was good – Very Useful
12.98% 13.17% 47.81% 26.04%
Note: Percentages are updated once per week on Sundays and include all feedback since inception.