Your daily source for trading strategies, tech news, and politically incorrect humor

Your daily source for trading strategies, tech news, and politically incorrect humor.
Dear eMBers,

Your Morning Bullets are here. Let's dig in.
INVESTOR INSIGHTS – Market Update
A trigger indicating a broad stock market sell signal is about to be pulled.

And it will only be the second time in 2019.

As veteran trader Jeff Clark explains, the last time this happened, stocks dropped 5%.

And what he wants you to keep your eye on is the Volatility Index (VIX).

"The Volatility Index (VIX) is commonly referred to as Wall Street's fear gauge. The VIX rises as investors grow fearful. It falls when investors are complacent. Extreme moves in the VIX are excellent contrary indicators. As traders, we look to buy stocks when the VIX makes an extreme move to the upside, and we look to sell stocks when the VIX makes an extreme move lower."

And the way Jeff wants you to measure this volatility and make the right move is with Bollinger Bands.

Take a look at how it played out back in July.

And be ready to make your move when it happens next.

If you want to stay on top of market opportunities, then don't miss out on Jeff's Black Friday offer. It could be your 2020 game changer.
YOUR SILICON VALLEY (LIBERAL) OVERLORDS
Once you snatch up Jeff Clark's amazing Black Friday deal, where else will you shop?

Well, if you're on the lookout for the best Black Friday tech buys, we'd like to help you out.

Here's a roundup of more than 170 deals on the tech you (and your family) have on your holiday shopping list.

Even better?

All of these deals can be scooped up without having to leave the house!
TRUMP DERANGEMENT SYNDROME
And here we go again…

The media goes in a frenzy over something they think that Trump did.

Then, they figure out that the policy or action in question hailed from the Obama administration.

After that, they pretend like it never happened and move on to the next one.

The last time we talked about it was over Obama era deportation stats.

This time, the outrage is over ICE's fake university stings.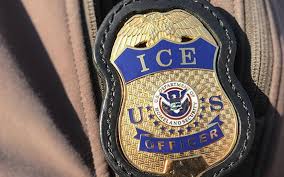 Source: GrandForksHerald
ICE arrests 90 more students at fake university in Michigan… Once again the private sector shows the way. Trump's experience setting up fake universities has been adapted for government use. https://t.co/dNQ4EZKy9S
— Dan Janison (@Danjanison) November 27, 2019

Leave it to the Trump administration to use a fake university—this time, to trick immigrants into forking over cash for fake classes and invalidating their legal visas in the process. They ended up arrested by ICE. How is this anything but entrapment? https://t.co/O5JnXwB0Mw
— Jamil Smith (@JamilSmith) November 28, 2019

The only problem?

These aren't Trump's policies.

They're part of Obama's legacy.

"But the Trump administration didn't come up with the scheme. That credit should be given to Obama's administration. Activist Ben Speilberg noted that Obama was not only responsible for the idea, which was implemented in 2015, but his administration also used a similar sting operation in 2013."

Were Democrats even paying attention to what Obama did?
BIGGEST BANG FOR YOUR BUCK!
Jeff Clark has an amazing opportunity for you…
Today, he is having his first-ever Black Friday sale.
Right now, you can get Jeff Clark's introductory options trading research service — Jeff Clark Trader — for just 99 cents.
This is just like it sounds. There are no strings attached.
Instead of paying the $199 retail price… or the $19 charter price… if you act right now, you can get a full 12-month subscription for less than $1.
Plus, you'll get a series of new trade recommendations… bonus reports… training videos… and more (full details here).

Democrats are losing sleep at night.

They're terrified that Trump is going to win.

No matter what they do…

As Kelly Dietrich, founder of the National Democratic Training Committee, explained it: "We're Democrats. We can snatch defeat from the jaws of victory at every moment."

The thing that's freaking them out the most?

The Electoral College.

They know that Trump could secure a victory without winning the popular vote. He did it in the last election.

Now, they think he can do it again. Winning with even less popular votes.

"I think there's just this psychology of losing right now," Schultz says, referring to Democrats' nervousness over the field of candidates. "It's kind of getting under their minds at this point, that it could happen again."

"I think nobody thought that Trump would win the election (in 2016), so we just don't want to take anything for granted this time," says Rep. Dina Titus, Democrat of Nevada. "We're feeling good, but we're a little superstitious."
So what are they planning on doing about it?
CRAZY-INTERESTING OR RIDICULOUSLY-WEIRD
Trump Tweets a meme, and the Internet breaks.

What was it this time?

What could be my personal favorite…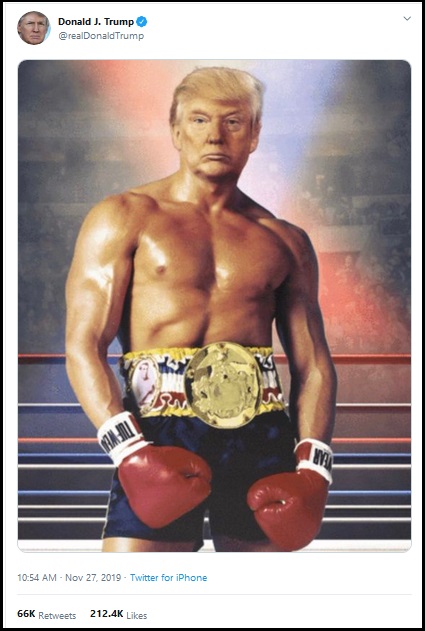 Source: TheConservativeTreehouse
Yep, Trump's head atop Rocky's (from Rocky 3) body.

"As a result the media has entered a mental breakdown that makes Alex Jone's most insane moment seem complete rational and normal."

(You should really check out this gaming writer, he's pretty clever.)

Now it's your turn to weigh in…
ADDITIONAL READING AND RESOURCES (ARR)
Am I'm crazy for offering a deal this good?
Why on Earth would I offer my wildly popular research service — Jeff Clark Trader — for just 99 cents?
After all, thousands of people have happily paid up to $249 to access a lifetime subscription to this service.
Why would I give away a year for just 99 cents?
Because I want to show that ANYONE — including you — can learn how to use my options trading blueprint…
Thanks for reading today and being a loyal subscriber.
Your biggest fan,
Frederick Frost
P.S. We'd love your opinion.
How useful did you find today's Morning Bullets?
Not useful – It was ok – It was good – Very Useful
12.71% 13.29% 47.61% 26.39%
Note: Percentages are updated once per week on Sundays and include all feedback since inception.