Your daily source for trading strategies, tech news, and politically incorrect humor

Your daily source for trading strategies, tech news, and politically incorrect humor.
Dear eMBers,

Your Morning Bullets are here. Let's dig in.
INVESTOR INSIGHTS – Market Update 
Time to take the temperature of the housing market.

After a slump in September, October numbers were on the uptick.

In October, existing-home sales grew by 1.9%.

That takes the seasonally adjusted annual rate to 5.46 million units.

The price of median existing-homes was $270,900 – which was up 6.2% from the same time last year.

This marks the 92nd straight month of gains.

Sales volume was up 4.6% versus a year ago.

There's still not enough inventory to meet demand. There is less than a 4 month supply of inventory.

Average days on market went from 32 in September to 36 in October.

"It is great to see home sales rise along with an increase in housing permits. "Both home buyers and the home sellers are being rewarded by these developments, and we see that conditions remain extremely favorable for real estate investment in America."
YOUR SILICON VALLEY (LIBERAL) OVERLORDS
Not sure which tech stories you need to follow?

Don't worry – Business Insider has you covered.

They've pulled together the Top 10 Tech stories that should be on your radar.

Like this one…

Y Combinator, one of Silicon Valley's hottest start-up incubators, is closing shop in their China subsidiary. After only one year. What prompted the move? You guessed it – increased trade tensions.

And if you think the cost of your iPhone repairs is too high, you might be surprised to learn that it's not high enough. Since 2009, Apple has lost money on repair services since 2009.

Curious how much stock Uber co-founder Travis Kalanick has sold off this month? Hint – it's in the billions!

Alphabet is getting back into the robot biz. In the works? A consumer robot that can learn and adapt.
Catch  the rest of the headlines you won't want to miss.
TRUMP DERANGEMENT SYNDROME
Barr has confirmed that the FISA report gets released on Monday, December 9th.

Now, we also know more about one of the FBI officials facing criminal charges.

The low-level line attorney has already been let go from the FBI. Now he'll face US Attorney John Durham.

The lawyer was interviewed by Horowitz's team. He admitted to making a change to the document that was "substantive enough to twist its meaning."

Not only did he lie about having documentation to support the basis of his application. He also created a false email to back it up.

"If there was an FBI agent sworn to uphold the Constitution who can be proven to have altered the document in connection with a legal proceeding, including the obtaining of a FISA warrant, that's really serious. It doesn't get a lot more serious than that," former U.S. Attorney Preet Bharara said.
During the FISA report investigation, Barr and team analyzed over 1 million documents. They also conducted over 100 interviews.

Republicans can't wait the largely unredacted release. We're confident it will show the REAL instances of election interference and undermining of Trump.

We also hope to see some indictments and prison time doled out.
How far up do you think the indictments will go?
Very low level or all the way to the top ?
5G has been promised for years.
In 2019, it's finally here.
By year's end… almost 100% of the country will be 5G-capable.
Stocks have already shot up in anticipation of its arrival.
Extraordinary gains like 11,567%… 8,580%… 7,311%…
The list goes on and on.
Apple isn't the only smartphone maker launching a 5G-enabled phone. Every major consumer electronics company on the planet is launching its own 5G devices.
And every single one of these devices – they will number in the billions – will depend on an essential component to connect to 5G. Jeff Brown spotted the company that provides that component. This is a stock that investors will want to own.
Due to the amount of activity, this opportunity can end at any time.
California's Supreme Court struck down a law that required Trump to provide tax records to appear on the CA ballot.

That law was signed by Governor Newsom back in July.

"Whatever authority the Legislature may have in defining how presidential primaries are to occur in this state, the challenged sections of the act exceed such authority and are unenforceable," California Supreme Court Chief Justice Tani Cantil-Sakauye wrote in the opinion.

This ruling by the state's highest court marks a rare win for Trump in Democratically controlled Cali.
CRAZY-INTERESTING OR RIDICULOUSLY-WEIRD
Know someone who REALLY loves Hidden Valley Ranch?

Then this gift will be right up your alley.

And it's only $35.00!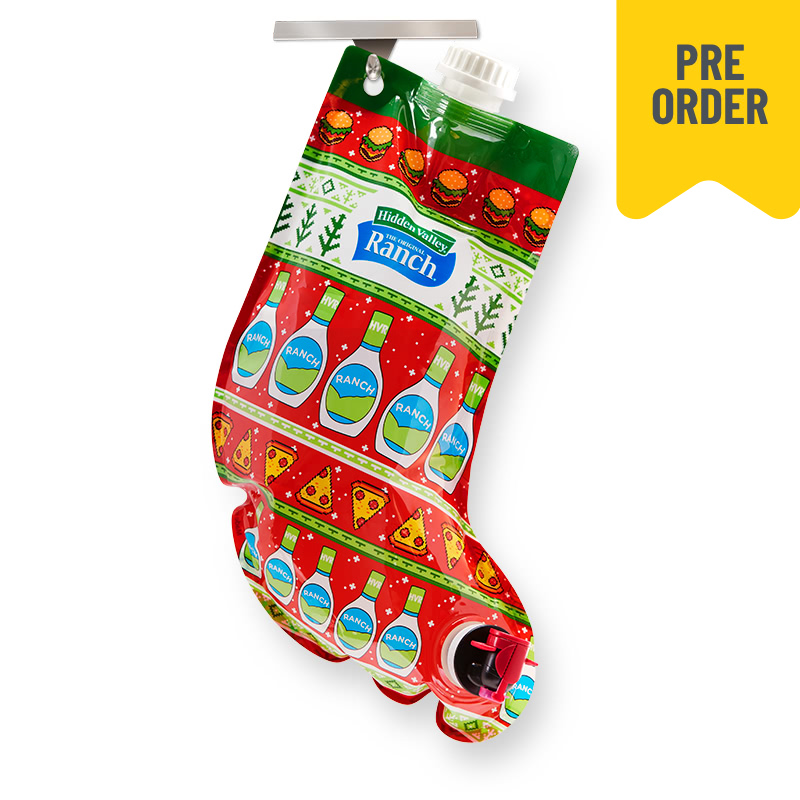 Source: HiddenValleyRanch.com
You can pre-order yours today.
52 ounces of the creamy goodness. And the pour spout is on the toe of the stocking.
Forget about traditional stocking stuffers. This one is already full to the brim!
ADDITIONAL READING AND RESOURCES (ARR)
Thanks for reading today and being a loyal subscriber. 
Your biggest fan, 
Frederick Frost
P.S.   We'd love your opinion.
How useful did you find today's Morning Bullets?
Not useful – It was ok – It was good – Very Useful
   12.71%         13.29%         47.61%          26.39%
Note: Percentages are updated once per week on Sundays and include all feedback since inception.