Your daily source for trading strategies, tech news, and politically incorrect humor

Your daily source for trading strategies, tech news, and politically incorrect humor.
Dear eMBers,

Your Morning Bullets are here. Let's dig in.
INVESTOR INSIGHTS – Market Update
Bitcoin has turned bearish.

But how long will the trend last?

As of yesterday, Bitcoin has erased 75% of it's October highs.

Meanwhile, the S&P 500 has been full on bullish.

In October, Bitcoin had reached a high of $10,350.

It is currently trading at $8,070 on Bitstamp.

What's fueled the drop?

A lack of positive catalysts.

The crypto had pinned high hopes that BTC would benefit from China's blockchain adoption push.

What could fuel a new rally?

China devaluing the yuan.

However, it would likely be short-lived.

And some technical charts indicate a different theory.

One where bitcoin continues to decline to a support of $7,700.
YOUR SILICON VALLEY (LIBERAL) OVERLORDS
There's a new VR breakthrough.

And it could have a huge impact.

Not just on gaming, but in medicine as well.

It's known as the "skin machine" and it adds a sense of touch within virtual reality.

It's a soft, lightweight sheet of electronics. It sticks to the body. Behind the scenes, it uses a combination of pressure, vibration and motion to create a sense of touch for users.

That means that you could actually "feel" pain inflicted upon your video game avatar.

The whole system was just published in the scientific journal, Nature.

While it will have huge implications in gaming, there are also signs it could be a game changer for amputees and prosthetic users.

"Until now, it has been a great challenge to incorporate sensations of touch into virtual and augmented reality."

Experts have hopes that advances like these will help VR break into the mainstream.
TRUMP DERANGEMENT SYNDROME
There are some headlines you just can't make up.

Like this one:

Judge bars ICE from courthouse, ICE threatens judge with arrest

And it wasn't from The Onion.

It's based on a real life story that's playing out in Salem, Oregon.

The conflict started when a judge banned ICE officials from making arrests in courthouses.

And ICE has no intentions of following the ban.

Not only will they continue to carry out their duties, they will fight back.

They will "consider carefully whether to refer those who obstruct our enforcement efforts for criminal prosecution."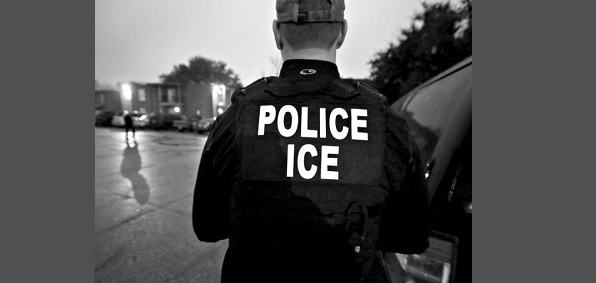 Source: WND.com
So, does the ban equal obstruction?

Looks like we're about to find out.

According to Law Enforcement Today, "… anyone who obstructs federal law enforcement could be charged with crimes."

"ICE ERO officers have been provided broad at-large arrest authority by Congress and may lawfully arrest removable aliens in courthouses, which is often necessitated by local policies that prevent law enforcement from cooperating with ICE efforts to arrange for a safe and orderly transfer of custody in the setting of a state or county prison or jail and put political rhetoric before public safety," the statement said.

The federal agency said it's "ironic that elected officials want to see policies in place to keep ICE out of courthouses, while caring little for laws enacted by Congress to keep criminal aliens out of our country."

Do you agree with ICE's statement?
It appears that some of America's richest investors are dumping shares of tech stocks at an alarming rate.
Berkshire Hathaway, for instance, dumped 2.9 million shares of Apple earlier this year.
Appaloosa Management sold more than half of its stake in Facebook.
And Amazon founder Jeff Bezos recently sold off nearly $3 billion worth of his own company's stock.
It turns out that instead of pouring money into high-flying tech stocks…
Investment dollars are flooding into a different corner of the financial markets.
Well, here's a Trump win you'll likely hear little about…

It started with the Obama administration. It was a long-term deal with a Chinese Communist company. And it would have given them control over the second busiest port in the nation.

But not anymore.

After a drawn-out security review, COSCO Shipping Holdings Co. was forced to sell their container terminal business.

The new buyer is an Australian company called Macquarie Infrastructure Partners.

The truth is, it was a deal no one should have signed off on in the first place.

Here's why…

The southern CA port is the premier U.S. gateway for trans-Pacific trade. It handles trade valued at $194 billion a year. It's one of the few ports that can accommodate the world's largest vessels. It serves 140 shipping lines with connections to 217 seaports worldwide. The facility encompasses 3,200 acres with 31-miles of waterfront, 10 piers, 62 berths and 68 post-Panamax gantry cranes.

In 2018, the Long Beach port handled more than 8 million container units, achieving the busiest year in its history.

This marks a huge victory for Trump and our national security.
CRAZY-INTERESTING OR RIDICULOUSLY-WEIRD
Has drug smuggling gotten so easy that even kids can do it?

Looks like that's a yes.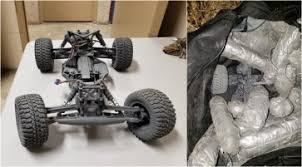 Source: Q13 Fox News
California authorities just arrested a 16-year-old who is suspected of using a remote control car to smuggle more than $100k worth of meth across the border.

The total haul was over 55 pounds of methamphetamine.

And it seems likely that it wasn't the first time the toy car had been put to work.
ADDITIONAL READING AND RESOURCES (ARR)
Thanks for reading today and being a loyal subscriber.
Your biggest fan,
Frederick Frost
P.S. We'd love your opinion.
How useful did you find today's Morning Bullets?
Not useful – It was ok – It was good – Very Useful
12.71% 13.29% 47.61% 26.39%
Note: Percentages are updated once per week on Sundays and include all feedback since inception.