Your daily source for trading strategies, tech news, and politically incorrect humor

Your daily source for trading strategies, tech news, and politically incorrect humor.
Dear eMBers,

Your Morning Bullets are here. Let's dig in.
INVESTOR INSIGHTS – Market Update
Markets were closed yesterday.
The futures are slightly down but as I said yesterday, I didn't expect crazy volatility.
On the other hand, gold and silver are extremely overextended.
And I believe a major pullback could begin over the next few weeks.
It might be a good idea to take some money off the table if you rode this gold rally.
YOUR SILICON VALLEY (LIBERAL) OVERLORDS
Walmart is automating its business.
And they are unleashing creepy robots in 350 stores this year.
The purpose?
One type of robot will roam the aisles and identify out of stock or out of place items. Once they identify them, they will alert humans to address these issues.
Another type of robot will navigate the store and scrub the floors.
TRUMP DERANGEMENT SYNDROME
HBO producer and creator of The Wire, David Simon is known for anti-Trump tweets.

But this time he took it to another level.
Take a look…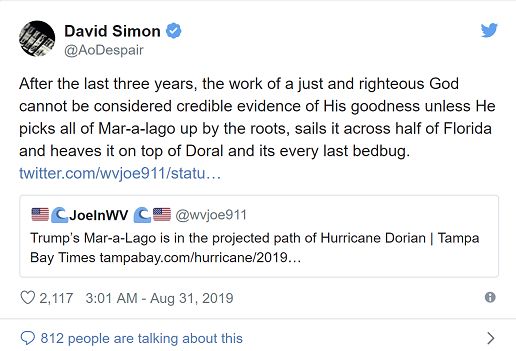 Unfortunately for the hateful Left it looks like God is protecting Mar-A-Lago and President Trump.
Here's my advice (by the way I'm not a doctor). Simon it seems like you have an anger and / or drinking problem. Do yourself a favor and get some help.
Yesterday, we marked the 125th Anniversary of Labor Day.
The United States Department of Labor produced a video to highlight the accomplishments of the President Trump administration.
Some of the stats from the video include:
– 99 percent of Americans got a bigger raise, the WSJ reported in July
– Wage growth at or above three percent for 12 straight months
Winning…
CRAZY-INTERESTING OR RIDICULOUSLY-WEIRD
ADDITIONAL READING AND RESOURCES (ARR)
I can't get into all the news and interesting information out there in this one email, so what you'll find here are articles, presentations, and resources I'm digging into and believe you should as well.
Shark Tank's Robert Herjavec and legendary entrepreneur Neil Patel are going to pitch two deals to you today.
Both of these deals have passed the "1,000X Formula" – the very same factors that launched some of the biggest cash grabs in history.
This is a simple way you can determine which startups could go from total obscurity… to being worth billions of dollars in the blink of an eye.
And it's how you can find the one deal that can transform a tiny stake into millions.
All the details are in this special presentation.
Your biggest fan,
Frederick Frost
P.S. We'd love your opinion.
How useful did you find today's Morning Bullets?
Not useful – It was ok – It was good – Very Useful
13.3% 13.8% 46.3% 26.6%
Note: Percentages are updated once per week on Sundays and include all feedback since inception.