Your daily source for trading strategies, tech news, and politically incorrect humor

Your daily source for trading strategies, tech news, and politically incorrect humor.
Dear eMBers,
Happy Labor Day!
Hurricane Dorian looks like one of the largest hurricanes ever.
Florida, South Carolina, North Carolina, Georgia, and Alabama will all be impacted.
Be careful out there!
INVESTOR INSIGHTS – Market Update
It's official. President Trump's 15% tariffs went into effect yesterday.
The Federal Register notice published the products covered by Annex A of the Aug 20, 2019 notice, and that the rate of additional duty will be 15 percent on the current effective date of Sept 1, 2019.
👉 Federal Register – Tariff Increase
The S&P 500 futures opened sharply lower last night but quickly bounced back.
The stock market closes early today (1pm EST). I don't expect crazy volatility.
YOUR SILICON VALLEY (LIBERAL) OVERLORDS
The CEO of Twitter's account was hacked.
"A flurry of offensive messages including racial slurs were posted on Dorsey's Twitter page" reported Sky News.
Take a look at the tweets that have been deleted by Twitter.
No excuses, Jack! According to Twitter's "standards" you must BAN YOURSELF!
TRUMP DERANGEMENT SYNDROME
Democrats are desperate.
Saturday on MSNBC, Democrat Mike Quigley said if President Trump ends up hosting next year's G7 summit at Doral Miami, it would be "one in a long series of impeachable offenses."
Let's recap the things Democrats consider impeachable offenses:
— protecting our borders
— telling other countries, that enough is enough
— draining the swamp
— eating a Big Mac
— blinking your eyes
You get my point…
The US Space Command will be run by a four-star general, and it will be responsible for setting the US's military agenda for space.
"As the newest combatant command SpaceCom will defend America's vital interests in space — the next warfighting domain," President Donald Trump said today at a ceremony standing up Space Command. "And I think that's pretty obvious to everybody. It's all about space."
Watch President Trump introduce the official space command flag…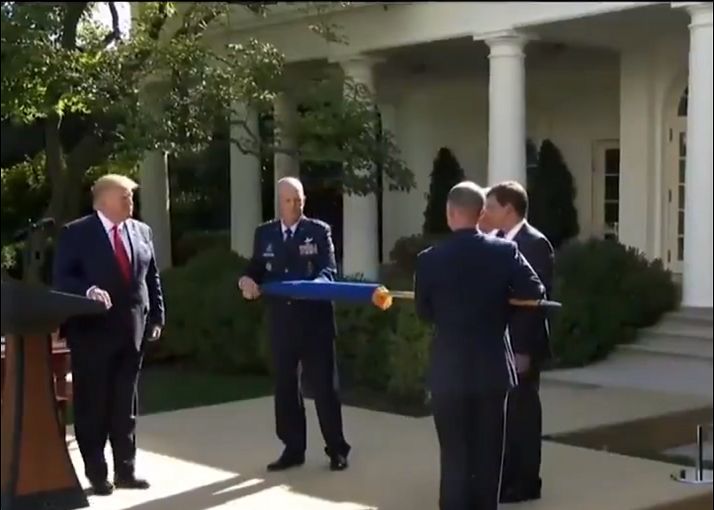 CRAZY-INTERESTING OR RIDICULOUSLY-WEIRD
ADDITIONAL READING AND RESOURCES (ARR)
I can't get into all the news and interesting information out there in this one email, so what you'll find here are articles, presentations, and resources I'm digging into and believe you should as well.
Discover the NEXT generation of little-known income generating cryptocurrencies…
Teeka Tiwari has found a controversial and lucrative passive income stream.
Your biggest fan,
Frederick Frost
P.S. We'd love your opinion.
How useful did you find today's Morning Bullets?
Not useful – It was ok – It was good – Very Useful
13.3% 13.8% 46.3% 26.6%
Note: Percentages are updated once per week on Sundays and include all feedback since inception.