Your daily source for trading strategies, tech news, and politically incorrect humor

Your daily source for trading strategies, tech news, and politically incorrect humor.
Dear eMBers,

Your Morning Bullets are here. Let's dig in.
INVESTOR INSIGHTS – Market Update
With just two trading days left in 2019, the Santa Rally looks set to continue.

In the 21 years since 1928 that the S&P 500 has been up 20%+, it gained an average of 1.3% in the year's last week of trading.

Right now, the S&P is having the best year since 2013.

But, if it gains beyond 29.6%, it'll be the best year since 1997.

Today, at 8:30am, the Advance Economic Indicators report was released.

At 9:45am, the Chicago PMI is unveiled.

And at 10:00am, the Pending Home Sales report is due.

Tomorrow at 9:00am, both the S&P/Case-Shiller Home Prices report is released as well as the FHFA Home Prices report.

At 10:00am, the Consumer Confidence report is due.

Find out what other reports are released this week, as well as some risks that could put a damper on the market heading into 2020.
YOUR SILICON VALLEY (LIBERAL) OVERLORDS
Are we really okay with letting Facebook and other Silicon Valley giants become the Corporate Thought Police?

Are they really the best entities to decide on what the goal posts are for protected and censored so-called "free speech?"

As Supreme Court Justice Louis Brandeis said, the only real remedy for evil speech is "more speech, not enforced silence."

Admittedly, in the current political climate companies like Facebook and Twitter are in between a rock and a hard place.

But how can they work to create the goal posts when none of them agree on what that looks like?

There are ZERO unified standards for free speech.

So what does censorship look like now?

"Siloed decision making by secretive 'boards' that have limited diversification of background and worldview, all pushing ever-changing directives out to technical teams which must implement these wishes into algorithms for their respective platforms."

You might compare it to the Wild West.

Silicon Valley is now where "individual firms are their own judges, juries and executioners in how and where free speech policies are concocted and applied."

And as arbitrary as it is, it's legal.

But that certainly doesn't make it fair.

Take a look at some of those "blurred lines."
TRUMP DERANGEMENT SYNDROME
Justin Haskins has identified the three "most potentially destructive proposals promoted by many of the leading Democrats."

And while you've probably already taken your own stance against them, he wants you to know the real dangers of these policies.
Because he thinks they're so radical that they'd make Karl Marx smile.

After all, "Socialists are clever marketers. They pitch their proposals as necessary to advance justice, equality, prosperity and the very survival of life on Earth in the face of impending environmental disaster. None of these things are true, but they sound good and have a certain appeal."
Source: Naples Daily News
The Green New Deal
Haskins has identified the Green New Deal as the "most dangerous and socialistic policy every embraced by a major political party in American history."

It would eliminate the fossil fuel industry, and with it – millions of jobs.

The American Action Forum estimates that the policies tucked away in the Green packaging would cost more than $90 trillion in the first 10 years.

In case you're not up to speed, that's four times the current national debt.

"If you asked our foreign enemies to come up with a plan to destroy the American economy and plunge our country into another Great Depression, they couldn't come up with anything that would do the job as well as the Green New Deal."

What are the other two, and why are they so dangerous?
$7 Gold Investment Could Hand Investors a Small Fortune as Gold Soars.
Not gold coins, bullion, or risky mining stocks… Unique gold strategy, with a proven history of soaring 4,500% is Hard-Money expert's "Favorite gold play for 2019."
Jack Brewer is a former NFL player.

Once upon a time, he campaigned for Obama.

Today?

He's predicting a "black awakening" that will carry President Trump to a 2020 election victory.

He's played for the Minnesota Vikings, New York Giants, Philadelphia Eagles and the Arizona Cardinals.

But now, he's on Team Trump.

He's part of an increasing number of black voters who support Trump.

They're rejecting the Democratic Party because they feel it's abandoned them.

"I said enough was enough and I really started putting aside what my parents and my grandparents taught me about sticking to the Democratic Party because they were the party for African-Americans. You know all that rhetoric sounded good back in the '60s, but the facts are that the policies just don't help our families."

And he's predicting that other black voters will give Trump more than 20% of the black vote.
CRAZY-INTERESTING OR RIDICULOUSLY-WEIRD
Antarctica has always been a mysterious place.

But now that we have Google Earth, it seems it's just getting weirder and weirder.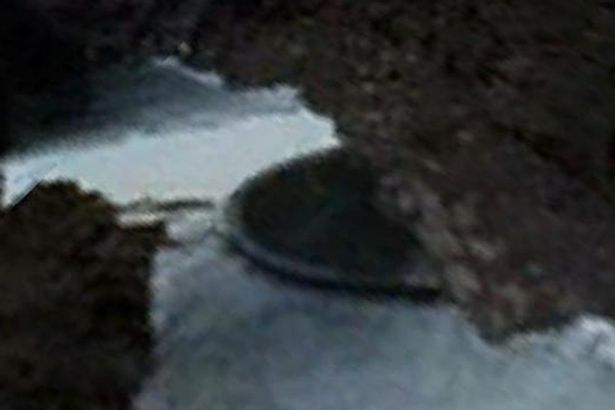 Source: Dailystar.co.uk
This is the latest mystery that's been uncovered.

It's a strange disc-shaped object sticking out from the ice in Antarctica.

And it's definitely not something "natural."

This is among the latest of finds made by amateurs using Google Earth.

And it's got folks wondering – what else is hiding in Antarctica?

Do you think there will be more bizarre discoveries or evidence of past civilizations?
ADDITIONAL READING AND RESOURCES (ARR)
Thanks for reading today and being a loyal subscriber.
Your biggest fan,
Frederick Frost
P.S. We'd love your opinion.
How useful did you find today's Morning Bullets?
Not useful – It was ok – It was good – Very Useful
12.90% 13.20% 47.81% 26.08%
Note: Percentages are updated once per week on Sundays and include all feedback since inception.