Your daily source for trading strategies, tech news, and politically incorrect humor

Your daily source for trading strategies, tech news, and politically incorrect humor.
Dear eMBers,

Your Morning Bullets are here. Let's dig in.
INVESTOR INSIGHTS – Market Update
The DJIA passed the 29,000 mark in intraday trading yesterday.

In fact, all three major indexes set new intraday highs.

But it didn't stick.

By the end of the trading day, the index was down 133.13 points, or 0.5%.

It closed at 28,823.77.

The S&P shaved 9.35 points to close down 0.3% at 3,265.35.

The Nasdaq was down 24.57 points, 0.3%, and closed at 9,178.86.

So, what slowed their roll?

The US Labor Department reported the economy added 145,000. That missed their projections of 165,000.

But it was still the ninth straight year of job gains.

The unemployment rate is still near 50-year lows at 3.5%.

But investors had an even bigger concern – and it wasn't Iran.

What was it?
YOUR SILICON VALLEY (LIBERAL) OVERLORDS
Still not sure that Silicon Valley is full of Liberal Overlords?

Well, this story should remove any doubts…

Mind the Gap, a secretive group that's reshaping big-money politics in Silicon Valley, is planning to spend $140 million in 2020.

Their goal?

To defeat Trump at all costs.

If they meet that funding goal, they'd be one of the most powerful forces in Democratic politics.

And two things are clear: First, they want Trump gone. Even if it means entrusting 3 Stanford academics with no fundraising experience their millions.

Second – they don't care about concerns within the party on the role of money in politics.

They are now asking for a minimum suggested contribution of $40,000.

But they worry even that won't be enough…

Find out why Mind the Gap has taken extraordinary pains to avoid public detection.

And how it almost worked.
TRUMP DERANGEMENT SYNDROME
Virginia is ramping up their fight against our 2nd Amendment rights.

Guns have now been formally banned in the Virginia Capitol.

It's the new Democratic majority's first action on firearms.

And indicates they are digging in for a lot more fights.

Mind you – Virginia lawmakers have often packed heat on the floor.

And you'd better believe that Republicans are objecting to the new law – loudly.

And it's just the first of many.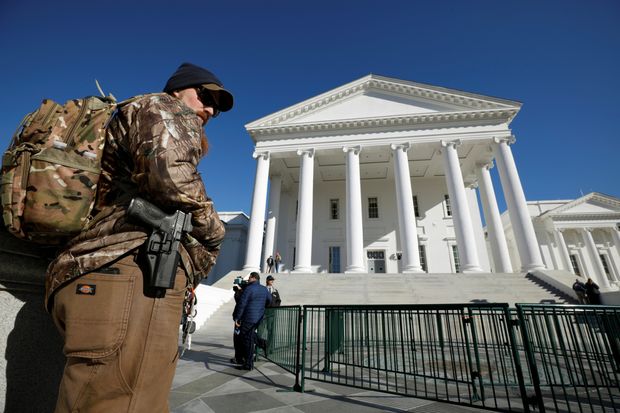 Image Source: Wall Street Journal
The legislature is expected to pass more far-reaching gun restrictions before their 60-day session wraps up.

And it only began on Wednesday.

Previously, only visitors were barred from bringing guns into the building.

Now it will also apply to senators and delegates.

Shockingly – even law enforcement officers.

But lawmakers will likely find a way around it.

And even if they're busted, they're immune from prosecution during the session.

Governor Ralph Northam (D) is praising the policy change.

But what about the people?

There is an enormous gun rights rally on the calendar for January 20.

It could draw tens of thousands of protesters, many of which will be heavily armed.

Find out which lawmakers have no intention of quitting carrying in the Capitol.

Do you agree with this move in Virginia?
A stunning migration is taking place…
More and more Washington D.C. insiders are quitting their jobs.
The same trend is rippling through Silicon Valley… where top-flight former executives from Twitter… from Amazon… and Yahoo are all flocking to a new kind of start-up that's making some people rich.
Where are they going exactly?
Fox News anchor, Judge Jeanine Pirro, recently looked into this story — and came to a stunning conclusion.
For the time being you can watch her full investigation, here.
Ian Bremmer understands the concept of the "long game."

That's why he views the way things are playing out with Iran as a clear win for Trump.

This wasn't a way to escalate a war.

It may have been the only way to open the path to renegotiating and replacing Obama's dreadful nuke deal.

He went as far as to call Iran's "retaliation" as "wildly de-escalatory."

"That doesn't mean that Iran is no longer a major antagonist of the United States in the region or that we've ended our fights… No one should be taking victory laps here. But this is a win for Trump. And it's clear that it is."

Find out what the new deal might look like.
CRAZY-INTERESTING OR RIDICULOUSLY-WEIRD
Yesterday marked Day 1 of the 2020 Python Bowl.

And it's not a football game.

For the next ten days, snake hunters of all ages and levels of experience will be roaming the Everglades.

On their radar – the invasive Burmese python.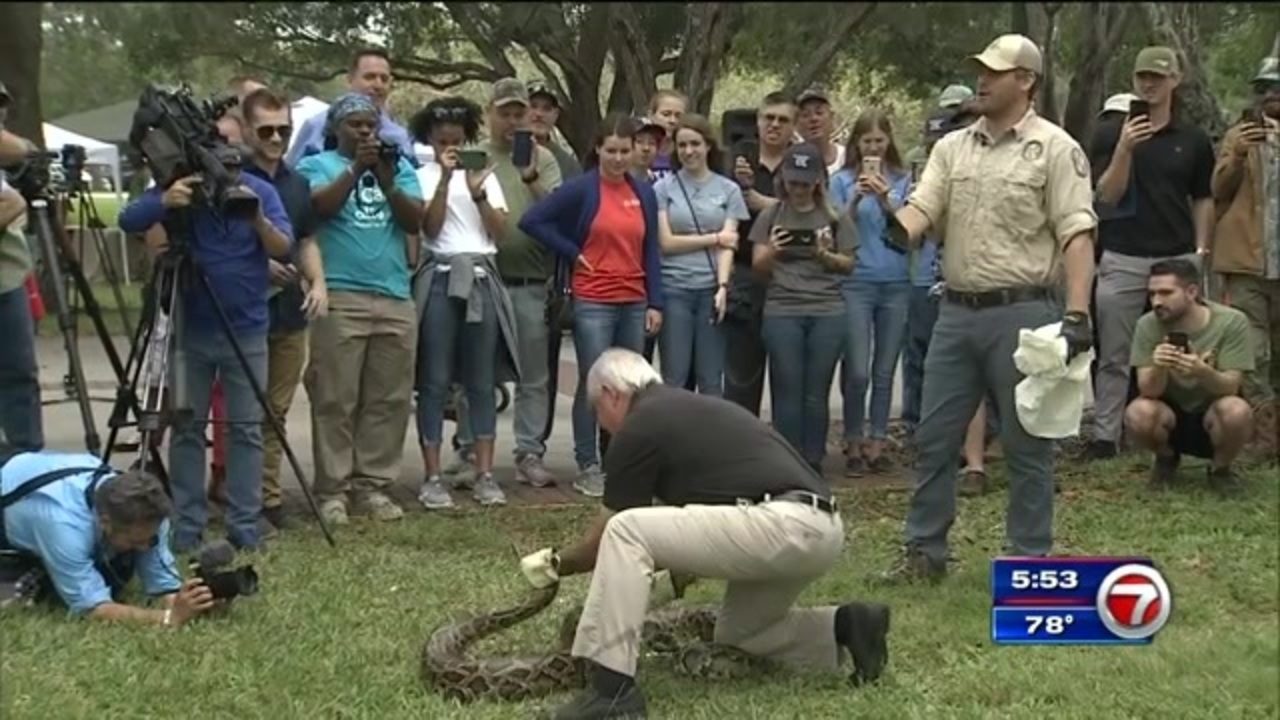 Image Source: WSVN.com
Hunters can win all sorts of prizes, ranging from ATVs to cash.

All the have to do is hunt down the longest and the heaviest pythons.

But even with all of the incentives, conservationists don't think they'll make a dent in the population.

Many suspect it's now well over 100,000.

But they do hope the efforts will raise awareness.
ADDITIONAL READING AND RESOURCES (ARR)
Here's a breakthrough strategy you're NOT using…
And you should.
It's called "Set-it & Forget-it" and industry insider and pro trader Don Kaufman wants YOU to have it…
Watch it FREE today!
(Click to automatically register for the webinar.)
Thanks for reading today and being a loyal subscriber.
Your biggest fan,
Frederick Frost
P.S. We'd love your opinion.
How useful did you find today's Morning Bullets?
Not useful – It was ok – It was good – Very Useful
12.98% 13.17% 47.81% 26.04%
Note: Percentages are updated once per week on Sundays and include all feedback since inception.