Your daily source for trading strategies, tech news, and politically incorrect humor

Your daily source for trading strategies, tech news, and politically incorrect humor.
Dear eMBers,

Your Morning Bullets are here. Let's dig in.
INVESTOR INSIGHTS – Market Update
The stock market continues to defy all odds.

Yesterday, all three major indexes climbed to new records – despite continued uncertainty with the Iranian conflict.

The DJIA gained 211.81 points, or 0.7%, to close at 28,956.90.

The S&P 500 index rose 21.65 points, or 0.7%, to 3,274.70.

The Nasdaq Composite Index added 74.18 points to finish at 9,203.43, a gain of 0.8%.

And in case you missed that, the DJIA is within easy reach of the all-important 29,000 threshold.

One of the biggest things driving the market enthusiasm is the progress being made in the US-China trade deal.

The Chinese Vice Premier will be heading to Washington next week to formally sign the Phase 1 trade deal.

This good news has put the Iranian conflict on the back burner, especially as retaliatory strikes have ended for the moment.

Claims for unemployment benefits have also fallen for four weeks in a row.

"The deterioration in business surveys in the spring and summer has not been followed by rising layoffs," said Ian Shepherdson. "At worst, gross hiring might have dipped a bit, though the strong recent payroll numbers cast doubt even on that idea. Layoffs remain at their lowest, as a share of the workforce, since the data were first collected on their current basis in 1948."

In light of all of that, what's the Fed up to?
YOUR SILICON VALLEY (LIBERAL) OVERLORDS
Yesterday took a look at some of the tech trends and opportunities of 2020.

Today, we're going to zero in on some of the biggest tech challenges that Silicon Valley is up against.

Big Tech has run out of "get out of jail free" cards.

After a decade of running rampant.

It's an election year. Add in the increased antitrust scrutiny and new privacy laws in California, and Silicon Valley had better put on its game face.

But what, specifically, should they be focused on?

The biggest issue Big Tech faces is getting a handle on their responsibility to separate fact from fiction in the online world. This will loom especially large because it's an election year.

As on tech insider put it, "If you thought the 2016 election was awash in disinformation and lies, get ready: The 2020 election is going to make that affair look like a knitting session."

Which brings us to the next biggest issue. As Silicon Valley cracks down on this, they have to be prepared for how disinformation tactics will evolve to get around their safeguards.

Especially when it comes to deep fake videos.

Third on the radar is California's new privacy law that went into effect on January 1st.

Other states seem poised to follow suit.

As federal action isn't moving fast enough, more and more states will adopt their own data-collection restrictions.

And Big Tech will be forced to fall in line.

What are the other two biggest challenges Silicon Valley is up against in the coming year?
TRUMP DERANGEMENT SYNDROME
Just when you think the Democrats have hit the bottom, they keep digging.
Since the January 3rd precision strike that killed Iran's #2, they've doubled down on their "Oppose Trump At All Costs" motto.

And they don't seem to care if that stance means openly siding with our sworn enemies.

But the moves they made on Thursday are an all-time low.

And it moves them from being merely despicable to damn near treasonous.

While the jury is still out on exactly what happened, it's looking more and more like the Ukrainian passenger plane that crashed was probably accidentally shot down by Iran.

Normal people (you know, like you and me) see this as a terrible tragedy.

And yet another example of the Iranian regime's steadfast disregard for human life.

But since Democrats seem to be lacking both common sense or a love for America, they've decided to place the blame on the United States and President Trump.
Pete Buttigieg won't condemn our enemies for this senseless tragedy. Instead, he's blaming it on "an unnecessary and unwanted military tit for tat."

This is despite the fact that there was absolutely no cross-fire from the United States.

Democratic Representative Jackie Speier called it "collateral damage from the actions that have been taken in a provocative way by the President of the United States."

Yeah, forget about the attack on our US Embassy. Or the countless lives that Soleimani has taken. Not just American lives, but lives all across the Middle East.

Seth Abramson is blaming both Trump and Sean Hannity.

He thinks that the Iranian government was "spooked" by the cable news host's broadcast on the night of the missile launch.

They were merely shooting down a plane in a panic.

"The justified and lawful killing of war criminal in a war zone in Iraq on January 3 clearly did not cause a plane in Iran to crash on January 8."

This is victim-shaming at it's finest.

If America needs one more reminder why Democrats should NEVER be given control of the government, this is it.

"They do not have the interests of Americans at heart. They do not love our country. And we cannot trust them."

What do you think?

Is this merely despicable or is it down-right treasonous?
This has never returned less than 400% over 4 years.
Something big is happening in America… and almost no one is paying attention.
A completely misunderstood asset is transforming our world–and making people rich (Barron's estimates at least 20,000 people).
A multimillionaire has written a fascinating analysis explaining how so many are now getting rich.
His write up is posted free on this website here.
Did you know this misunderstood asset has never returned less than 400% over any four-year period?
A leading news source says this has created at least 20,000 new millionaires.
Polls can be misleading.

Despite the fact that an estimated 50% of Americans are saying that Trump should be convicted and removed from office, it isn't hurting his reelection chances.

In fact, according to the latest average odds from leading sportsbooks, his odds of reelection keep going up.

He had been at -110.

He's not at -150.

The next closest candidate, Joe Biden, is way behind at odds of +400.

There's a reason they call him Teflon Don. No matter what crap the left tries to fling at him, nothing seems to stick.

Biden's closest contender is Bernie Sanders. His odds are currently at +700.

Warren has fallen the hardest and the farthest.

She was polling at +230, but now she's slipped to +1300.

How are the rest of the candidates faring?
CRAZY-INTERESTING OR RIDICULOUSLY-WEIRD
Once upon a time, Bring a Trailer was a place to go to buy a clean clunker at a decent price.

Today?

Folks are selling their pristine, low-mile cars at offensively expensive prices.
And the top sellers aren't even all that rare!

Jalopnik has tracked some of the most insanely expensive car sales of 2019.
Prepare to be shocked!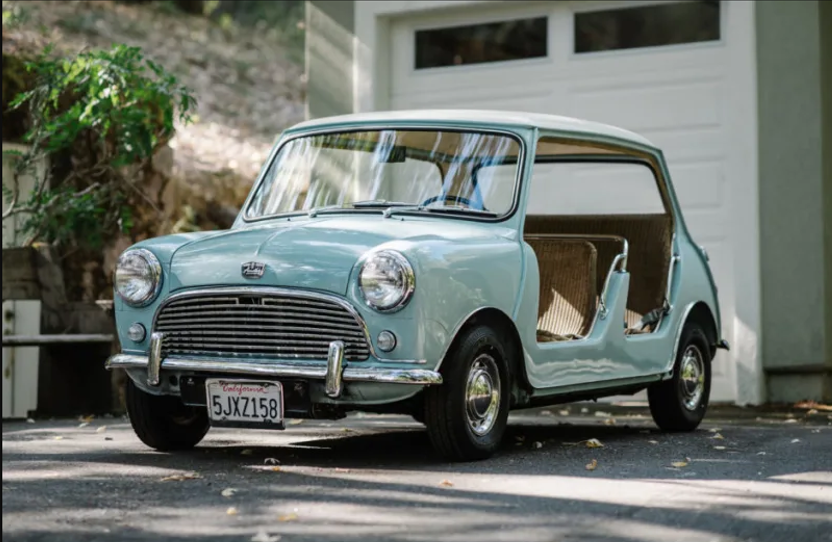 Image Source: Bring a Trailer
That was the most expensive car sale.

While the 1962 Austin Mini Beach Car is a beauty, it's sales price is a jaw-dropping $230,000!

Just seeing that price tag made author Kristen Lee need a drink.

What were the other nine offensively priced, gently-used rides?
ADDITIONAL READING AND RESOURCES (ARR)
Thanks for reading today and being a loyal subscriber.
Your biggest fan,
Frederick Frost
P.S. We'd love your opinion.
How useful did you find today's Morning Bullets?
Not useful – It was ok – It was good – Very Useful
12.98% 13.17% 47.81% 26.04%
Note: Percentages are updated once per week on Sundays and include all feedback since inception.