Your daily source for trading strategies, tech news, and politically incorrect humor.
Hey there, Bullets Fans –
Your Morning Bullets Brief Updates are here! And that means trivia is, too.
What happened on this day in 1945?
Think you know the answer? You can check it in the closing area down below!
Stock futures were climbing ahead of the opening bell on Friday, as investors anticipate a stellar April jobs report later this morning. According to economists, that data could reflect a total of one million payrolls added last month. The unemployment rate is expected to decrease to 5.8%.
Yesterday, the Labor Department released its latest look at weekly first-time jobless claims, and that number fell considerably, pointing to a recovering labor market. Yesterday, each of the three major indexes logged gains
Shares of Pfizer held steady while BioNTech saw its shares increase 5% on the news that the companies are filing for full approval of their virus vaccine (more on that story, below).
This morning, the Fed warned that rising asset prices could pose a big threat to the financial system. According to officials: "High asset prices in part reflect the continued low level of Treasury yields. However, valuations for some assets are elevated relative to historical norms even when using measures that account for Treasury yields. In this setting, asset prices may be vulnerable to significant declines should risk appetite fall."
What other news should you be aware of as you start your Friday?
Other News That Matters To You:
This incredible stock was hiding in plain sight — here's what you need to know
Recommended Link:
Perfect Stock Caught Trading Under Secret Name
This is just bizarre…
We have just uncovered perhaps the most unusual stock we've ever seen.
It's expected to see massive revenue in 2020 – $100 billion.
The company holds over 29,000 patents in the U.S.
It pays an enormous dividend.
And yet…
It's ultra-cheap – less than $3.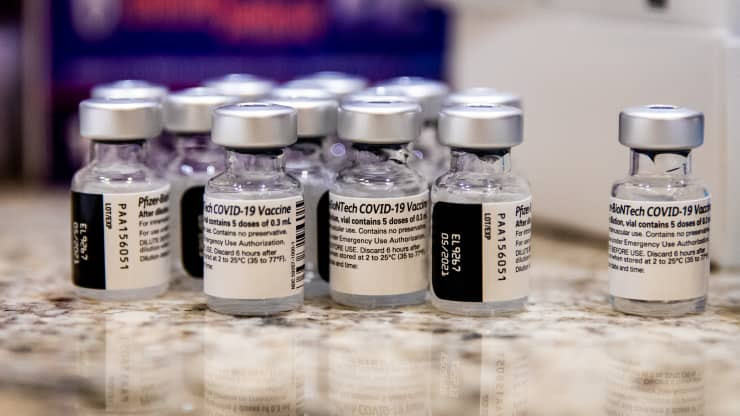 Image Source: Getty Images
Officials from Pfizer and BioNTech are excited to seek full approval for their virus vaccine, a milestone that would enable the companies to market their drug to consumers directly, change pricing, and keep the shots on the market well after the emergency passes.
After receiving emergency use authorization back in December, Pfizer has distributed 170 million shots in this country, and the company aims to boost that number to 300 million by July.
"We are proud of the tremendous progress we've made since December in delivering vaccines to millions of Americans, in collaboration with the U.S. Government," the CEO of Pfizer said. "We look forward to working with the FDA to complete this rolling submission and support their review, with the goal of securing full regulatory approval of the vaccine in the coming months."
More Headline You Need To Read:
Fredrick Frost
P.S.  How useful did you find today's Morning Bullets? 
Not useful – 22.88%
It was ok – 13.15%
It was good – 38.12%
Very useful – 25.85%
Note: Percentages are updated once per week on Sundays and include all feedback since inception.