Trump 2020 tagline

Your daily source for trading strategies, tech news, and politically incorrect humor.
Dear eMBers,

Thank you for voting President Trump's 2020 tag line.
The results are in:
Keep America Great Again – 77%
Make America Great Again – 23%
If you haven't taken the poll yet, do it right here.
I'll be sending the results to the White House next week.
INVESTOR INSIGHTS – Market consolidates… 
S&P is consolidating and trying to digest the recent move higher.
It was a very quite Friday. 
There could be still some more upside to the market. 
Maybe we'll see a small pause before the market presses even higher into the end of the month. 
That type of move would create extremely overbought conditions and lead to great trade setup. 
Let's be very disciplined and continue to wait. 
YOUR SILICON VALLEY (LIBERAL) OVERLORDS
We have talked about Slack's direct placement this week. 
I hope it made sense. Don't forget – direct placement is not an IPO. 
And if you are an early investor in private placements, you can profit very quickly. 
I personally like private placements when I get a chance to participate.
It's like a "secret" market which has only been available to the very rich in the past. 
But now because of an SEC ruling, you have a chance to get in as well…
And you're timing is great. There is one private placement I'm watching right now. 
Automatically sign up to check it out… TOTALLY FREE to watch
TRUMP DERANGEMENT SYNDROME
Ilhan Omar (D- MN) backed AOC claim. 
She thinks migrant detention centers are modern-day "concentration camps".
She said it during an interview with Public Radio International Thursday.
What happened next? 
Dominik Tarczyński, a member of Poland's Parliament, sent a letter to the New York lawmaker, inviting her to fly to Poland to "study the concentration camps here for real."
If the U.S. has concentration camps, it might be the first ones in the world history where people climb over walls to get into…
Take a look…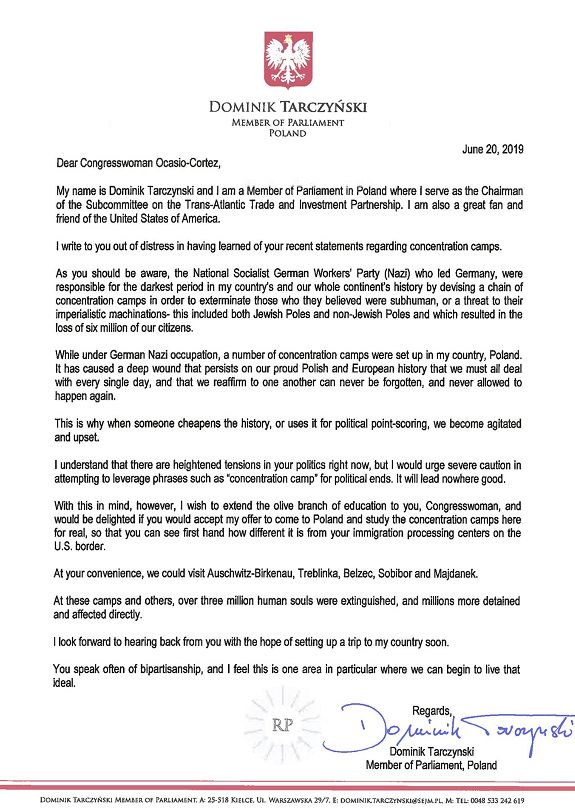 Trade war is helping President Trump's 2020 campaign…
How? 
It's driving Hispanic voters to President Trump.
Time Magazine noted:
[The campaign is] also testing how to pitch Latino voters in New Mexico and Nevada on Trump's Chinese tariffs. "The No. 1 issue driving Latino voters to like him and support him is his fight against China," a senior campaign official says, adding that the campaign is working to figure out why that's an animating issue. [Emphasis added]
Hispanic citizens want the same thing other Americans want: jobs, prosperity and some security. And they want to see someone who can deliver it…
And that's a nightmare for the Democrats.
CRAZY-INTERESTING OR RIDICULOUSLY-WEIRD
ADDITIONAL READING AND RESOURCES (ARR)
I can't get into all the news and interesting information out there in this one email, so what you'll find here are articles, presentations, and resources I'm digging into and believe you should as well.
Your biggest fan, 
Frederick Frost
P.S.  We'd love your opinion.
How useful did you find today's Morning Bullets?
Not useful – It was ok – It was good – Extremely Useful
   15.5%         10.0%         44.3%                30.2%
Note: Percentages are updated once per week on Sundays and include all feedback since inception.