Your daily source for trading strategies, tech news, and politically incorrect humor

Your daily source for trading strategies, tech news, and politically incorrect humor.
Dear eMBers,

Your Morning Bullets are here. Let's dig in.
INVESTOR INSIGHTS – Market Update
Today is exactly one week away from December 15.

And that is the date when Washington is set to impose even more tariffs on Chinese goods.

Will a Phase 1 deal happen before that does?

China Assistant Commerce Minister Ren Hongbin surely hopes so. He'd like to see a deal made with the US "as soon as possible."

Because here's one thing we do know about the Trade War.

It's hurting China.

In the month of November, exports dropped 1.1% from the previous year.

And guess how much exports to the US had dropped?

23%.

It was their worst ever result for exports to the US since February.

It also marked the 12th straight monthly decline.

They had been expecting to see exports rise 0.8%.

So, do these numbers breathe new life into the hope for a deal?

Or give us the confidence to hold our ground and wait for the right one?
YOUR SILICON VALLEY (LIBERAL) OVERLORDS
The Chinese Communist Party has commanded all state offices to remove foreign hardware and software.

And they have 3 years to get it all done.

This latest policy move is the strongest and most direct against the US since the trade war started.

And it could translate to a major hit for US firms like Microsoft, Dell and HP.

The policy has been dubbed "3-5-2." 30% of the transition will happen in 2020. 50% in 2021 and the remaining 20% in 2022.

How much equipment will be impacted?

Between 20-30 million pieces.

So far, China Securities has not responded to requests for comment.

Some are concerned that this could be just a prelude to a much wider backlash against American consumer tech.
TRUMP DERANGEMENT SYNDROME
Today is the day.

After months and months and months of anticipation, it's finally here.

The IG Report.

How big will this story be?

Will everything break, or will it just carry us into the upcoming Durham proceedings?

One thing is for sure:

We're going to hear a lot more about Christopher Steele.

And perhaps finally get to the bottom of Fusion GPS and so many more salacious elements that were previously redacted.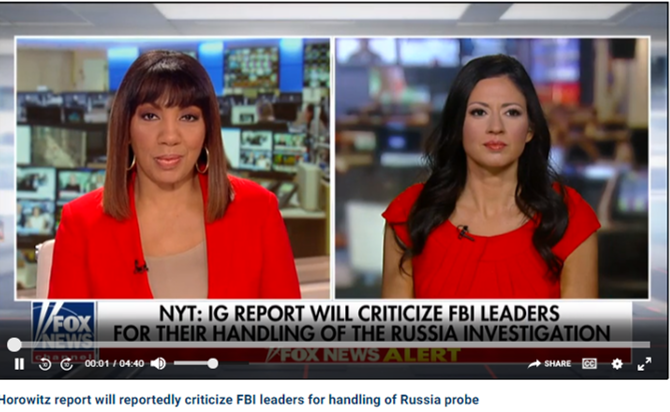 It's not coincidental that today is also Day 1 of the Judiciary Committee Hearings.

There have been a few liberal-leaning leaks about what to expect in the IG Report.

And a number of conservatives have already begun to curb their enthusiasm.

There are still high hopes that there will be more damning findings in the Durham investigation.

Has this just been much ado about nothing?

It's definitely clear that Horowitz found some sloppy and unprofessional actors in the FBI.

But so far, he's been unwilling to say that there was actually what we think of as a Witch Hunt.

One thing seems sure:

This isn't any more likely to change minds or budge undecideds.

Everyone already is decided.

Both sides will work their hardest to work the words and massage the meaning of the report to back their arguments.

One side will offer truth. The other a distortion of it, fit to suit a single-minded agenda since the day he was election.

Let's see who stands out as a clear winner.

It's always interesting to watch how the Democrats will "recreate" the narrative when it comes to justifying their Impeachment plot.
A stunning migration is taking place…
More and more Washington D.C. insiders are quitting their jobs.
The same trend is rippling through Silicon Valley… where top-flight former executives from Twitter… from Amazon… and Yahoo are all flocking to a new kind of start-up that's making some people rich.
Where are they going exactly?
Fox News anchor, Judge Jeanine Pirro, recently looked into this story — and came to a stunning conclusion.
For the time being you can watch her full investigation, here.
The Nostradamus of the 21st Century has announced his predicted election results.

Who's winning?

Boris Johnson and Donald Trump.

So who is this guy? And why should anyone care?

His name is Bela Stancic, and he's with Griffith University. And he's got a long list of accurate predictions, and plenty of them were surprise victories and upsets.

So is he a psychic?

Not exactly… He's a big data expert. He collects and collates information from multiple sources and uses it to create a prediction model.

He predicted 49 of the last 50 US states accurately in the 2016 US presidential election.

Not many outlets can say that…
CRAZY-INTERESTING OR RIDICULOUSLY-WEIRD
SpaceX's Dragon capsule made a safe docking with the ISS early Sunday morning.

It arrived with 5,700 pounds of cargo.

Most of the supplies were for the crew living there. As well as some focused on spacewalk and science equipment.

But there were some pretty interested additions to the haul.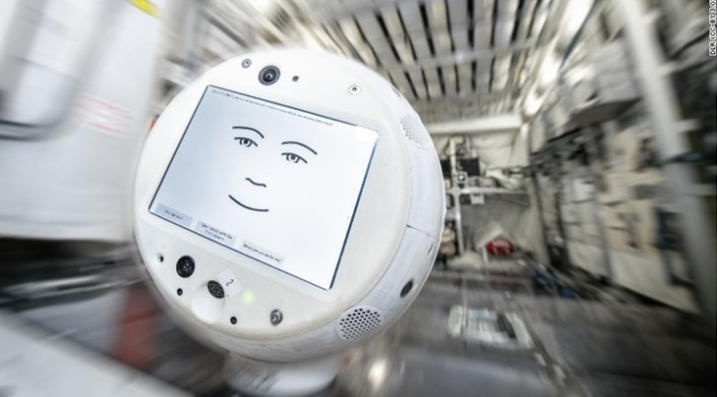 Source: CNN
First, genetically enhanced "mighty mice" that will help scientists learn how to limit muscle and bone loss.

Plus, a friendly robot named CIMON-2 to offer some additional human interaction and help with tasks.

SpaceX is also working on a new version of the Dragon spacecraft. It's called Crew Dragon. And it could soon be ready to fly astronauts in SpaceX's first-ever mission with humans on board.
Which is weirder?
Mighty Mice or CIMON-2?
ADDITIONAL READING AND RESOURCES (ARR)
Why Everyone is Getting Rich Right Now – And You're Not
Hundreds of thousands of Americans have been hit by a wave of wealth. Over the past year, the U.S. has minted an average of 1,800 new millionaires a day. How did they do it? For the first time in history, two of these millionaire investors have joined forces to help you learn the secret moneymaking strategy of the wealthy and connected.
Click here to watch their presentation.
Thanks for reading today and being a loyal subscriber.
Your biggest fan,
Frederick Frost
P.S. We'd love your opinion.
How useful did you find today's Morning Bullets?
Not useful – It was ok – It was good – Very Useful
12.78% 13.28% 47.82% 26.12%
Note: Percentages are updated once per week on Sundays and include all feedback since inception.