Your daily source for trading strategies, tech news, and politically incorrect humor.
Dear eMBers,

Your Morning Bullets are here. Let's dig in.
INVESTOR INSIGHTS – Q2 GDP
U.S. economy smashes expectations as personal spending soars most since 2014.
Q2 GDP came in far stronger than expected, printing at 2.1%, far above the 1.8% consensus expectation…
Commenting on the GDP report, Bloomberg economists note that "the composition of growth, toward consumer spending and away from investment, will be sufficient to propel GDP modestly above trend."
401ks are up 50% since Trump won in 2016.

Many people are very happy millionaires.
YOUR SILICON VALLEY (LIBERAL) OVERLORDS
Apple had requested the Office of U.S. Trade Representative to exempt their company from a proposed 25 percent tariff on computer parts from China.
And President Trump said:
"Apple will not be given Tariff waivers, or relief, for Mac Pro parts that are made in China. Make them in the USA, no Tariffs!"
That's how you take a bite out of the Apple…
Apple Seeks Mac Pro Parts Tariff Exclusion After Move to China
TRUMP DERANGEMENT SYNDROME
Music industry is set to launch a Democratic concert campaign.
It will consist from 46 concerts in key swing states.
Billboard advertises the effort as a "strategically planned series" featuring "unique concerts" in cities within the most crucial swing states.
I think the campaign can be called "The 46 Ways to Lose an Election Tour".
It better be free, or nobody will show up…
The U.S. Supreme Court rules in President Trump's favor.
President Trump can begin building the wall on the U.S.- Mexico boarder using $2.5 billion in emergency funds.
President Trump was excited on Twitter: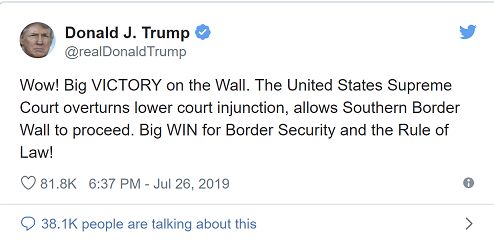 First Mueller and now the wall. HUGE win this week for President Trump.
MAGA week! #winning
CRAZY-INTERESTING OR RIDICULOUSLY-WEIRD
ADDITIONAL READING AND RESOURCES (ARR)
I can't get into all the news and interesting information out there in this one email, so what you'll find here are articles, presentations, and resources I'm digging into and believe you should as well.
If you're interested in learning more about a conservative options trading strategy…
One that ANYONE can use to make money in the market…
Then check out my brand-new research service, Jeff Clark Trader.
It focuses on trading options on three specifically chosen stocks, over and over again, to fund a comfortable retirement.
We're recently unveiled it. And one-year subscriptions are available for just $19.
That's the lowest price my publisher has EVER offered for a trading research service. And it won't be available for long…
To learn more and claim your subscription, just click here…
Your biggest fan,
Frederick Frost
P.S. We'd love your opinion.
How useful did you find today's Morning Bullets?
Not useful – It was ok – It was good – Very Useful
13.6% 11.9% 48.9% 25.6%
Note: Percentages are updated once per week on Sundays and include all feedback since inception.