Your daily source for trading strategies, tech news, and politically incorrect humor.

Your daily source for trading strategies, tech news, and politically incorrect humor.
Dear eMBers,

Your Morning Bullets are here. Let's dig in.
INVESTOR INSIGHTS – Market Udate
The S&P 500 has been trading in a range between 2840 and 2930 over the past few weeks.
This price action has created a "consolidating rectangle" pattern.
Take a look at the chart (red lines)…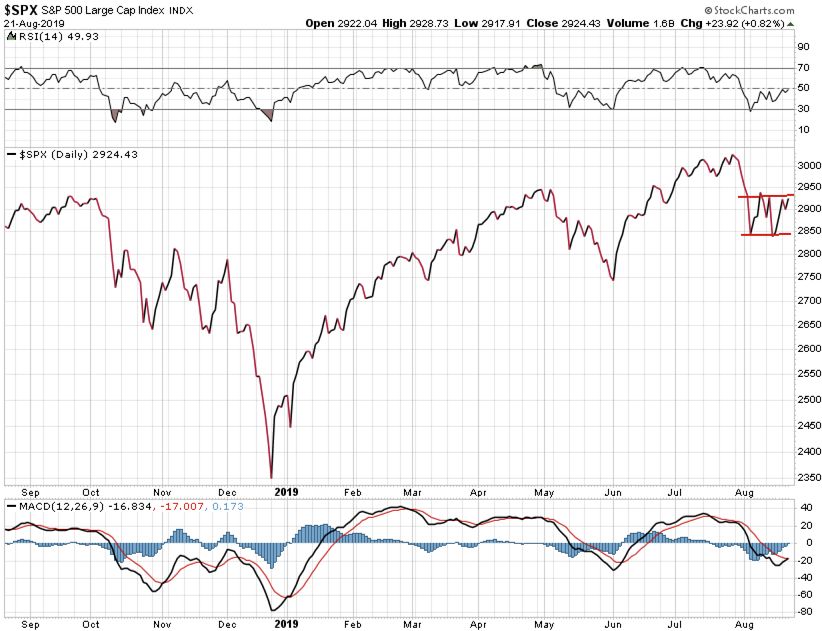 Generally, if the S&P 500 breaks out of this pattern, the move should be roughly as long as the height of the triangle (90 points).
It means that the upside target could be around 3,020 over the next few days (or weeks).
And the potential catalyst for the move could driven by the Federal Reserve's annual meeting in Jackson Hole today.
YOUR SILICON VALLEY (LIBERAL) OVERLORDS
Facebook is planning on promoting news outlets.
How?
Facebook is creating a "News Tab" and they will feature outlets handpicked by them. And it will change how millions of people receive news.
This is apparently a personal project by Facebook CEO Mark Zuckerberg. He aims to improve the company's credibility with publishers.
That's funny… How does Facebook restore something it never had?
TRUMP DERANGEMENT SYNDROME
Biden had another verbal misstep.
On Tuesday, he said in his campaign appearance in Iowa "Just like in my generation, when I got out of school, when Bobby Kennedy and Dr. King had been assassinated in the '70s — the late '70s — I got engaged".
FACT CHECK: Both men were assassinated within mere months of each other in 1968.
But let's not knock him down just yet, I want him to run against President Trump!
Can you imagine what he will do on the debate stage? Priceless!!!
Watch his gaffe here…
CRAZY-INTERESTING OR RIDICULOUSLY-WEIRD
ADDITIONAL READING AND RESOURCES (ARR)
I can't get into all the news and interesting information out there in this one email, so what you'll find here are articles, presentations, and resources I'm digging into and believe you should as well.
A few weeks ago, one of Silicon Valley's most successful angel investors, Jeff Brown, made history.
To a live audience just off campus of Yale University, he revealed the technology behind a device worth a potential $100 billion.
This technology is what Jeff is predicting will become the biggest tech investment of 2019.
Watch his presentation here
Your biggest fan,
Frederick Frost
P.S. We'd love your opinion.
How useful did you find today's Morning Bullets?
Not useful – It was ok – It was good – Very Useful
13.3% 13.8% 47.9% 25.0%
Note: Percentages are updated once per week on Sundays and include all feedback since inception.