Your daily source for trading strategies, tech news, and politically incorrect humor

Your daily source for trading strategies, tech news, and politically incorrect humor.
Dear eMBers,

Your Morning Bullets are here. Let's dig in.
INVESTOR INSIGHTS – Market Update 
New news on the US-China trade deal has curbed investor enthusiasm.

Both countries are digging in. And the trade talks don't look to be making the progress we'd once hoped.

And the markets are feeling the strain.

All three index futures are down for the morning.

The Dow futures are down 0.3%.

S&P futures are also down 0.3%.

Nasdaq futures are down 0.35%.

Of course, this isn't a clear indicator of what will happen in the markets during trading hours.

But Tuesday wasn't a total loss. The DJIA and S&P 500 faced losses. But Nasdaq climbed 0.2%.

Curious who the biggest winners and losers were yesterday?
YOUR SILICON VALLEY (LIBERAL) OVERLORDS
Which cities are giving Silicon Valley a run for it's money?

There are 12 clear winners here in the United States, and some of them might just surprise you.

Cities are scored based on several factors. The closer you get to 100, the better.

The leading factors measured? STEM jobs, science and engineering degree holders and advanced degree holders.

Fort Collins, CO brought up the rear in slot number 12 with a score of 95.5.

Seattle, WA placed 11th, with a score of 95.57.

Madison, WI took number 10, scored at 95.83.

Charlottesville, VA placed 9th with a 96.4.

Durham, NC was 8th, scored at 96.97.

Boston, MA placed 7th, with a 97.43.

Ithica, NY took spot number 6 with 98.1.

Want to know who the Top 5 cities were?
TRUMP DERANGEMENT SYNDROME
Here's another great example of anti-Trump media bias.

A slew of news outlets made tons of retractions yesterday.

The issue?

They'd falsely attributed a staggering Obama-era stat on migrant child-detention and blamed it on President Trump.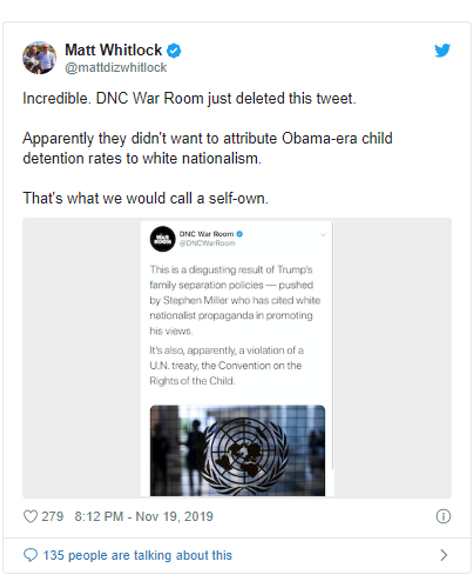 Source: Twitter
It started on Monday when an expert from the UN Global Study on Children Deprived of Liberty. He claimed 100,000 migrant kids were detained by the Trump administration. And went on to call it the world's highest rate of detained children.

By the next day, he had to acknowledge that those numbers were actually pulled from 2015. During the Obama Presidency.

Trump's numbers were much less. Only 69,550 migrant children were held in US government custody in the past year.

Tons of Democrats had already slammed Trump in Tweets.

Once they figured out who the real culprit was, those Tweets magically disappeared.

The DNC War Room had said "This is a disgusting result of Trump's family separation policies – pushed by Stephen Miller who has cited white nationalist propaganda in promoting his views. It's also, apparently, a violation of a UN treaty, the convention on the Rights of the Child."

Oh, the shame they must have felt when they realized that Tweet was really busting Obama's chops.
Will this partisan one-sided reporting ever stop?
5G has been promised for years.
In 2019, it's finally here.
By year's end… almost 100% of the country will be 5G-capable.
Stocks have already shot up in anticipation of its arrival.
Extraordinary gains like 11,567%… 8,580%… 7,311%…
The list goes on and on.
Apple isn't the only smartphone maker launching a 5G-enabled phone. Every major consumer electronics company on the planet is launching its own 5G devices.
And every single one of these devices – they will number in the billions – will depend on an essential component to connect to 5G. Jeff Brown spotted the company that provides that component. This is a stock that investors will want to own.
Due to the amount of activity, this opportunity can end at any time.
Been losing sleep over the Blue Wave folks have predicted in Texas?

Well, you can rest easier for now.

Despite wins in state elections earlier this month, a new poll has shown that Texas voters favor Trump.

Over every single Democratic challenger who's entered the race.

The poll surveyed 1,093 registered voters between November 5th and November 14th.

Trump was ahead of Joe Biden by 5 percentage points.

He was 4 points above Sanders.

And 11 points ahead of Warren and Castro.

Texas is looking pretty Red, don't you think?
CRAZY-INTERESTING OR RIDICULOUSLY-WEIRD
Is Greta Thunburg actually a time traveler?

That's what some people are claiming.

And the speculation is fueled by a 120-year-old photo.

It shows three children operating a rocker on a gold mine in the Yukon Territory.

And one of them looks strangely familiar.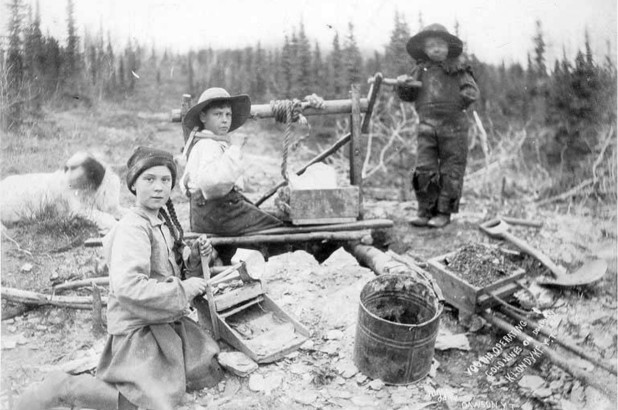 Source: Eric A. Hegg
Twitter users want you to know that she's a time traveller, from the future, here to save us.

Is this the left's version of seeing Jesus on toast or wet paint?
What do YOU think?
ADDITIONAL READING AND RESOURCES (ARR)
Thanks for reading today and being a loyal subscriber. 
Your biggest fan, 
Frederick Frost
P.S.   We'd love your opinion.
How useful did you find today's Morning Bullets?
Not useful – It was ok – It was good – Very Useful
   12.71%         13.29%         47.61%          26.39%
Note: Percentages are updated once per week on Sundays and include all feedback since inception.