Your daily source for trading strategies, tech news, and politically incorrect humor

Your daily source for trading strategies, tech news, and politically incorrect humor.
Dear eMBers,

Your Morning Bullets are here. Let's dig in.
INVESTOR INSIGHTS – Market Update
Yesterday was another record-breaker.

For all 3 major indexes.

And futures today look bright yet again.

After reaching new all-time highs on Friday, they gave us an encore performance yesterday.

The S&P 500 rose 0.1% to 3,122.03.

The DJIA also rose 0.1% to 28,036.22.

The Nasdaq rose (you guessed it) 0.1% to 8,549.94.

Futures this morning are still positive, but did take a hit when Home Depot missed revenue projections.


Asian and European markets are also mostly positive.
How long will this bullish run continue?
YOUR SILICON VALLEY (LIBERAL) OVERLORDS
Should banks start thinking (and acting) like technology companies?

Some experts say it's a must, if they want to survive.

"For every bank — and there's no exception — we have to master technology just in order to increase the customer convenience."

And they need to do it fast.

How fast?

Based on these experts, they need to make the shift in weeks, not years.

And believe it or not, there is some untapped opportunity out there.

The World Bank estimates that there are some 1.7 billion "unbanked" adults.

Tech giants like Apple, Google and Facebook are entering the fray.

And that means remaining relevant is the key.

"Technology is actually providing a golden opportunity for us to be able to tap into a market which was highly untouched before," explained Henry Ma.

Will traditional banks seize the day or let it slip away?
TRUMP DERANGEMENT SYNDROME
It's getting tougher each morning to choose which news story will land in the Trump Derangement Syndrome section.

But this morning, there was a clear winner.

Hands down.

And it was brought to us by this guy:
Source: Newsday
That's Jon Cooper, the chairman of the Democratic Coalition.

And boy is he spinning a fanciful yarn.

He took to Twitter to announce that he's confident that Trump won't even make it to the next election.

Why?

Well, he offers two choices.

Either (a) Trump "resign from office before he can be impeached, citing health reasons."

(Yeah, he's talking about that unexpected check-up.)

Or, (b) VP Mike Pence is plotting to take his spot in the Oval Office.

And it's pretty clear he doesn't have any love for the VP, either.

"He'd stab anyone in the back – and I mean ANYONE – to advance his political aspirations. He's likely plotting behind the scenes right now to betray Trump."

How's that for a conspiracy theory?

Do you think there's any truth to his predictions?
Five hundred miles outside of Silicon Valley…
This tiny company — trading under a code name — is about to unleash a radical, new $12 trillion technology.
Mark my words…
BlackRock, JPMorgan Chase and Deutsche Bank — to name just a few — have all started quietly scooping up shares.
Because they recognize the extraordinary potential here, as I do.
This stock may never be this cheap again. Now is the perfect time to grab as many shares as possible.
This long, expensive and drawn-out impeachment process isn't changing anyone's mind.

And a recent poll says that nothing anyone can say will change that.

No matter which party you fall under.

The NPR/PBS NewsHour/Marist poll is proving something we've known all along.

Half of Americans approve of the inquiry. Meaning the other half doesn't.

They're also split on whether they think Trump should be impeached.

But what's surprising is this:

65% of Americans say they can't imagine ANY information (or circumstance) during the inquiry where they might change their minds or their positions.

And that's overall.

Republicans are a bit firmer in their stance.

73% of them said nothing would move them from their opinion.

For Democrats, that number was 68%.

The poll was conducted from November 11-15.

So, it covers times before, during and after the testimony of the first three witnesses.

Find out more about what the poll shared about the mindsets of voters heading into 2020.
CRAZY-INTERESTING OR RIDICULOUSLY-WEIRD
It's unclear how this South Dakota anti-meth campaign made it through the editing process.

But it did.

With a $500,000 price tag.

And Twitter is having a field day, along with the rest of America.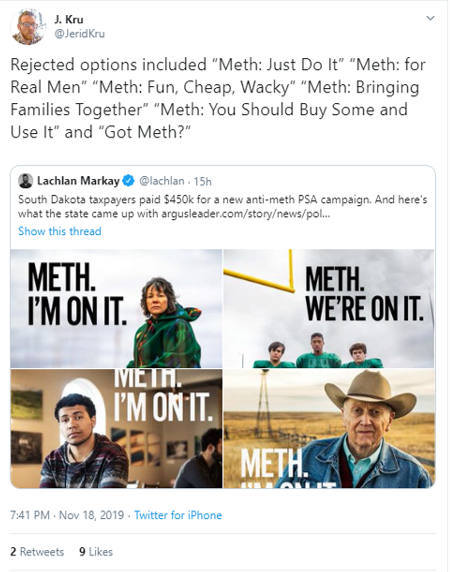 Source:Twitter
Yep, you read that right. "Meth, we're on it."
And in some ads, "Meth, I'm on it."

"Hey Twitter, the whole point of this ad campaign is to raise awareness," Gov. Kristi Noem said Monday afternoon. "So I think that's working…"
What do YOU think?
ADDITIONAL READING AND RESOURCES (ARR)
REVEALED: A Task Force to Take Trump Down?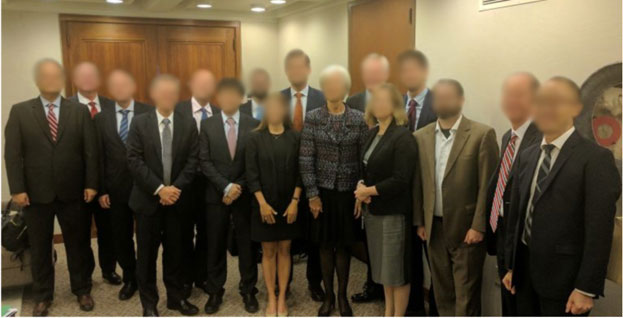 Obama, Hillary and the "fake news" media hope you never
see this urgent message…
Because a whistleblower is now predicting the global elites' evil plan to take Trump down…
A plan that's set to "go live" as early as the next few weeks.
Thanks for reading today and being a loyal subscriber.
Your biggest fan,
Frederick Frost
P.S. We'd love your opinion.
How useful did you find today's Morning Bullets?
Not useful – It was ok – It was good – Very Useful
12.71% 13.29% 47.61% 26.39%
Note: Percentages are updated once per week on Sundays and include all feedback since inception.