Your daily source for trading strategies, tech news, and politically incorrect humor

Your daily source for trading strategies, tech news, and politically incorrect humor.
Dear eMBers,

Your Morning Bullets are here. Let's dig in.
INVESTOR INSIGHTS – Market Update
All eyes are on Asia.

And investors are nervous.

Index futures are lower in the United States. Earlier this morning, Dow futures were down about 130 points. The Nasdaq and the S&P are down, too.

While bond markets are closed for Veterans Day, the stock markets are wide open.

But that's nothing compared to the turmoil in the Asian markets.

Between uncertainty with the trade deal and increased volatility in Hong Kong, things are looking less than stellar.

China, Hong Kong, Japan and South Korea are all down.

Only Australia bucked the trend.

Europe is feeling the pain, as well.
YOUR SILICON VALLEY (LIBERAL) OVERLORDS
There's a new trend in Big Tech.

It started with Spotify and Slack, but it looks like it could become the next thing for tech companies.

So, what is it?

Bypassing an IPO and making the move for a direct listing.

What's the difference?

In an IPO, new shares are created to raise money. Direct listings sell existing shares directly to the market.

When Spotifiy did it, it was an anomaly.

Normally, companies ring bells," Spotify founder and CEO Daniel Ek wrote ahead of the listing. "Normally, companies spend their day doing interviews on the trading floor touting why their stock is a good investment. Normally, companies don't pursue a direct listing."

Then, a little over a year later, Slack did the exact same thing.

There are a slew of advantages. But it's not all sunshine and roses.

"For a company to be able to [directly] list, it is necessary for the company to have positive earnings growth and a strong balance sheet. Very few new firms meet these criteria."

Will direct listings become the norm?
TRUMP DERANGEMENT SYNDROME
Bloomberg entering the race is great news for conservatives.

Not only is Trump for the move, Dems have a new whipping boy.

"Little Michael will fail," Trump said. "There is nobody I'd rather run against than Little Michael, that I can tell you."

And while he's busy failing, Democrats will have ample opportunity to rip their party (and their base) apart in the process.

Warren, Sanders and Biden have come out strong against him.

Here are just a few of the Democratic soundbites that followed the announcement.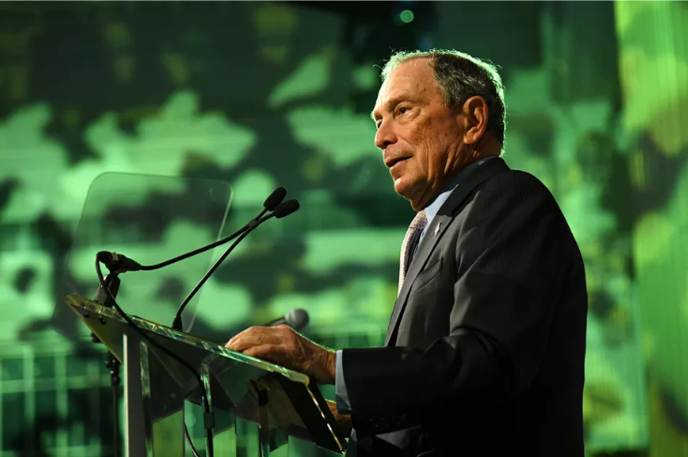 Source: Bryan Bedder/Getty Images/Hudson River Park
"You're not going to buy this election by spending hundreds of millions of dollars on media in California."
That was Bernie.

"They've got class solidarity. The billionaires are looking out for each other. They're willing to transcend difference and background and even politics."
That was AOC.

"One billionaire calls another billionaire and asks him to run for president—I'm shocked!"
That was Warren.
Five hundred miles outside of Silicon Valley…
This tiny company — trading under a code name — is about to unleash a radical, new $12 trillion technology.
Mark my words…
BlackRock, JPMorgan Chase and Deutsche Bank — to name just a few — have all started quietly scooping up shares.
Because they recognize the extraordinary potential here, as I do.
This stock may never be this cheap again. Now is the perfect time to grab as many shares as possible.
Nikki Haley's new book, With All Due Respect, is hitting the press with Trump's approval.

In it, she sheds some light on the Deep State.

And the outright lawlessness that prevailed.

She called out then-Chief of Staff John Kelly and then-Secretary of State Rex Tillerson, specifically.

"It was their decisions, not the president's, that were in the best interests of America, they said."

"It should have been – go tell the president what your differences are and quit if you don't like what he's doing. But to undermine a president… it is really a very dangerous thing and it goes against the constitution, and it goes against what the American people want. It was offensive."
CRAZY-INTERESTING OR RIDICULOUSLY-WEIRD
We've all seen photos and videos of animals looking quite human.

But this video is really creeping people out.
Source: YouTube
The video was recorded in China, but it's a universal creep fest.

Some are comparing him to Voldemort.

And NO ONE wants to eat it…

That's one creepy carp!
ADDITIONAL READING AND RESOURCES (ARR)
5G has been promised for years.
In 2019, it's finally here.
By year's end… almost 100% of the country will be 5G-capable.
Stocks have already shot up in anticipation of its arrival.
Extraordinary gains like 11,567%… 8,580%… 7,311%…
The list goes on and on.
Apple isn't the only smartphone maker launching a 5G-enabled phone. Every major consumer electronics company on the planet is launching its own 5G devices.
And every single one of these devices – they will number in the billions – will depend on an essential component to connect to 5G. Jeff Brown spotted the company that provides that component. This is a stock that investors will want to own.
Due to the amount of activity, this opportunity can end at any time.
Thanks for reading today and being a loyal subscriber.
Your biggest fan,
Frederick Frost
P.S. We'd love your opinion.
How useful did you find today's Morning Bullets?
Not useful – It was ok – It was good – Very Useful
12.6% 13.5% 47.1% 26.8%
Note: Percentages are updated once per week on Sundays and include all feedback since inception.