Your daily source for trading strategies, tech news, and politically incorrect humor

Your daily source for trading strategies, tech news, and politically incorrect humor.
Dear eMBers,

Your Morning Bullets are here. Let's dig in.
INVESTOR INSIGHTS – Market Update 
Could negative interest rates make it to America?

Chief of JP Morgan, Jamie Dimon, worries they could.

He hopes it will never come to that. But he's working with his banks to stress test even the concept.

"God I hope it never comes here," he told an audience of key players yesterday.

And he didn't mince words when it came to his opinion on the whole matter.

"I would not buy debt at below zero. Never, not at below zero, not in my entire life . . . I would do anything before I would buy debt at negative rates. There is something irrational about it."

Tell us how you REALLY feel, Mr. Dimon.
YOUR SILICON VALLEY (LIBERAL) OVERLORDS
And the hits just keep coming…

For Big Tech anyhow.

Watch out for new legislation known as the "Mind Your Own Business Act."

The Act is spearheaded by Oregon Senator Ron Wyden.

It holds tech execs personally responsible for failing to protect user privacy and security.

In addition to fines, they could face up to 20 years in prison.

Passage will require bipartisan support.
See who's name comes up a LOT in the article…
TRUMP DERANGEMENT SYNDROME
Hillary Clinton is out making headlines again.

Now, instead of attacking Trump, she's going after members of her own party. Tulsi Gabbard and Jill Stein.

And Russia, of course.

"I'm not making any predictions, but I think they've got their eye on somebody who is currently in the Democratic primary and are grooming her to be the third-party candidate."

"She is a favorite of the Russians. They have a bunch of sites and bots and other ways of supporting her so far. That's assuming Jill Stein will give it up, which she might not because she is also a Russian asset."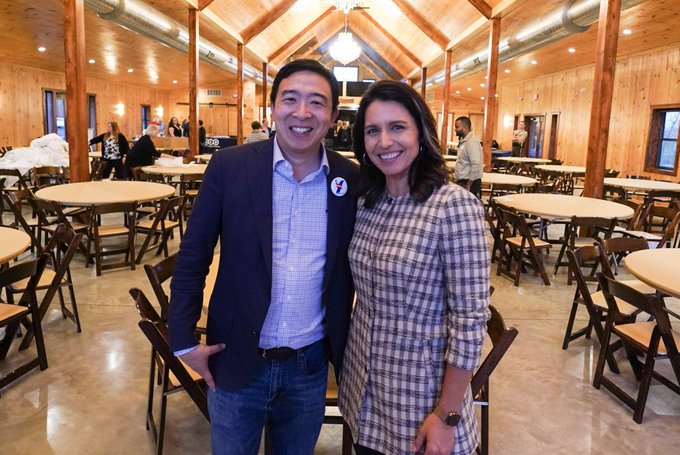 Source: Andrew Yang Twitter Feed
Russian assets everywhere!

Gabbard shot back.

She called Hillary "the queen of warmongers, embodiment of corruption, and personification of the rot that has sickened the Democratic Party."
At least Andrew Yang is sticking by her side.

Is the Democratic party set to self-destruct?
Five hundred miles outside of Silicon Valley…
This tiny company — trading under a code name — is about to unleash a radical, new $12 trillion technology.
Mark my words…
BlackRock, JPMorgan Chase and Deutsche Bank — to name just a few — have all started quietly scooping up shares.
Because they recognize the extraordinary potential here, as I do.
This stock may never be this cheap again. Now is the perfect time to grab as many shares as possible.
It seems like Democrats live in a whole different world.

If perception = reality, I guess they do.

But it looks like their total disconnect with the economy could cost them.

Big time.

It's not just little mistakes, either.

Huge ones.

And both voters and investors are seeing right through them.

Here are just a few of the economic myths they fall for. And why they could and likely will cost them the election.
CRAZY-INTERESTING OR RIDICULOUSLY-WEIRD
Which is scarier? The alcohol content or the price?
That's the real question about Samuel Adams Utopias beer.

First, consider this: it's illegal in 15 out of 50 states.

The alcohol content? 28% (compared to all other beers, under 10%).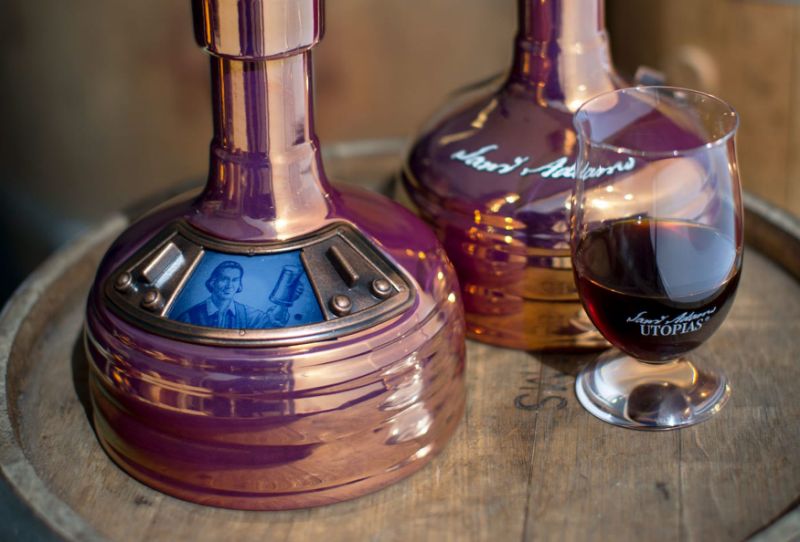 Source: Samuel Adams
A bottle is 25.4 ounces.

The price? $210!

ADDITIONAL READING AND RESOURCES (ARR)
Thanks for reading today and being a loyal subscriber. 
Your biggest fan, 
Frederick Frost
P.S.   We'd love your opinion.
How useful did you find today's Morning Bullets?
Not useful – It was ok – It was good – Very Useful
   13.0%         13.9%         46.4%          26.7%
Note: Percentages are updated once per week on Sundays and include all feedback since inception. 
Big News from Trading Legend Jeff Clark
For the past 36 years, I've used options to help people make millions of dollars.
So you may be surprised to hear that I'm making a big change.
For the first time, I'm telling people to start trading a small group of tiny stocks.
That's right… not options, but stocks.
Why on earth am I doing this? After all, don't options offer you the biggest bang for your buck?