Your daily source for trading strategies, tech news, and politically incorrect humor

Your daily source for trading strategies, tech news, and politically incorrect humor.
Dear eMBers,

Your Morning Bullets are here. Let's dig in.
INVESTOR INSIGHTS – Market Update
As of this morning, futures are looking bright.

For the markets, anyhow.

At about 6:20am EST, Dow futures were up about 50 points.

Both the S&P and Nasdaq were up as well.

This was after Thursday trading ended on a sour note. Despite several tech stocks sharing better-than-expected earnings.

What had investors worried?

Namely, doubts over the US-China Phase 1 trade deal that was set for November 11.

Today, new earnings get reported.

Plus non-farm payroll and unemployment figures get released.
YOUR SILICON VALLEY (LIBERAL) OVERLORDS
Could robots really be set to take your job?

It's looking a lot more likely.

And insanely more human-like.

A Russian start-up, Promobot, has recently unveiled what it coined the first autonomous android in the world.

It very closely resembles a real life, actual human.

And it's been designed to serve in a business capacity.

It's called Robo-C, and it can be customized to look like anyone.

And it's equipped with an AI system with more than 100k speech modules.

You can put one to work at home or in the office.

Tasks it excels at?

Answering customer questions. Accepting payments. Express outward signs of emotion.

Total cost?

$20,000-50,000. Which is a one-time cost – not an annual salary.
Could your job be at risk?
TRUMP DERANGEMENT SYNDROME
Former FBI Deputy Director Andrew McCabe spent Wednesday dodging questions.

During a panel at George Mason University, he ducked two probing questions by the Washington Examiner.

The questions?

What got confirmed in the infamous Steele dossier?

And why didn't they disclose the document was funded by Clinton's campaign?
He refused to answer question number one.

His answer to question number two? We'll wait and see what Horowitz's report has to say.

We've already learned quite a bit about question two.

Clinton purposely concealed the hiring of Fusion GPS by reporting their payments to Perkins Coie as "legal services."

Former FBI Counsel James Baker explained, "if the assessment is that the identity is critically important and you need it to either follow the flow of the information…then you might put the person's name in."

So, who was REALLY interfering in elections?

Robert Herjavec believes "the walls have finally come down" on what was once America's most exclusive investing opportunity.
He's talking about angel investing — getting in on the deals like you see Robert make on Shark Tank.
Now there's a way that everyone capitalize on this secret market. Startups can go from obscurity to being worth billions of dollars in a blink of an eye.
Robert reveals TWO private deals you can act on today.
Trump sat down for an 80-minute interview with the Washington Examiner.

It took place just hours after the House voted to formalize impeachment proceedings.

The President insists that the Democrat-driven process is largely rejected in key battleground states.

And his polls are still showing positive signs nationally.

Impeachment support has been declining for three weeks.

And his job approval numbers are holding steady.

But his base is absolutely energized.

Party unity is strong.

"My base is much bigger than people think. But I think I go way beyond my base."

"I've got the strongest economy in the history of a presidential run by far. We've got a powerful military, the most powerful we've ever had, relatively speaking, and it's been rebuilt. The best job numbers that we've ever had… I've done a great job."
CRAZY-INTERESTING OR RIDICULOUSLY-WEIRD
According to the Brits, nothing says Christmas like pigs-in-a-blanket… ice cream.

It's premiering in Fabio's Gelato.

The porky treat features real meat, served up in a Yorkshire pudding.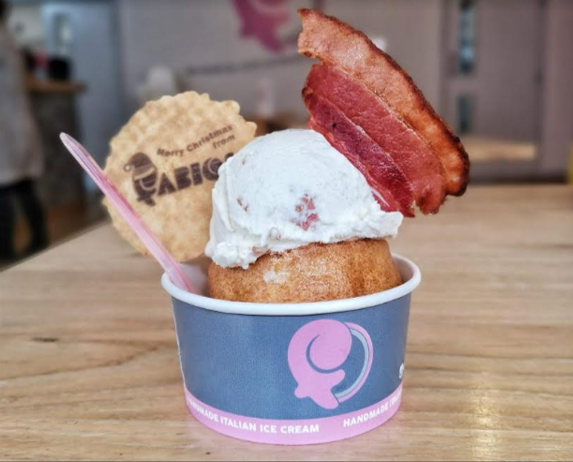 Source: Pen News
So, what's in it?

Sausage, bacon, vanilla ice cream, maple syrup and Yorkshire pudding – all in a cone.

"It really works – think bacon maple pancakes. Bacon makes anything taste nice, even Brussels sprouts!"
ADDITIONAL READING AND RESOURCES (ARR)
Thanks for reading today and being a loyal subscriber.
Your biggest fan,
Frederick Frost
P.S. We'd love your opinion.
How useful did you find today's Morning Bullets?
Not useful – It was ok – It was good – Very Useful
12.6% 13.5% 47.1% 26.8%
Note: Percentages are updated once per week on Sundays and include all feedback since inception.