Your daily source for trading strategies, tech news, and politically incorrect humor

Your daily source for trading strategies, tech news, and politically incorrect humor.
Dear eMBers,

Your Morning Bullets are here. Let's dig in. 
INVESTOR INSIGHTS – Market Update 
The jobs report will premier about 30 minutes before you read this.

But as of me writing about it this morning, optimism is looking good.

Stock index futures are trading higher. Earlier today, the DJIA futures were up 75 points.

The S&P 500 and Nasdaq 100 futures are also looking higher.

Economists are hopeful for a smashing jobs report.

Those polled are expecting 187,000 jobs were added in November.

This would be one of the top estimates this year, heading into a report release.

With GM autoworkers getting back on the clock, the data is expected to boost.

When the jobs report is released, unemployment rate data and average hourly wages are also unveiled.

What else gets released today?

Consumer sentiment for December.

Wholesale trade figures for October.

Plus the latest reading of consumer credit.

But the real elephant in the room is what's going on in the US-China Trade War.
Tariffs on another $156 billion worth of Chinese goods are set to go into play on December 15th.
YOUR SILICON VALLEY (LIBERAL) OVERLORDS
Big Tech is taking some serious heat.

As Pelosi scrambles to put together the passage of the USMCA, she's making some changes.

And one of the big changes she's backing is to strip key legal protections that tech companies have long enjoyed .

And it's going to be a setback for Silicon Valley if she has her way.

The tech industry insist that the protections are necessary. They help shield businesses from legal exposure when it comes to the content others post on their platforms.
Meanwhile, Big Tech is under multiple US probes.

Facebook Inc, Alphabet Inc's Google, Apple Inc and Amazon.com Inc are all under various investigations and probes.

Let's take a look at just a few:

September 2019 – Texas launched an antitrust investigation of Google's search and advertising business. But they aren't doing it the Lone Star way. They've got 47 other states and three territories working with them.

September 2019 – Google announced it received a civil investigative demand. From who? The Justice Department

November 2019 – FTC has "multiple investigations of tech platforms". We know for sure one is Facebook. The rest are unidentified.

December 2019 – The FTC has broadened scrutiny of Amazon beyond it's retail operations.
And that's not all…
TRUMP DERANGEMENT SYNDROME
When Schiff wants to talk openly and off the record, he heads into the secure room known as "The Skiff."

That's where he had a meeting with the Intel Committee. And confessed that he had obtained the phone records from AT&T of some interesting folks.

Names included: Lev Parnas, Rudi Giuliani and Devin Nunes.

"But don't tell anyone, guys, because we're in the Skiff." (Parody)

But it leaked, and ton's of folks out outraged.

Which is understandable, since this is essentially spying.

Rand Paul called it an outright abuse of power. 
And Devin Nunes had quite a bit to say about it, too.

Especially considering how much Schiff was "very disturbed" by this type of behavior in the post 9/11 intelligence atmosphere.

Is this where the Schiff hits the fan?

Or just same Schiff different day?
$7 Gold Investment Could Hand Investors a Small Fortune as Gold Soars.
Not gold coins, bullion, or risky mining stocks… Unique gold strategy, with a proven history of soaring 4,500% is Hard-Money expert's "Favorite gold play for 2019."
Candidate Andrew Yang just got to say something other Dems running for office can't.

It's easier when you're not also a Senator…

Is that why the tech entrepreneur has been having more fun than some of the others?

Or is it because when you're number 6, you can get away with a lot?

So, what did he say?

He came right out and said impeachment is a "loser" issue for Democrats.

It's easier to say when you don't have any chance of having to sit on a vote for it.

"The more this drags on, the more danger there is of two things: Number one, Donald Trump comes out of this and is vindicated, totally exonerated. Number two, we are wasting precious time where we should be creating a positive vision that Americans are excited about solving the problems that got Donald Trump elected, and beat him in 2020."

"It seems like all we can do is throw ineffective rocks at Donald Trump, and then it ends up leading unfortunately toward his reelection."

Is it because Donald Trump is rubber, and Democrats are glue?
Either way, we agree with you 100%, Andrew!
CRAZY-INTERESTING OR RIDICULOUSLY-WEIRD
This wife created a "She Shed" that a lot of husbands could be proud of.
It's a Pub, called The Doghouse Inn, and she built it to keep him from sneaking off to the pub to enjoy a pint.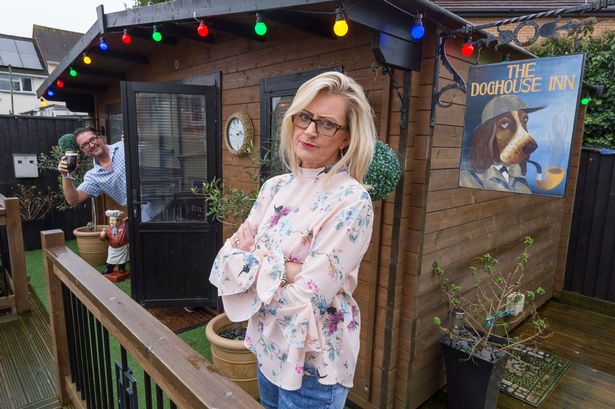 Source: Mirror.Co.Uk
It cost her part of her garden space and about 20,000 British pounds. 
What do you think?
ADDITIONAL READING AND RESOURCES (ARR)
Today: Anyone Can Become an Angel Investor
Robert Herjavec said it best during a recent, live broadcast: "The walls have finally come down. You no longer have to be rich, famous, or powerful to become an angel investor!"… And Congress has finally made it possible for you to take advantage of these life-changing deals.
Thanks for reading today and being a loyal subscriber. 
Your biggest fan, 
Frederick Frost
P.S.   We'd love your opinion.
How useful did you find today's Morning Bullets?
Not useful – It was ok – It was good – Very Useful
   12.73%      13.23%       47.82%          26.21%
Note: Percentages are updated once per week on Sundays and include all feedback since inception.