S&P's key level, Virtual Influencers and more

Your daily source for trading strategies, tech news, and politically incorrect humor.
Dear eMBers,

Your morning bullets are here. Let's dig in.
INVESTOR INSIGHTS – Market Update 
The decline in the S&P 500 this morning was similar to Friday's decline. 
And it seems like 2,969 is the key support level. 
If we break below it, I think we'll drop down to 2,959ish. 
Why? 
Because it's right around the 9-day EMA. 
The 9-day, exponential moving average, or "EMA," is available on any free charting site. 
Without getting too technical, it's just average price the stock has traded over previous 9 trading days. 
I believe it's the defining line for the short-term momentum of a stock. 
And if the S&P 500 stays above it, the short term momentum continues to be bullish. 
YOUR SILICON VALLEY (LIBERAL) OVERLORDS
Virtual influencers are on the rise. 
Lil Miquela is the Rihanna of virtual influencers. She is a fictional character and digital art project
The young model and musician has 1.6 million followers on Instagram, has worked with Prada, and her single "Not Mine" has almost 800,000 plays on YouTube.
For companies, it costs less to work with a virtual influencer than with a supermodel. 
They never have a "bad hair day" and there's little need to try over and over again to get the perfect shot.
I wonder what will happen once these virtual influencers are power by AI…
TRUMP DERANGEMENT SYNDROME
David Gregory is a CNN contributor. 
He gave Biden a low score and questioned his campaign performance.
He said: 
"He looks out of touch. He looks older. He looks out of step with the times."
That's a pretty accurate description of Joe Biden. 
But wait a minute, this was CNN?
Three truthful facts in a row? 
This must be a parallel universe…
Trump's approval rating hits his presidency high. 
Washington Post-ABC News poll released Sunday.
And the Hill reports: 
"The survey found that 47 percent of registered voters approve of the job Trump is doing in the White House, a figure that represents a 5-point increase from April."
And the Washington Post grudgingly acknowledged: "The survey highlights the degree to which Trump has a narrow but real path to reelection."
Take a look…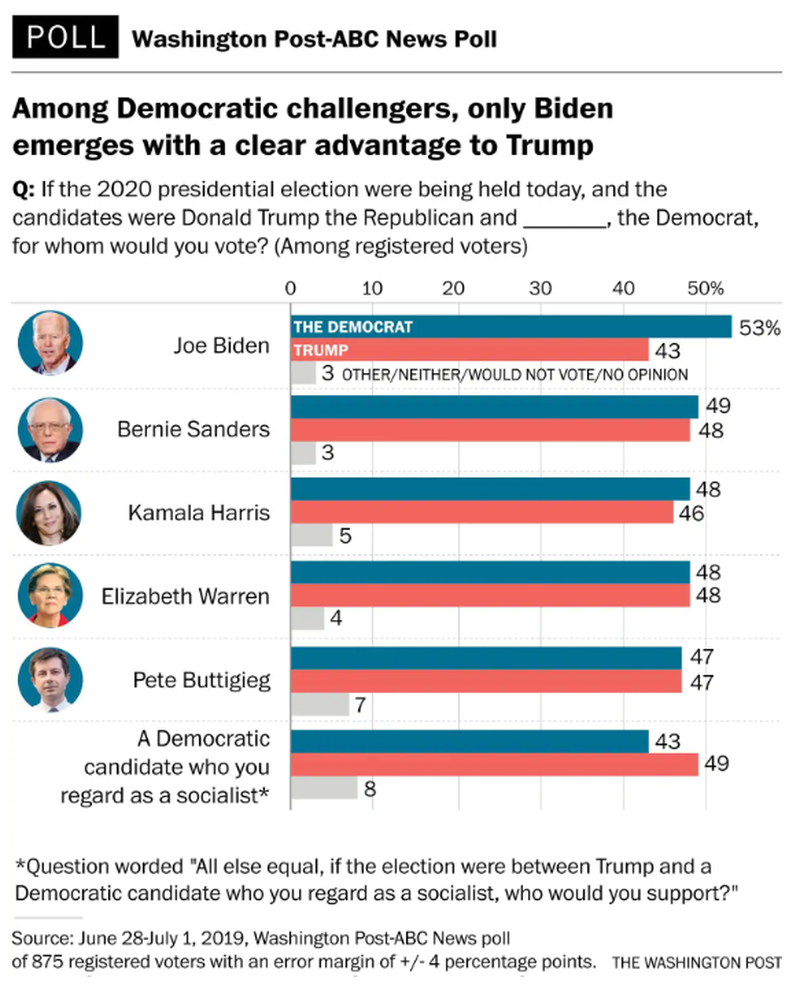 CRAZY-INTERESTING OR RIDICULOUSLY-WEIRD
ADDITIONAL READING AND RESOURCES (ARR)
I can't get into all the news and interesting information out there in this one email, so what you'll find here are articles, presentations, and resources I'm digging into and believe you should as well.
Inside that box is a brand-new 5G technology expected to go from $0 in sales to
$100 billion by the end of this year.
And just days ago, it was revealed to the public for the first time at a private event.
One of Silicon Valley's most successful angel investors says "this is the best stock of 2019."
Your biggest fan, 
Frederick Frost
P.S.  We'd love your opinion.
How useful did you find today's Morning Bullets?
Not useful – It was ok – It was good – Very Useful
   13.0%         11.8%         49.1%           26.1%
Note: Percentages are updated once per week on Sundays and include all feedback since inception.