Earning season is setting up for its busiest week

Your daily source for trading strategies, tech news, and politically incorrect humor.
Dear eMBers,

Your morning bullets are here. Let's dig in.
INVESTOR INSIGHTS – Earnings Season
This week will be all about earnings.
The Dow Jones is set for it's busiest week.
A third of the Dow Jones Industrial Average companies and roughly the same share of the S&P 500 index (144 companies) are due to report their earnings.
Among the S&P 500, social-media giant Facebook will deliver its results on July 24.
Overall, the quarterly results have been relatively strong so far.
YOUR SILICON VALLEY (LIBERAL) OVERLORDS
The U.S economy is doing great right now.
And even though we are in a trade negotiations with China and Fed has raised the interest rates, the U.S. economy has the lowest unemployment and the highest labor force participation rates.
Another interesting fact is the amount of investment into technology companies is at an all-time high.
That leads to a healthy IPO market.
And a healthy IPO market returns capital back to large investors, who in turn take much of those profits and reinvest in new technology companies.
This is driving the most incredible tech innovation of our lifetime.
I think this is a great environment for future business growth.
And it has me very bullish on the future of the economy.
TRUMP DERANGEMENT SYNDROME
Here is a little irony for you…
Staffers for Bernie drafted a letter to his campaign manager.
They complained about "poverty wages" according to this article.
Why?
Well, Bernie is pushing for a $15 / hour federal minimum while he's paying his own staff $13 / hour.
Typical leftist, never willing to practice what they preach.
Drug overdose deaths in the U.S. fell for the first time in three decades.
The Centers for Disease Control and Prevention on Wednesday posted the preliminary numbers showing nearly 68,000 drug overdose deaths were reported last year.
The deaths have been climbing since 1990. And they peaked in 2017 at 70,000.
What drove the decline?
The drop in deaths from heroin and prescription painkillers.
Let's take a look at the other presidents…
Trump: 2017-2018 – Down from 70+k to 68k
Obama: 2009-2016 – Up from 40k to 70k
Bush: 2001-2008 – Up from 20k to 40k
Clinton: 1993-2000 – Up from 12k to 20k
CRAZY-INTERESTING OR RIDICULOUSLY-WEIRD
What's the most expensive real estate listing in the U.S.?
It's Chartwell Estate in Bel Air, California.
10.3-acre lot with a massive garden.
And the main residence has 25,000 square feet.
Check it out here or click on the picture below.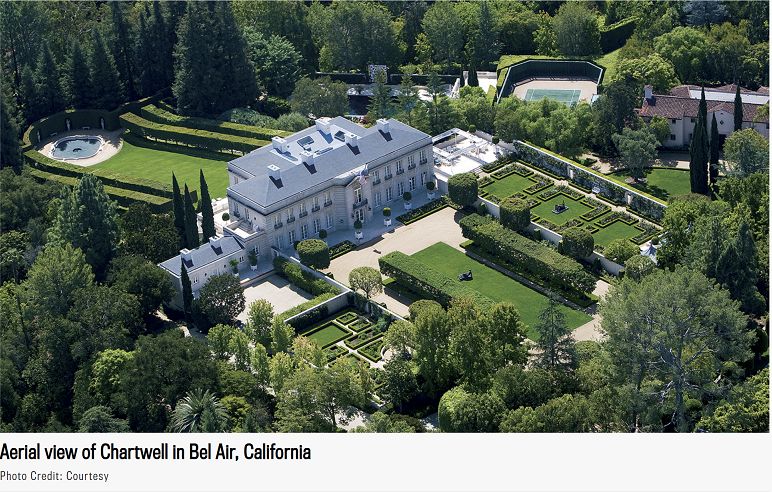 ADDITIONAL READING AND RESOURCES (ARR)
I can't get into all the news and interesting information out there in this one email, so what you'll find here are articles, presentations, and resources I'm digging into and believe you should as well.
If you're interested in learning more about a conservative options trading strategy…
One that ANYONE can use to make money in the market…
Then check out my brand-new research service, Jeff Clark Trader.
It can help you start generating extra income…
By trading options on three specifically chosen stocks, over and over again, to fund a comfortable retirement.
Be among the first to join and get a one-year subscription for just $19.
That's the lowest price my publisher has EVER offered for a trading research service. And it won't be available for long…
To learn more and claim your subscription, just click here…
Your biggest fan,
Frederick Frost
P.S. We'd love your opinion.
How useful did you find today's Morning Bullets?
Not useful – It was ok – It was good – Very Useful
13.6% 11.9% 48.9% 25.6%
Note: Percentages are updated once per week on Sundays and include all feedback since inception.