Your daily source for trading strategies, tech news, and politically incorrect humor

Your daily source for trading strategies, tech news, and politically incorrect humor.
Dear eMBers,

Your Morning Bullets are here. Let's dig in.
INVESTOR INSIGHTS – Market Update
The stock market is not doing much of anything.
It's chopping back and forth. It's working off the oversold conditions from Friday.
It's possible we get another run at the all-time high this week.
As I mentioned before, stocks don't perform well the last week of September.
And any rally towards all-time high could be a good opportunity to make a quick short trade.
Let's wait to see what happens tomorrow.
Welcome to the 'weakest week of the year' for stock-market investors
YOUR SILICON VALLEY (LIBERAL) OVERLORDS
Apple launched iOS 13 last Thursday. It's the next-generation operating system for the iPhone and iPad.
I follow a great Silicon Valley investor, Jeff Brown, who found something buried within the code…
This is what he found…
"References to augmented reality (AR) glasses code-named "Garta" and AR software code-named "StarBoard" hidden in the iOS 13 code.
These references give us insight into how Apple is approaching AR.
We can expect to see Apple launch its AR product within the next 12 months. This is big news. And it's also exciting, as Facebook and Magic Leap are also in the race to bring AR products to the market as soon as possible.
And with Apple set to release its first 5G-enabled iPhone next year as well, 2020 is shaping up to be a monster year for the tech giant."
TRUMP DERANGEMENT SYNDROME
Rudy Giuliani made serious new claims about the Bidens.
He tweeted the following:
"NEW FACT: One $3 million payment to Biden's son from Ukraine to Latvia to Cyprus to US. When Prosecutor asked Cyprus for amount going to son, he was told US embassy (Obama's) instructed them not to provide the amount. Prosecutor getting too close to son and Biden had him fired."
"Biden scandal only beginning. Lots more evidence on Ukraine like today's money laundering of $3 million. 4 or 5 big disclosures. Also the $1.5 billion China gave to Biden's fund while Joe was, as usual, failing in his negotiations with China is worse."
Is this the end for Sleepy Joe?
Furthermore, MSNBC says "President Trump had repeatedly suggested WITHOUT EVIDENCE that Joe Biden used his VP position to pressure Ukraine to fire the country's top prosecutor."
Let's take a look at the evidence (it's on tape!)…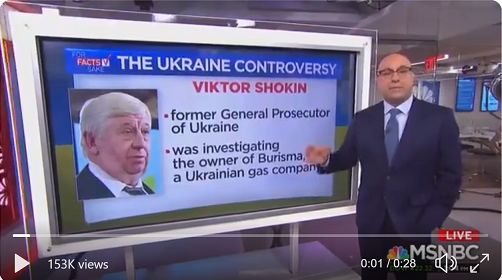 Cory Booker says he will drop out of the presidential race very soon.
Why?
He's running out of cash…
He said "We're at a crossroads in this campaign. We need to raise $1.7 million by September 30 to be in a position to build the organization we need to compete for the nomination—and we can do it—but if we don't, we don't see a legitimate long-term path forward."
What is the difference between a magician and Cory Booker?
The magician returns your wallet at the end of the performance.
CRAZY-INTERESTING OR RIDICULOUSLY-WEIRD
ADDITIONAL READING AND RESOURCES (ARR)
I can't get into all the news and interesting information out there in this one email, so what you'll find here are articles, presentations, and resources I'm digging into and believe you should as well.
This is a very big announcement.
As Robert Herjavec puts it, "the walls have finally come down" on what was once America's most exclusive investing opportunity.
He means the world of angel investing – getting in the deals like you see Robert make on the show.
Finally, everyone can capitalize on this secret market where startups can go from obscurity to being worth billions of dollars in the blink of an eye.
In this special presentation, Robert reveals TWO private deals you can act on today.
Your biggest fan,
Frederick Frost
P.S. We'd love your opinion.
How useful did you find today's Morning Bullets?
Not useful – It was ok – It was good – Very Useful
12.6% 14.0% 47.0% 26.3%
Note: Percentages are updated once per week on Sundays and include all feedback since inception.