Your daily source for trading strategies, tech news, and politically incorrect humor

Your daily source for trading strategies, tech news, and politically incorrect humor.
Dear eMBers,

Your Morning Bullets are here. Let's dig in.
INVESTOR INSIGHTS – Market Update
On Friday, the CME Group said it's planning to launch Bitcoin options in the first quarter of 2020.
"The market has continually asked us for this since the bitcoin futures launch," said Tim McCourt, the head of equity index and alternative investment products at CME.
If the CME gets an approval, Bitcoin options will be yet another way to get exposure to cryptocurrencies.
And with every day and every new product, cryptocurrencies are gaining more and more credibility.
It's very possible that cryptocurrencies will become a legitimate asset class of their own.
YOUR SILICON VALLEY (LIBERAL) OVERLORDS
Twitter shut down thousands of Fake News accounts worldwide.
Many of the accounts were in Saudi Arabia, UAE, Egypt and China.

Twitter is finally cracking down on manipulation.
However, I think a couple of Fake News accounts slipped through the cracks….
I just checked and the CNN account is still up and running. Weird…
TRUMP DERANGEMENT SYNDROME
Rep. AOC (All Out Crazy) is furious President Trump is not impeached yet.
She tweeted on Saturday night "At this point, the bigger national scandal isn't the president's lawbreaking behavior – it is the Democratic Party's refusal to impeach him for it".
Last time I checked, the Democrats have the "alleged obstruction of justice" of a completely fabricated "Russian collusion" that never happened.
Now it's official, AOC has made every blonde joke irrelevant…
A historic occasion drew a crowd of 50,000 Indian Americans.
The "Howdy, Modi!" event was one of the largest receptions of a foreign leader in the US.
Prime Minister, Narendra Modi, went on stage with President Trump and called him a 'true friend'.
The atmosphere at the NRG arena in Houston was electric… watch the video to see for yourself.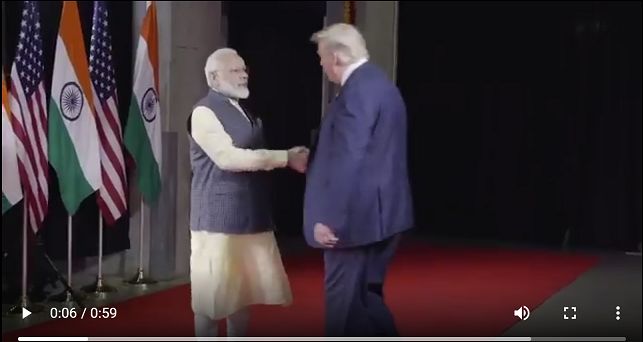 CRAZY-INTERESTING OR RIDICULOUSLY-WEIRD
ADDITIONAL READING AND RESOURCES (ARR)
I can't get into all the news and interesting information out there in this one email, so what you'll find here are articles, presentations, and resources I'm digging into and believe you should as well.
If you're interested in learning more about a conservative options trading strategy…
One that ANYONE can use to make money in the market…
Then check out Jeff's brand-new research service, Jeff Clark Trader.
It can help you start generating extra income…
By trading options on three specifically chosen stocks, over and over again, to fund a comfortable retirement.
Your biggest fan,
Frederick Frost
P.S. We'd love your opinion.
How useful did you find today's Morning Bullets?
Not useful – It was ok – It was good – Very Useful
12.6% 14.0% 47.0% 26.3%
Note: Percentages are updated once per week on Sundays and include all feedback since inception.