Gold's explosive rally…

Your daily source for trading strategies, tech news, and politically incorrect humor.
Dear eMBers,

Your morning bullets are here. Let's dig in.
INVESTOR INSIGHTS – Gold Update
Gold made another push higher.
The metal's move is turning parabolic.
And we all know parabolic moves tend to end badly.
I think we are approaching an exhaustion point.
I grabbed some gold puts yesterday. I expect gold will pull back below 1,400 over the next few weeks.
Why?
The debt ceiling has increased the use of gold as a tier 1 asset, but as soon as the ceiling is lifted, gold will drop.
Gold surges above 1,450 as rate cute hopes, Iran tensions fuel demand
YOUR SILICON VALLEY (LIBERAL) OVERLORDS
Netflix reported earnings on Wednesday night, and the results were bad.
Netflix saw its saw its first major loss in U.S. subscribers last quarter…
And they only added 2.7 million paid customers around the world… half of what was foretasted.
The result?
The stock dropped more than 10% after the earnings report.
What's next?
The company talked a lot about international markets. Mainly India where the company expects significant growth.
But in the U.S. the growth is harder and harder due to new streaming services being rolled out (almost every day).
TRUMP DERANGEMENT SYNDROME
Democratic senator Tester laid out a new strategy for Democrats.
He said "Punch him in the face". Watch it below…
Why are Democrats always so violent?
I think Tester should change his focus…
From politics to weight loss…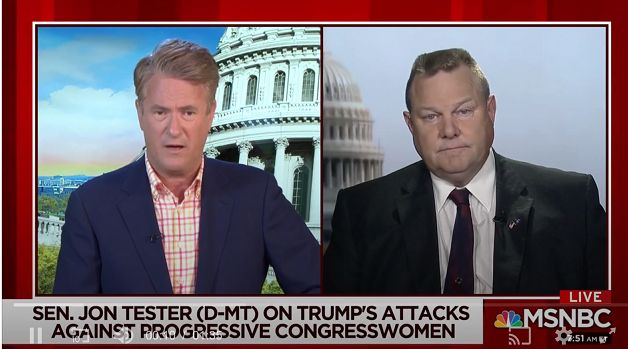 "The president won this one," said an unnamed Democrat.
He was referring to the latest showdown with the Squad (AOC, Omar, Pressley, Tlaib).
Take a look at CNN's Jake Tepper's tweet…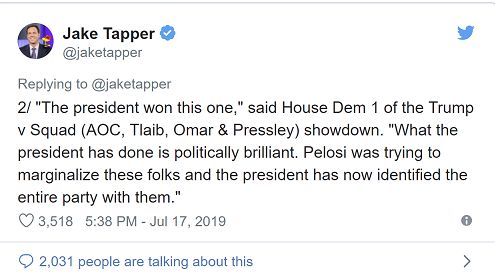 Think about it…
President Trump's approach is genius.
Why?
Because he just made the Squad the face of the Democrat Party.
President Trump wins again and I am not even close to being tired of it.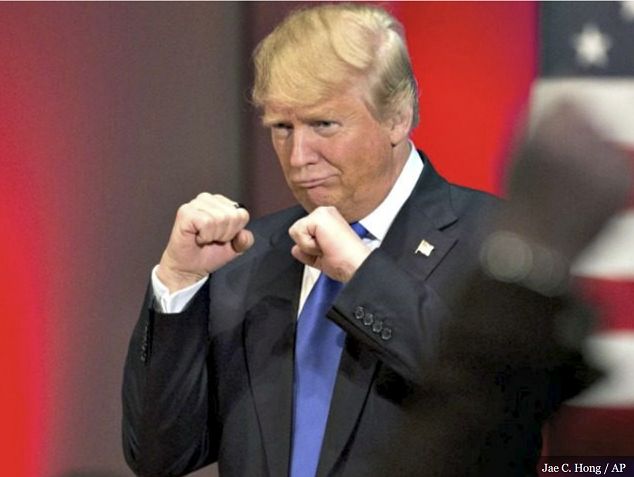 CRAZY-INTERESTING OR RIDICULOUSLY-WEIRD
ADDITIONAL READING AND RESOURCES (ARR)
I can't get into all the news and interesting information out there in this one email, so what you'll find here are articles, presentations, and resources I'm digging into and believe you should as well.
Angel Investing Doesn't Need to Be High-Risk (You Could Earn up to 1,000% Gains)
When most folks hear angel investing, they think about the gamble involved with a startup… but we brought together two of the world's most successful angel investors with the goal to help eliminate unnecessary risk altogether. With their 1,000X Formula at your disposal, you could secure an opportunity on the ground floor with as little as $50. Even a tiny stake can turn into millions with this…
Your biggest fan,
Frederick Frost
P.S. We'd love your opinion.
How useful did you find today's Morning Bullets?
Not useful – It was ok – It was good – Very Useful
13.1% 12.0% 49.7% 25.2%
Note: Percentages are updated once per week on Sundays and include all feedback since inception.