Your daily source for trading strategies, tech news, and politically incorrect humor.
Hey there, Bullets Fans –
Your Morning Bullets Brief Updates are here! And that means trivia is, too.
On this day, in 1897, the Dow Jones Industrial Average closed at a record low… Can you guess what that number was?
Think you know the answer? You can check it in the closing area down below!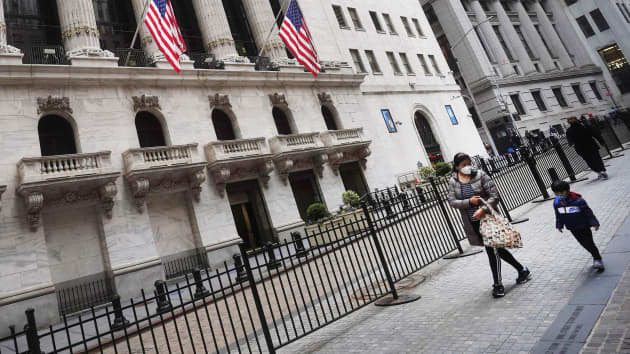 Image Source: Reuters / Carlo Allegri
Stock futures slipped this morning and the 10-year Treasury yield held steady, beneath 1.6%. Meanwhile, shares of Coca-Cola increased during premarket trading after the company shared a stellar earnings report Monday. The largest digital currency was trading around $56,000 this morning.
Also this morning, the CEO of GameStop, George Sherman, announced his resignation, shares of the video game store increased 8% on the news.
Meanwhile, police are investigating a Tesla crash over the weekend that left two men dead. Officials said that no one appeared to be driving the vehicle when it crashed into a tree (more on that story, below). Shares of Tesla dropped about 1.5% during premarket trading.
And, finally, the U.S. hit a major vaccine milestone, even as the global death toll surpassed 3 million this weekend.
Other News That Matters To You:
This incredible discovery could be the greatest thing you come across in your lifetime
Recommended Link:
I've found it.

After months of obsessive research, I've uncovered what I believe will be the single most profitable stock of 2021.

I've compiled all the details in a free report (which you can claim here), but to give you an idea…

I believe this company will play a pivotal role in the self-driving car revolution — a megatrend that will upend the $500-plus billion automotive industry.

With tens of millions of semi- and fully autonomous cars expected to hit the road over the next decade, this company could be headed for 10X… even 20X gain potential.

But I didn't stop there… I've found seven stocks with this level of growth potential, and I think each one of them could turn 2021 into a year of record-setting profits.

I'd like you to get all the details in my latest report, 7 Hypergrowth Stocks to Buy for 2021. Just click here to claim your copy free of charge.
Image Source: Reuters / Lucas Jackson
Two men are dead after a Tesla crashed into a tree and caught fire in Texas on Saturday evening. Firefighters apparently needed 32,000 gallons to suppress the blaze, and the effort took hours. One of the men was found in the front passenger seat, while the other was in the back passenger seat. Although they are still in the preliminary part of their investigation, officials say they don't believe anyone was in the driver's seat at the time of the crash.
According to the New York Times, the men's wives said their husbands had mentioned the vehicle's Autopilot feature before their drive. Tesla's automated driving systems go by the brand names "Autopilot" and "Full Self-driving."
A couple of months ago, Elon Musk said during an interview: "I think Autopilot's getting good enough that you won't need to drive most of the time unless you really want to."
But Tesla lawyers apparently disagree, saying that neither system is autonomous.
And in its owners' manuals, Tesla warns: "The currently enabled features require active driver supervision and do not make the vehicle autonomous."
Saturday's fatalities come after a series of recent crashes involving Tesla vehicles.
More Headline You Need To Read: