Your daily source for trading strategies, tech news, and politically incorrect humor.
INVESTOR INSIGHTS – Bonds
The bets on bonds have reached an extreme.
Everyone is pilling in.
Why?
The conventional idea is that the recent actions by the Fed (lowering of the interest rates) will continue to drive bond prices higher.
But since everyone is betting on higher bond prices, the exact opposite will likely happen.
Futures traders are the most bullish they've been on higher bond prices in four years… and even mom-and-pop investors are pouring into bond ETFs.
However, if you take a look at the recent history, we saw something similar in 2013, 2016, and 2017. And every time it led to lower bond prices shortly thereafter.
Take a look at the 20+ Year Treasury Bond ETF (TLT) everybody is buying.
The chart has gone parabolic… and you should not be buying TLT right now.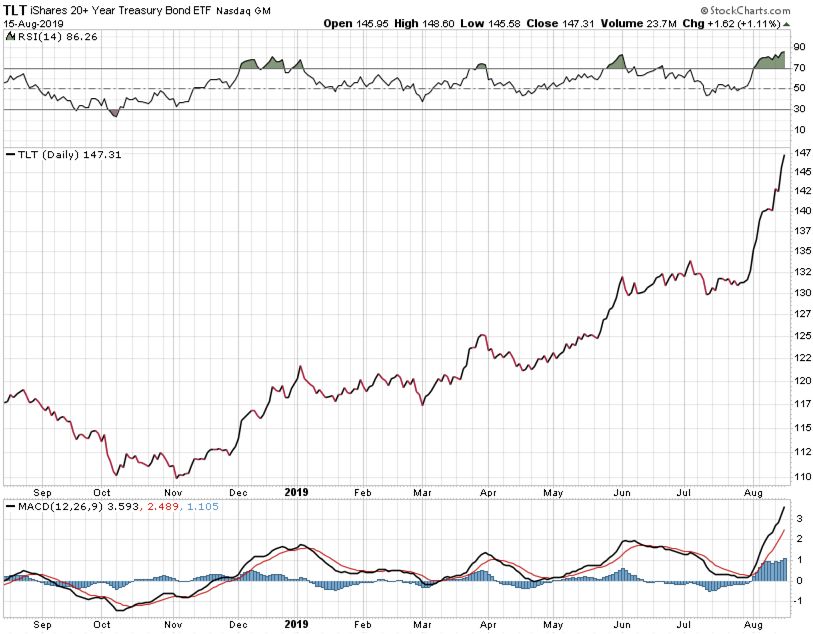 YOUR SILICON VALLEY (LIBERAL) OVERLORDS
Google and Hillary…
Hillary Clinton was forwarding emails from her unauthorized server to a private Google email address.
And the email address featured the name of a Chinese company, according to documents released on Aug. 15.
Take a look…

Almost every email was forwarded to "carterheavyindustries@gmail.com," the documents show.
The investigator who spotted the anomaly, searched Google for "Carter Heavy Industries" and came up with results for Shandong Carter Heavy Industry Co., Ltd, a Chinese manufacturer of excavators and heavy machinery, according to the documents.
The investigator told the FBI about the anomaly on Feb. 18, 2016, at a meeting which included Peter Strzok. According to the documents, Strzok was "aloof and dismissive" and didn't ask many questions.
Surprise surprise..
TRUMP DERANGEMENT SYNDROME
AOC is at it again.

She said Trump supporters are not educated enough to recognize their own racism.
Democrats don't have any good ideas or arguments.
As a result, all they do is say Trump supporters are "Nazis" and "racist".
I don't think it's going to get them very far in 2020.
CRAZY-INTERESTING OR RIDICULOUSLY-WEIRD
ADDITIONAL READING AND RESOURCES (ARR)
I can't get into all the news and interesting information out there in this one email, so what you'll find here are articles, presentations, and resources I'm digging into and believe you should as well.
Interested in making extra income?

Check out master trader, Jeff Clark.
Your biggest fan,
Frederick Frost
P.S. We'd love your opinion.
How useful did you find today's Morning Bullets?
Not useful – It was ok – It was good – Very Useful
13.3% 13.6% 48.4% 24.6%
Note: Percentages are updated once per week on Sundays and include all feedback since inception.