S&P Record,

Your daily source for trading strategies, tech news, and politically incorrect humor.
Dear eMBers,
Thank you for voting in our recent MAGA economics poll.
The poll was about the stock market breaking records.
And 93.9% voted President Trump made it happen.

And I agree. Now, let's dive into your Morning Bullets.
INVESTOR INSIGHTS – Market Rally Continues… But Will It Last?
The S&P 500 pushed higher and closed at it's all time high (3,013.8).
However, many of the intraday charts look bearish.
Take a look at the 2-hour chart…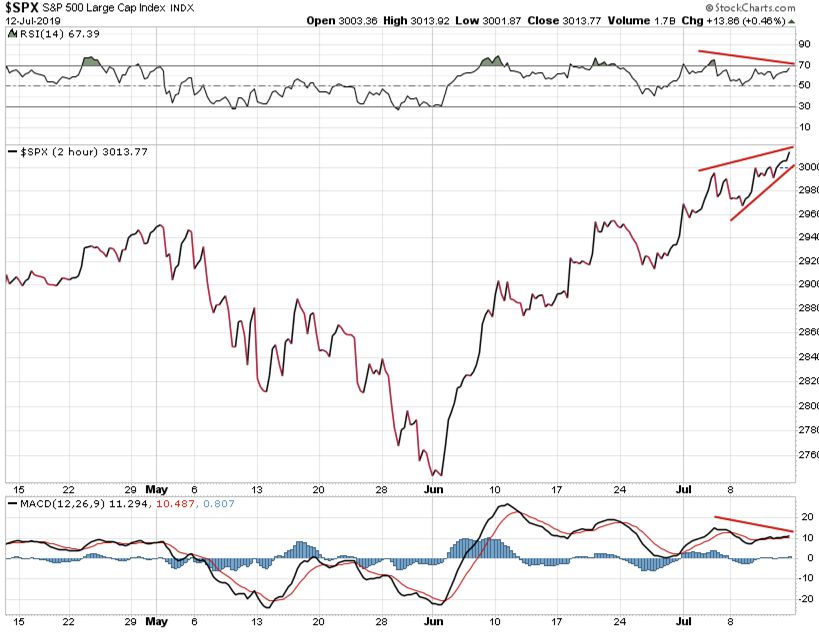 The Rising Wedge is a bearish pattern that begins wide at the bottom and gets narrower as prices move higher (see red lines in the chart above).
On top of that, we can see negative divergence on RSI and MACD indicators.
Divergence occurs when the price is moving in the opposite direction of the indicator.
In the chart above, the S&P 500 price is moving up and the RSI and MACD indicators are moving down.
Why is it important?
Because divergence is one of the most powerful concepts in trading. And I use it all the time.
The upside seems limited from here. I expect a pull back sometime next week.
YOUR SILICON VALLEY (LIBERAL) OVERLORDS
Google is building a new social network to rival Facebook.
It's called Shoelace. And it's a hybrid between Tinder and Facebook.
It's supposed to help you find friends and things to do.
The app is currently invite-only, and is only being tested in New York City.
It's built around matching users based on their interests, and making it easier for people to meet up at events.
TRUMP DERANGEMENT SYNDROME
Chicago Mayor Lori Lightfoot said she won't let Immigration and Customs Enforcement (ICE) to access its police database.
Why?
Because of reports of potential raids in more than 10 major U.S. cities planned for Sunday.
"They will not team up with ICE to detain any resident. We have also cut off ICE access from any CPD databases and that will remain permanent," Lightfoot said.
She's doing a fine job in Chicago.
Take a look…
Year to Date
Shot & Killed: 241
Shot & Wounded: 1124
Total Shot: 1365
Total Homicides: 264
I wouldn't be smiling with those stats…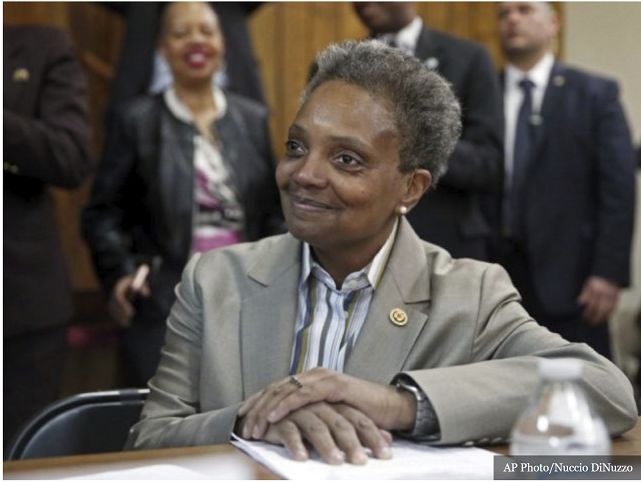 Lockheed Martin's Pennsylvania plant will remain open at President Trump's request.

Take a look…
"At the request of President Trump, I took another look at our decision to close the Coatesville, PA, facility and have decided to keep it open while we pursue additional work," said chairman and CEO Marillyn Hewson in a statement issued Wednesday.
Hey Obama, if only there was some sort of magic wand ….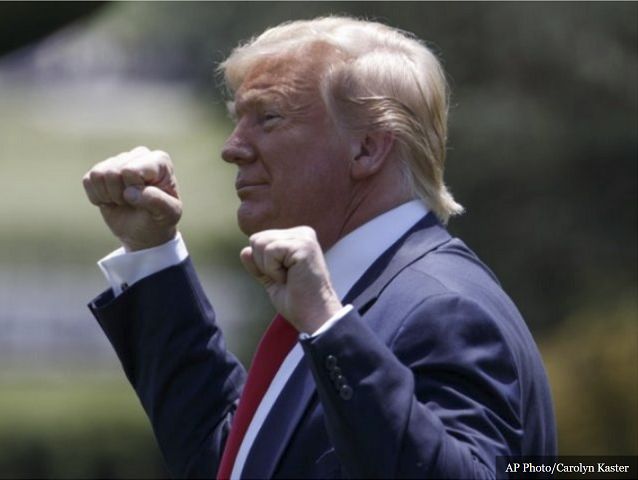 CRAZY-INTERESTING OR RIDICULOUSLY-WEIRD
ADDITIONAL READING AND RESOURCES (ARR)
I can't get into all the news and interesting information out there in this one email, so what you'll find here are articles, presentations, and resources I'm digging into and believe you should as well.
He faced off against Bill Clinton. And won.
He saved Medicare from bankruptcy.
And created the first budget surplus since 1969.
Now former Speaker of the House Newt Gingrich is leading his biggest fight yet.
It could save America's broken healthcare system forever. And once again deal a smackdown to one political party ahead of the 2020 election.
Newt will reveal all the details on July 18 at The 2019 American Health & Wealth Summit. Click here to reserve your spot – it's FREE, no strings attached.
Your biggest fan,
Frederick Frost
P.S. We'd love your opinion.
How useful did you find today's Morning Bullets?
Not useful – It was ok – It was good – Very Useful
13.0% 11.8% 49.1% 26.1%
Note: Percentages are updated once per week on Sundays and include all feedback since inception.