Your daily source for trading strategies, tech news, and politically incorrect humor.
Hey there, Bullets Fans –
Your Morning Bullets Brief Updates are here! And that means trivia is, too.
Who said this? 
"Life's too short to hang out with people who aren't resourceful."
Think you know the answer? You can check it in the closing area down below!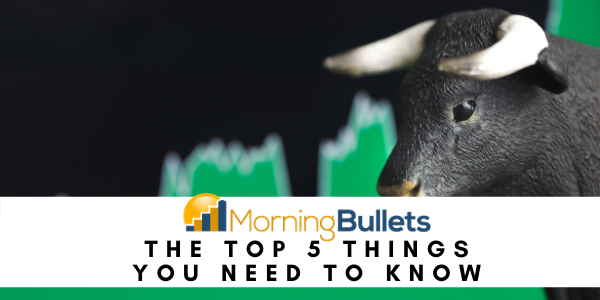 Image Source: Morning Bullets
The stock market was poised for opening gains on Thursday as futures rose this morning. Also, at 8:30 a.m. today, the government released its latest look at jobless claims, which economists expected to drop from 847,000 to 830,000 new filings. This news came after ADP's announcement yesterday that the country added three times as many private payrolls as anticipated.
Meanwhile, the Chairman and CEO of Merck, Ken Frazier, announced his retirement this morning, just before his company released its latest earnings report, which contained disappointing revenue data.
Also, Apple and Hyundai-Kia could soon collaborate on a new, driverless car (more on that, below) and a senator revealed an antitrust reform bill this morning. Also, President Joe Biden said yesterday that  he's "not married" to the cost of his massive stimulus bill, but that he wants lawmakers to "go big."
Other News That Matters To You:
Get out your umbrella, because they're about to make it rain
Recommended Link:
The arrow in the image below shows where the cryptocurrency market is at this time…

Right on the cusp of mass acceptance by mainstream users.

But two unrelated events are about to make select cryptos household names… and… shower investors with untold fortunes.

Due to these events more people will flock to cryptocurrencies than ever before and leave fiat money (like the dollar) in the dust.

In fact, Business Insider says, "As many as 36% of institutional investors in the US and Europe own crypto assets."
While Tesla updates its vehicles with self-driving features, a new competitor is gearing up to enter the $10 trillion auto and mobility market.
If everything goes according to plan, the autonomous "Apple Car" would be unveiled in 2024, potentially through a partnership with Hyundai-Kia.
The iPhone and car creators are reportedly nearing a deal that would finalize such a partnership. News of their potential agreement sent Apple shares up 2% after the bell yesterday.
"Smartphones are a $500bn annual TAM. Apple has about one-third of this market," said Katie Huberty, who is an analyst for Morgan Stanley. "The mobility market is $10 trillion. So Apple would only need a 2% share of this market to be the size of their iPhone business."
Hyundai-Kia also has a lot to gain from such a venture.
"[Company Chairman Euisun] Chung has made it clear, mobility is the future of the company," one source said.
What else do we know right now about this potential partnership?
More Headline You Need To Read: