Your daily source for trading strategies, tech news, and politically incorrect humor

Your daily source for trading strategies, tech news, and politically incorrect humor.
Dear eMBers,

Your Morning Bullets are here. Let's dig in.
INVESTOR INSIGHTS – Market Update
With all of the recent headlines, it's easy to miss the good news.

But that's what we're here for – to remind you.

And we just got some of the best news around.

Some of the best news in history…

For the first time since America has existed as a nation, we have begun and ended an entire decade without a recession.

This makes our recent run the longest expansion in our country's history.

"It is unusual that this has been such a persistent recovery."

Wondering how the economy has been keeping it up?

Find out the reasons that have fueled a record-breaking recovery.

Because as Josh Bivens explains, "Recessions are usually policy mistakes. We really can keep these recoveries going for quite a long time if we have really careful smart policy."

Which policies are winning? And which policies could end it all?
YOUR SILICON VALLEY (LIBERAL) OVERLORDS
Ransomware attacks are on the rise.

And more and more corporations are caving to the demands.

In 2019, ransomware attacks hit new levels. There were 948 instances among government, educational and healthcare agencies.

But healthcare providers fared the worst by far.
759 out of 948 attacks. Just over 80% of all attacks.

The total take?

More than $7.5 billion.

Lifelabs, Canada's largest lab testing company, was the latest victim.

Information on about 15 million customers may have been accessed in the breach.

And like most victims, Lifelabs paid the data kidnappers to get it back.

Emsisoft, a security software firm, are sounding the alarm. This recent plague "elevates the ransomware threat to crisis level."

Find out why healthcare providers are the easiest marks. And what happens to your data if your provider is the next victim.
TRUMP DERANGEMENT SYNDROME
The same Swamp Mistress who says she's fighting to protect the Constitution is now prepared to violate it.

And experts agree that it would be a clear violation.

Not only is her plan bizarre, it's highly likely it won't pay off.

But that's not going to stop her from holding the Impeachment process hostage. Or take the spring from her step.

Her demands?

More witnesses. More testimony. More documents.

Or, in other words, a whole NEW trial. With one last chance to try to find something that will stick.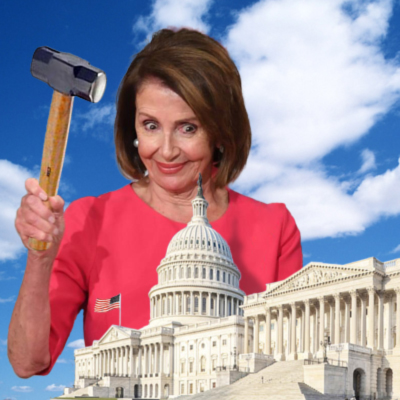 Image Source: Victory Girls Blog
As Jonathan Turley explains, "Articles of impeachment were not meant to be articles of barter. Just as the House elected not to seek to compel the testimony of critical witnesses, the Senate can make the same decision for its own house."

Harvard Law professor Alan Dershowitz agrees. "It's an unconstitutional gambit and it won't work… It would be like indicting someone and then just not having a trial and letting the charges sit there unresolved."

If she doesn't move the articles to the Senate, he feels the impeachment should be struck as void.

Civil rights attorney Harvey Silvergate disagrees that it's unconstitutional, but he did describe her move as "kind of bizarre" and labeled it a "manipulation of the system."

"This is sort of the Wild West…"

One thing for sure – this stalling tactic contradicts one of the major talking points of the Democratic narrative.

What happened to the "time is of the essence" rush?

Where are all of the fears about a "crime spree in progress."

Something doesn't line up.
Looks like we're in for another one of those Constitutional Crises she's always raving about. This time, she's at the helm.

What do you think?

Is it Constitutional or Unconstitutional?
This has never returned less than 400% over 4 years.
Something big is happening in America… and almost no one is paying attention.
A completely misunderstood asset is transforming our world–and making people rich (Barron's estimates at least 20,000 people).
A multimillionaire has written a fascinating analysis explaining how so many are now getting rich.
His write up is posted free on this website here.
Did you know this misunderstood asset has never returned less than 400% over any four-year period?
A leading news source says this has created at least 20,000 new millionaires.
President Trump doesn't miss a beat.

In a position where most folks would be in meltdown mode, he just keeps on fighting for the American people.

Even when the elite fight back – hard.

It's one reason there was a standing ovation in the House in his honor.

And the good news is, when his fan base hears "impeachment" it becomes a rallying cry of staunch support.

On Thursday, Trump's son-in-law, Jared Kushner and a team of Trump campaign officials shared their playbook on how we'll win in 2020.

There were 5 key takeaways.
They'll win by crushing the Never-Trumpers. They've spent months making sure that Trump loyalists command key party positions across the nation.
They're focusing on "new math." No, the math is regular math, they've just narrowed their focus. Candidates traditionally ignore tiny counties. Not Trump. He's paying attentions to the margins. And capitalizing on making a lot of little gains that stack up to big wins.
They're re-engaging disengaged voters. If you voted for Trump but didn't vote in the 2018 midterm elections, expect to be on the receiving end of a lot of campaigns designed to get you in the voting booth come November.

As powerful as these are, it's really the next two strategies that offer a mean one-two punch.
CRAZY-INTERESTING OR RIDICULOUSLY-WEIRD
A therapy dog in Franklin, Massachusetts just found himself on Santa's Naughty List.

But he's also found himself in the social media spotlight.
Source: YouTube
Meet Ben Franklin, a dog in the doghouse for getting caught "red pawed" stealing gifts earmarked for kids in need.

He was hanging out in a room full of toys for the Santa Foundation and just couldn't help himself.

So, he grabbed some gifts and secreted them in his "lair."

What to do you think?
Will Santa pardon Ben Franklin?
ADDITIONAL READING AND RESOURCES (ARR)
Today: Anyone Can Become an Angel Investor
Robert Herjavec said it best during a recent, live broadcast: "The walls have finally come down. You no longer have to be rich, famous, or powerful to become an angel investor!"… And Congress has finally made it possible for you to take advantage of these life-changing deals.
Thanks for reading today and being a loyal subscriber.
Your biggest fan,
Frederick Frost
P.S. We'd love your opinion.
How useful did you find today's Morning Bullets?
Not useful – It was ok – It was good – Very Useful
12.82% 13.20% 47.87% 26.12%
Note: Percentages are updated once per week on Sundays and include all feedback since inception.