Market posts new record closing high

Your daily source for trading strategies, tech news, and politically incorrect humor.
INVESTOR INSIGHTS – Dow breaks 27,000
Which stocks drove Dow Jones to a 27,000 milestone?
Here is a list of top 5 contributors to the Dow's run from 26,000 to 27,000:
1. Visa – 390 points
2. Microsoft – 324 points
3. McDonald's – 256 points
4. Walt Disney – 213 points
5. American Express – 174 points
The entire market rallied on Thursday.
It was driven by Federal Reserve Chairman Jerome Powell's congressional testimony.
And now the stage is set for an interest rate cut.
YOUR SILICON VALLEY (LIBERAL) OVERLORDS
Richard Branson's space company Virgin Galactic is going public.
And it will become the first publicly traded commercial space travel company.
Welcome to the new Space Age.
As you may know, Virgin Galactic is one of the key players pioneering space tourism.
Right now, it is selling suborbital space flights for the cool price of $250,000. And they have as many as 600 people who have signed up… committing $80 million to secure their flights.
Check it out…

Price is too high today…
But it will come down over time. And maybe one day orbiting the Earth for a few days will be a common family vacation…
TRUMP DERANGEMENT SYNDROME
AOC called Pelosi a racist.
This week, Pelosi had a meeting with the democrats. And she insisted on party unity.
She discouraged House members from criticizing each other and the leadership.
The response?
AOC told Washington Post:
"When these comments first started, I kind of thought that she was keeping the progressive flank at more of an arm's distance in order to protect more moderate members, which I understood," Ocasio-Cortez told The Washington Post. "But the persistent singling out . . . it got to a point where it was just outright disrespectful . . . the explicit singling out of newly elected women of color."
You go girl!
Democrats eating democrats with their own weaponized race-cards.
It could not have happened to a more deserving group.
Sometimes karma rocks….
Billionaire home-builder Bill Pulte donated $30,000 to a veteran on Wednesday with a little help from President Trump.
Pulte tweeted at President Trump promising that he would make the donation if President Trump retweeted his offer to donate to the veteran.
And 2 hours later…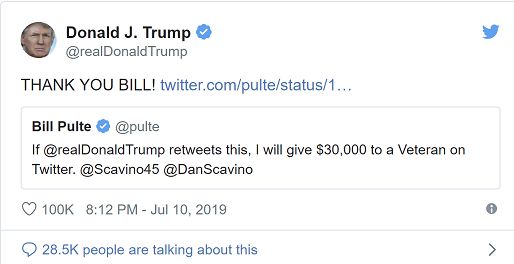 "The president of the United States just retweeted our work – literally punched a hole in reality," Pulte said.
A wealthy man with class…I wish there were more like him.
CRAZY-INTERESTING OR RIDICULOUSLY-WEIRD
Rule-Breaking Trimaran Yacht That Just Hit the Market for $12 Million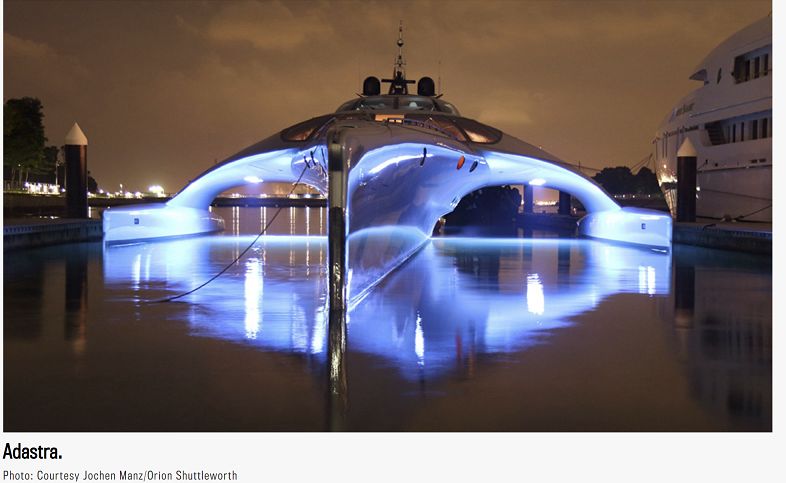 ADDITIONAL READING AND RESOURCES (ARR)
I can't get into all the news and interesting information out there in this one email, so what you'll find here are articles, presentations, and resources I'm digging into and believe you should as well.
As Robert Herjavec puts it, "the walls have finally come down" on what was once America's most exclusive investing opportunity.
He means the world of angel investing – getting in the deals like you see Robert make on the show.
For so many years, the average American was locked out of these life-changing deals.
Bare minimum requirement to get involved? Be a millionaire.
But that changes today.
Finally, everyone can capitalize on this secret market where startups can go from obscurity to being worth billions of dollars in the blink of an eye.
Where one deal can transform a small amount of money into millions. For some, even more.
In this special presentation, Robert reveals TWO private deals you can act on today.
Your biggest fan,
Frederick Frost
P.S. We'd love your opinion.
How useful did you find today's Morning Bullets?
Not useful – It was ok – It was good – Very Useful
13.0% 11.8% 49.1% 26.1%
Note: Percentages are updated once per week on Sundays and include all feedback since inception.