Your daily source for trading strategies, tech news, and politically incorrect humor

Your daily source for trading strategies, tech news, and politically incorrect humor.
Dear eMBers,

Your Morning Bullets are here. Let's dig in.
INVESTOR INSIGHTS – Market Update
I wrote about the fact that gold was overextended over the past few weeks.
And over the past 3 days, gold sold off pretty hard. The gold futures were trading below $1,500 in overnight session.


Traders who were short gold should think about taking some profits here. It's very likely gold will bounce back for a few days and gives us another opportunity to go short.


I still think there is more downside for gold in the weeks ahead.
YOUR SILICON VALLEY (LIBERAL) OVERLORDS
WeWork is an office-leasing company. They purchase real estate (sometimes just a floor in an office building) and transforms it into smaller offices.


WeWork is a highly anticipated IPO. And SoftBank (the main shareholder) is now urging them to shelve the IPO.


Why?


Concerns about valuation. SoftBank made a second bet earlier this year at a valuation of $47 billion.
Reuters reported earlier that WeWork is considering slashing the valuation to $20 billion. And that's bad news for SoftBank.


It's a good reminder to always be rational when investing your money. Being greedy doesn't work and sometimes even the big tech investors like SoftBank miss….
TRUMP DERANGEMENT SYNDROME
President Trump held a rally in North Carolina yesterday.


Here are some sound bites if you missed it


President Trump: "Democrats event want to give free health care to illegal immigrants. As long as I'm your president, I will never ever let Democrats take away your health care and give it away free to people that have entered our country illegally." #AmericaFirst #MAGA
President Trump: "[Democrats] want to have open borders… Every inch of wall that we put up is vital, and we're putting miles and miles. And we intend by next year at the end of the year to have anywhere between 400 and 500 miles of wall built"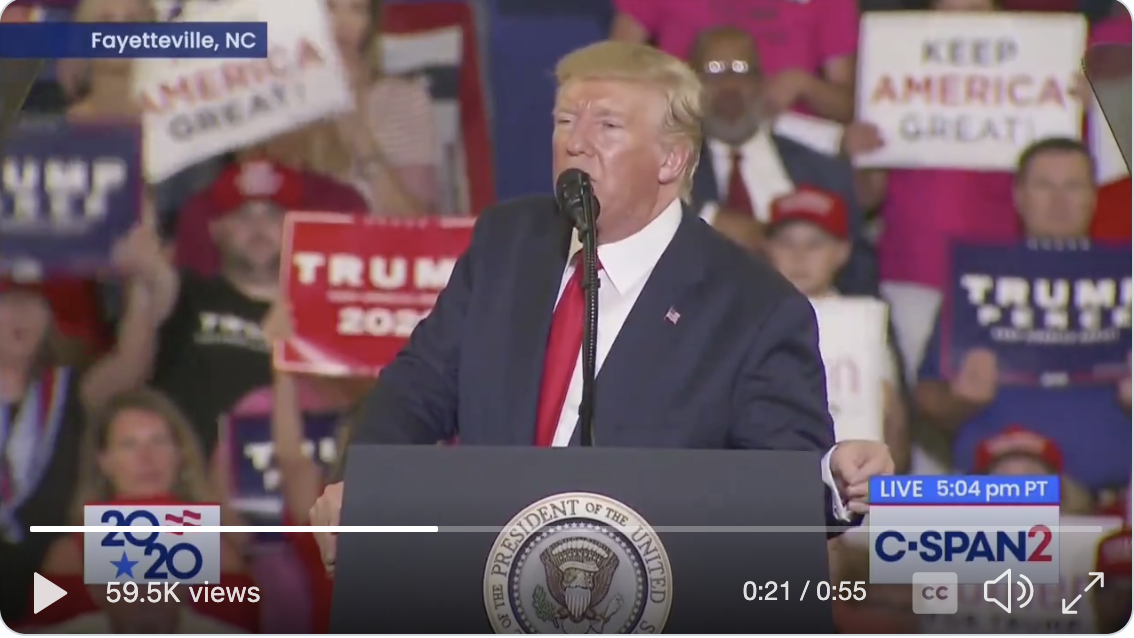 Broader arrests are plummeting – down 60% since May.


Why?


President Trump's immigration crackdown. He is the first President who got Mexico to take action.


US immigration authorities arrested 64,000 migrants at the southern border in August – approximately 22% fewer people than July, and a 60% decrease from the 130,000 apprehensions in May, according to a Monday statement by Customs and Border Protection (CBP) Commissioner Mark Morgan.


And as Politico notes, "The decline in border traffic — if sustained — could amount to a major victory for Trump as he heads into the 2020 election"
#Winning
CRAZY-INTERESTING OR RIDICULOUSLY-WEIRD
ADDITIONAL READING AND RESOURCES (ARR)
I can't get into all the news and interesting information out there in this one email, so what you'll find here are articles, presentations, and resources I'm digging into and believe you should as well.
Bill O'Reilly is no stranger to controversy. The mainstream media LOVES bashing him.
And they might just have a field day with this.
Because Bill is releasing his most controversial project yet. See what it's all about right here.
Your biggest fan,
Frederick Frost
P.S. We'd love your opinion.
How useful did you find today's Morning Bullets?
Not useful – It was ok – It was good – Very Useful
13.3% 13.9% 46.5% 26.3%
Note: Percentages are updated once per week on Sundays and include all feedback since inception.