Are private deals the new penny stocks?

Your daily source for trading strategies, tech news, and politically incorrect humor.
Dear eMBers,
I watched a great presentation last night.
It was about private placements.
You and I couldn't participate in the past. 
Why?
Because you had to be a millionaire.
But now it's possible. 
And you only need a few thousand for each deal.
What's the opportunity? 
Read more below…
INVESTOR INSIGHTS – Private Placements 
I was skeptical at first. But I really think there's something here.
In the presentation, Teeka talked about a small private deal.
It is available to regular investors. And you could get shares for 50 cents ($2,000 minimum). It could go public in a few months.
Why?
Private placements have a huge potential.
But you need to be "plugged in". And you have to have a great network to find these deals. 
Ideally, you want to find someone to do the research for you.
And Teeka (the presenter last night) is the guy.
I'm convinced.
Because I have done really well following his crypto recommendations.
And now he has something even better than crypto. 
How do these deals work?
These are Reg A+ offerings. They allow private companies to raise up to $50m.
And general public (not just millionaire investors) can participate.
These private deals can go up exponentially… 10x, 40x or even 10,000x
Super exciting.
Take a look here
YOUR SILICON VALLEY (LIBERAL) OVERLORDS
I didn't see anything interesting in the tech space yesterday. 

But I saw interesting TV ratings. 
Take a look…
Fox News is crushing it…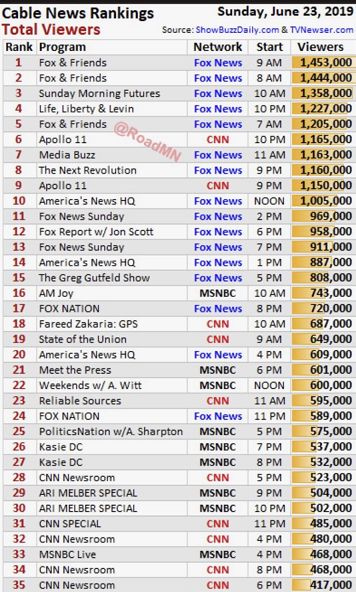 TRUMP DERANGEMENT SYNDROME
I'm a fan of the women's soccer team. 
They have been doing well. 
And they have a shot to be the championship contender. 
But the team co-captain, Megan Rampinone, took it too far. 
In an interview she said:
"I'm not going to the f**** White House."
Her language speaks volumes about her character… 
Take a look…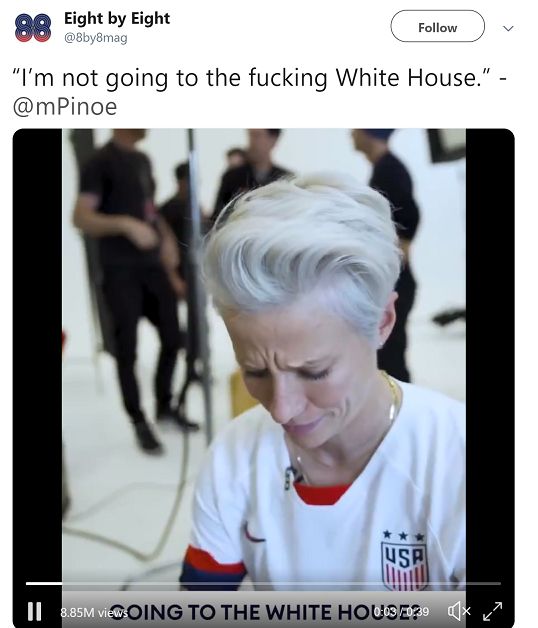 President Donald Trump's has raised $36 million.
In just one week. 
Great numbers just head of the 2020 Democrat primary debates.
President Trump is dominating Bernie. 
Bernie only raised $18m.
I think President Trump should start wearing glasses. 
Why? 
Because he's got 20/20. 
CRAZY-INTERESTING OR RIDICULOUSLY-WEIRD
ADDITIONAL READING AND RESOURCES (ARR)
I can't get into all the news and interesting information out there in this one email, so what you'll find here are articles, presentations, and resources I'm digging into and believe you should as well.
Private placement AND 5 Pot Stocks Under $9 From Wall Street Legend
Your biggest fan, 
Frederick Frost
P.S.  We'd love your opinion.
How useful did you find today's Morning Bullets?
Not useful – It was ok – It was good – Extremely Useful
  13.9%          12.1%          46.2%            27.8%
Note: Percentages are updated once per week on Sundays and include all feedback since inception.