Your daily source for trading strategies, tech news, and politically incorrect humor.
Dear eMBers,

Your Morning Bullets are here. Let's dig in.
INVESTOR INSIGHTS – Gold Breaks $1,500
Gold is trading above $1,500 for the first time in six years.
Gold has risen more than 6% in the past four days and 15% since the end of May.
Why?
Several reasons. Many investors believe trade war will hurt global growth.
And investors are also concerned that the Central Banks won't be able to kick start their economies.
However, the U.S. economy is doing quite well.
And I don't foresee a recession in the short term.
YOUR SILICON VALLEY (LIBERAL) OVERLORDS
Facebook applied for and received a U.S. patent for shadowbanning technology last month, according to a report in the New American.
What's shadowbanning?
It's the act of blocking or partially blocking a user or their content from an online community.
And many Silicon Valley companies have denied shadowbanning before congress.
I'm not impressed and I may just go back to CB radio…the original social media.
TRUMP DERANGEMENT SYNDROME
Jeffrey Epstein and Bill Clinton were friends.
And since Epstein's arrest, Clinton has been in hot water.
In an interview with The Post, Italian model Elisabetta Tai talked about the nightmare she experienced at Epstein's Manhattan mansion.
Daily Caller also reported:
"Epstein's lawyers told prosecutors in 2007 that the financier had forged a close relationship with Clinton and helped conceive an arm of the Clinton Foundation."
And investigative reporter Conchita Sarnoff dropped a bomb during an interview with Shannon Bream on Fox News.
Sarnoff made a shocking revelation that Clinton flew on Epstein's private jet, the Lolita Express, 27 times.
And according to Sarnoff, underaged girls were on the same jet almost every time Clinton was on the plane.
TRUMP VISITS DAYTON AND EL PASO
On Wednesday, President Trump went to El Paso and Dayton to meet with first responders, medical personnel, and victims.
Reaction to Trump's visit was welcoming — and, according to MSNBC correspondent Jacob Soboroff "surprisingly positive."
"It shows that he actually cares, if he talks to individual families," said Melendez, an El Paso resident.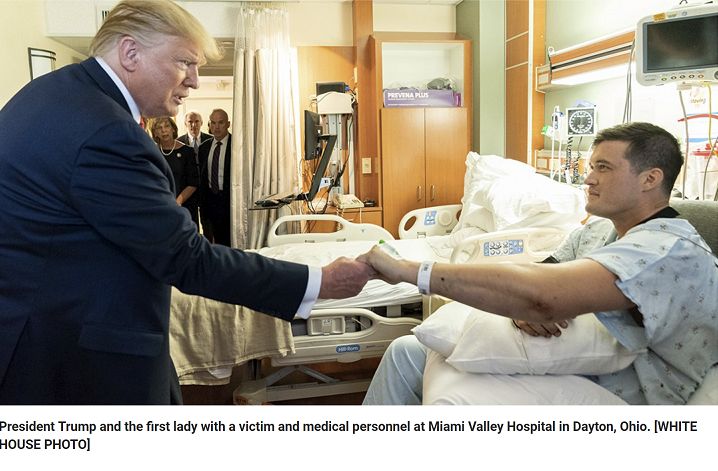 CRAZY-INTERESTING OR RIDICULOUSLY-WEIRD
ADDITIONAL READING AND RESOURCES (ARR)
I can't get into all the news and interesting information out there in this one email, so what you'll find here are articles, presentations, and resources I'm digging into and believe you should as well.
Looking to generate extra income?
Then I suggest you try the "3-Stock Retirement Blueprint."
In short: It's a way to generate thousands of dollars every year… using just 3 stocks.
Your biggest fan,
Frederick Frost
P.S. We'd love your opinion.
How useful did you find today's Morning Bullets?
Not useful – It was ok – It was good – Very Useful
14.0% 13.2% 47.3% 25.6%
Note: Percentages are updated once per week on Sundays and include all feedback since inception.