Your daily source for trading strategies, tech news, and politically incorrect humor.
Dear eMBers,

Your Morning Bullets are here. Let's dig in.
INVESTOR INSIGHTS – Market Update
Will the Federal Reserve cut interest rates for the first time since the financial crisis today?
The market expects it.
And stocks might get a modest short-term boost from it.
However, I believe this news is already priced in.
Historically on average, the Dow Jones Industrial Average climbed 0.7% on rate cut day.
Let's see what happens at 2pm EST.
The Fed is prepared to cut interest rates for the first time in a decade
YOUR SILICON VALLEY (LIBERAL) OVERLORDS
The Wall Street Journal reported Monday that Netflix is investing more than $500 million to make three big-budget films…
Michael Scorsese's movie "The Irishman" with a budget of $173m
Dwayne "The Rock" Johnson movie with a budget of $200m
Michael Bay's movie with a budget of $150m
$500 million for three movies?
I knew the Obama's are big time producers at Netflix, but I didn't know AOC was their financial advisor.
TRUMP DERANGEMENT SYNDROME
Filmmaker and left-wing activist Rob Reiner tweeted: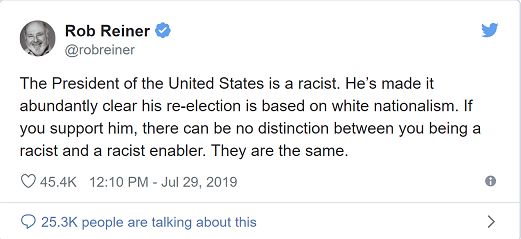 Reiner has attacked President Trump and his supporters before.
In March, he said "The President of the United States is a racist. He supports and promotes white supremacy & white nationalism".
Very deep Rob…
This is a mind over matter thing.
I no longer mind…because…you no longer matter. Yawn.
CRAZY-INTERESTING OR RIDICULOUSLY-WEIRD
ADDITIONAL READING AND RESOURCES (ARR)
I can't get into all the news and interesting information out there in this one email, so what you'll find here are articles, presentations, and resources I'm digging into and believe you should as well.
Donald Trump laid out his brilliant ideas about America's financial system in this book long before he was president.
The best part?
He wrote it with the #1 best-selling author in personal finance, Robert Kiyosaki…
And it's designed to help everyday Americans retire wealthy!
Click here now to claim your copy for $1.
If you only have a few thousand saved for retirement…
Or simply want to learn why Trump will win again in 2020…
Check out more details on this book now.
This $1 offer won't last forever…
Go to this page now before it comes offline.
Your biggest fan,
Frederick Frost
P.S. We'd love your opinion.
How useful did you find today's Morning Bullets?
Not useful – It was ok – It was good – Very Useful
14.1% 12.3% 47.7% 25.9%
Note: Percentages are updated once per week on Sundays and include all feedback since inception.