Your daily source for trading strategies, tech news, and politically incorrect humor

Your daily source for trading strategies, tech news, and politically incorrect humor.
Dear eMBers,

Your Morning Bullets are here. Let's dig in.
INVESTOR INSIGHTS – Market Update
YOUR SILICON VALLEY (LIBERAL) OVERLORDS
Facebook wants to take over your TV.
Facebook launched Portal TV, a $149 chat box that clips onto your TV.
The features?
– A 120-degree wide-lens camera for video chats with friends and family
– Stream video content to your TV
– Access to Amazon Prime Video and Spotify
I must admit… it creeps me out…
TRUMP DERANGEMENT SYNDROME
A blast from the past…
In 1998, Pelosi said "We are here today because the Republicans in the House are paralyzed with hatred of President Clinton, and until the Republicans free themselves of that hatred our country will suffer."
Take a look…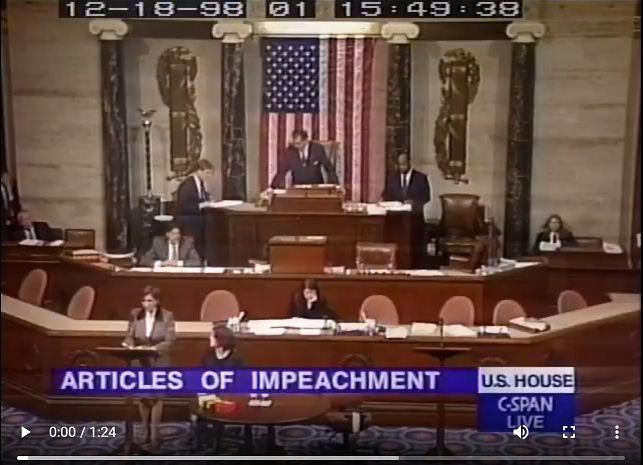 Now fast forward 21 years…
Sound familiar Nancy?
By the way, I just read transcript of President Trump's call.
My conclusion: absolutely ZERO grounds for impeachment.
The winning continues.
President Trump reached an interim trade deal with Japan.
This is a huge win for American farmers.
Why?
Because the tariffs will be reduced or eliminated.
And as much as $7 billion of American products will be headed for Japan.
CRAZY-INTERESTING OR RIDICULOUSLY-WEIRD
ADDITIONAL READING AND RESOURCES (ARR)
I can't get into all the news and interesting information out there in this one email, so what you'll find here are articles, presentations, and resources I'm digging into and believe you should as well.
If you're interested in learning more about a conservative options trading strategy…
One that ANYONE can use to make money in the market…
Then check out Jeff's brand-new research service, Jeff Clark Trader.
It can help you start generating extra income…
By trading options on three specifically chosen stocks, over and over again, to fund a comfortable retirement.
Your biggest fan,
Frederick Frost
P.S. We'd love your opinion.
How useful did you find today's Morning Bullets?
Not useful – It was ok – It was good – Very Useful
12.6% 14.0% 47.0% 26.3%
Note: Percentages are updated once per week on Sundays and include all feedback since inception.